Welcome to our Weekly Newsletter!
Another busy week in school finished off brilliantly with our Healthy Eating Day (see below). It's certainly been a cold one too- it's good to see that children are coming wrapped up with suitable coats, hats and gloves- please ensure these are named. Also, the weekend is a good time to check that all items of uniform are named- we end up with so many pieces of uniform without names on and then we can't find their owners!
Thankyou for keeping up all the communication with LFTs etc- as you will know, the guidance is changing very quickly! We had updated the guidelines on our website this week (click here) but we know these will change again on Monday, so we will update the website again then!
We know lots of schools are struggling with staff shortages and we have been (and undoubtedly will continue to be) affected in the same way. Where at all possible, we will cover classes using our own teachers- children are familiar with them and there is minimal disruption, however, there will be times when this isn't possible so please bear with us if we need to use supply teachers in some cases. Any thoughts, questions or worries about this, please get in touch.
Amazing Attendance!
Congratulations to the pupils below who have achieved 100% attendance this week!
Reception Brianna, Zachary, Emma, Archie, Billie, Melissa, Joey, Conor, Riley, Amelia, Thomas, Oliver, Lainey, Cody, Darcie, William, Mia-Louise, Kara, Jaylen, Harmonee, , Kayden, Jessica, Sienna.
Year 1 Betsy, Lotty, Grace, Skye, Zach, Mason, Isabelle, Fearne, Nathan, Paris, Rosie, Heidi, Mihail, Delilah, Nahla, Ashley, Joshua, Rose, Hassan, Cailen, Evan, Chloe, Emilie, Benjamin, Millie, Frankie, Joshua
Year 2 Isaac, Lucas, Jayden, Xavier, Angel-Leigh, Jenson, Elsie, Harper-Rose, Declan, Jake, Benjamin, Faith, Alesia, Isla, Rosie, Evie-May, Haider-Ali, Ashleigh, Lilly-Mai, Evelyn-Mae, Caelan, Nathaniel, Amber
Year 3 Lily, Harrison, Harry, Lillie, Ty, George, Annalise, Amber, Daniel, Kyle, Rosie, Danielle, Faye, Jack-James, Logan, Amelia, Isabella, Thomas, Eden, Samuel, Darius, Ameliya
Year 4 Harry, Nate, Savannah, Sienna, Tiana, Max, Dannii, Brogan, Jakob, Mabel, Ian, Reece, Jack, Ava Alina, Sara, Jamie, Elliot, Rhylee, Callum, Ethan, Dylan
Year 5 Georgina, Logan, Harry, Daniel, Harper, Autumn, Joshua, Eva, Noah, Kyron, Asa, Molly, William, Molly, Lily, Cooper, Troy, Amelia-Rose, Darntai, Miley, Gordon, Grace, Daisy, Dominic
Year 6 Charlie, Anna, Thomas, Blake, Darcey, Brody, Freya, Aleksandar, Jack, Alfie, Ellie-May, Kian, Matthew, Lewis, John, Cooper, Elliot, Joshua, Charlie, Alicia, Caydence, Evie
Healthy Eating Day
We've had a super Healthy Eating Day...children looked great in clothes representing their favourite fruit or vegetable (we think the most unusual 'favourite' of the day was 'lychee'!) We have made use of our mile track with our 'fruit and veg' run- the children did a fantastic job in the fog and ice! We hired a 'smoothie bike' again this year- it's becoming a firm favourite and most children managed to taste (and hopefully enjoy!) their fruity combinations! Children in all classes had an extra 'fitness' session with Mr Barnett and there's been lots of work going on in the classrooms where children have learnt about the best ways of keeping healthy with the foods we eat. A good job all round...just a shame most of the school had pizza and chips for lunch! Never mind- they deserved it!
The day finished off with a taster parents and family fitness session where Mr Barnett show-cased all the fantastic equipment we have bought for parents and families to use (see further down the newsletter for more info).
Happy Birthday to you!
We would like to say a very big HAPPY BIRTHDAY to... Frankie, Amelia & Cody who have celebrated their birthday this week or will be celebrating their birthday over the weekend!
A message from our School Newspaper Team...
We are looking for budding journalists to help produce an edition of our school newspaper this term. If you would like to write an interesting article, story, poem or fact file we would love to receive them. We know there are lots of incredibly talented artists in school and we would love to showcase some of your artwork as well. Please either bring your submissions into school or alternatively they can be emailed to skovacs@crestwood-p.dudley.sch.uk.
If you would like to have a go at being a reporter for school which would involve interviewing visitors, let me know.
We can't wait to see what you can do! Ms Kovacs x
After School Clubs
This week we have sent out information about the up and coming sports clubs for this half term.
If you have missed any letters, please let the school office know and we will get another copy out to you.
All clubs started this week:
Tuesday - Multi-sports Club with Mr Barnett - KS1 (FULL)
Wednesday - Ace Coaching Sports Club - KS2 (SPACES AVAILABLE)
Thursday - Running Club with Mrs Kenned, Mrs Tonks & Mrs Cohen - KS2 (SPACES AVAILABLE)
- School Football Team Training with Mr Barnett - Years 5 & 6
Lunchtime Clubs
Tuesdays we have KS2 recorder club and KS1 Choir
On Wednesdays our KS2 Chess Club will be running too!
If your child is interested in joining in with any of out lunchtime clubs, please speak with their class teacher.
Timetable ROCKSTARS!
Unfortunately Mr Powell hasn't been in this week to award a medal- we look forward to his return next week when he will award 2 medals...so keep up with the TT Rockstar practise!
Crestwood Park Has Got Talent!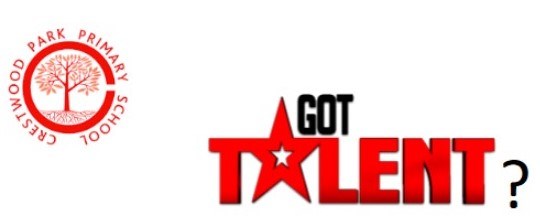 The talent show is due to take place
at The Crestwood Secondary School
at 6pm on Thursday 27th January.
Tickets will cost £2 per seat and can be paid via the teachers2parentsapp.
Special offer- family ticket= 5 seats for £6!
All are invited to attend- even if your child is not performing- why not come along as a family! Older siblings and relatives are more than welcome- just no pre-school aged children please.
You do not need to buy a ticket for your child if they are performing an act.
It should be an entertaining evening – acts include: cornet playing, singing and gymnastics!
Your support will raise valuable funds for our school.
Hope to see you there!
Looking after our Community...
Fitness Friday - 21st January @ 9am
Family & friends of Crestwood Park Primary school are welcome to join us for Fitness Friday at 9am.
The first session will be - Box fit/Boxing
Work out and have fun just after the school run!
Meet us on the Years 5 & 6 playground just after drop off.
Suitable for all ages and abilities.
A BIG thank you to everyone who took part in Fitness Friday today in aid of Healthy Eating Day; we hope you enjoyed the smoothie at the end!
Lapwood Lambs
We are hoping to see you on Monday, however at present it is subject to negative LFT's!
We will let you know via school life and the Lapwood Lambs Facebook page as soon as we can!
£1 per child - which includes a drink & a biscuit.
We hope you have a lovely weekend and we will hopefully see you on Monday!
**Some of our new equipment has arrived (see below)!**

A message from Mrs Cadman
Writing Journals
This week, the children from Year 2 up to Year 6 all received a writing journal. This is their very own special writing book, where they can let their imagination run wild!
This week I have given them an image and we discussed it during our assembly. Writing journals can be taken home and shared with families. Please encourage your child to enjoy writing in their bumbershoots.
Please ensure that they come back into school, as I will be setting a writing task on a monthly basis and teachers will also give the children opportunities to write during class time.
I was so pleased when Rhylee came to show me his story yesterday, after only having his journal for about 2 hours! What fantastic enthusiasm.
I will also be looking for stories to share with you from the children here in our weekly newsletter! I look forward to reading and hearing all the wonderful writing!
Our School councillors meet with Councillor Saleem!
The school councillors met with Councillor Saleem this week and asked some wonderful questions about his career and the life of a councillor. They discussed ways in which we could improve the school and add value to the local area. They were fantastic representatives for our school.
A huge thank you to Councillor Saleem for taking the time to visit us!

Parent Voice Meeting
Our Parent Voice group is there for parents and carers to discuss, ask questions and support the running of the school.
The aim of the group is to do exactly what the name suggests- give parents a voice!
The next meeting will be held in school on Friday 4th March at 9.00am.
Year Two Class Assembly
We are looking forward to the Year Two Class Assembly on Friday (21st). We are inviting Year Two parents only for this assembly- thankyou for your understanding.
Bikeability - Year 4,5 & 6
Just to let you know that Bikeability has been booked for the following dates for years 4, 5 and 6:
Wednesday 16th February- Year 5
Thursday 17th February – Year 6
Friday 18th February- Year 6 - (Morning Session) and Year 4 - (Afternoon Session).
More details will be sent out shortly but for children to take part they will need to bring their own bike in on these days.
And finally,
We hope you all have a good weekend- keep warm and safe and we look forward to seeing you all on Monday morning (after LFTs please!)
Safeguarding and promoting the welfare of children is the responsibility of everyone in our school and at all times we consider what is in our children's best interests. We work to ensure our children our safe and cared for and by doing this we are protecting their health and development and preventing them from harm. If we are worried, we will raise concerns, share information and take prompt action with the aim of ensuring families receive the right help at the right time.