Welcome to the newsletter for week ending Friday 9th October
Well done to all our children for another fantastic week. We know that we are probably a little biased, but we really do feel so proud of our Crestwood Park family. The Rainbow Craft entries today were absolutely amazing and we were all blown away with the amount of time, effort and thought that had gone into each and every creation. Thankyou families for supporting your children with this- it has been wonderful to see and your efforts have really given our school a boost.
We have decorated the hall with the entries, but we are sure that many of you will want children to bring their pieces of work back to enjoy at home. If this is the case, just let a member of staff know and we will arrange for its return!
Thankyou also for the generous donations in aid of the Mental Health Foundation this morning. We had only ordered one box of badges as we were worried that we might not be able to 'sell' them. How wrong we were! We should have remembered that when we ask our Crestwood Park family for support, you will always be incredibly generous. Thank you to every singe one of you that donated this morning.
Keeping Active!
Get your bikes and helmets at the ready!
Bikeability will be going ahead for Year 6 next week. Further details to follow.
There are still a few spaces available for our after school clubs. If you would like more information about any of the club below please contact the school office.
Tuesday - Mr Barnett's Fitness Club
Wednesdsay - Multi-Sports with ACE Coaching
Thursday - Mr Barnett's Running Club
Here are some of our newly elected House Captains proudly holding the sports day trophies!
Well done to Tigers in KS1 and Rhinos in KS2 for your achievements last week!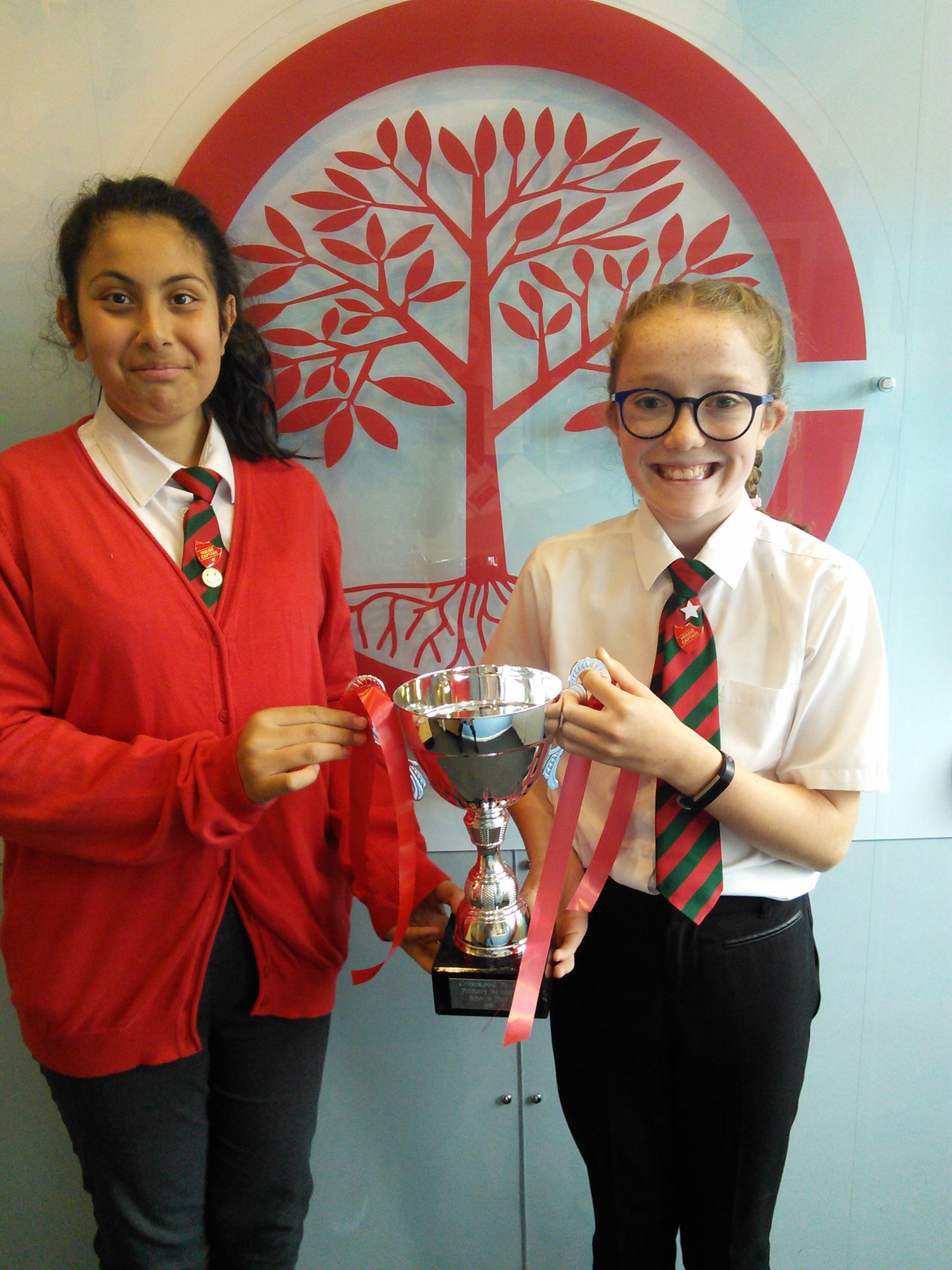 Rainbow Crafts
We celebrated our NHS today by holding a Rainbow craft competition. Thank you to all the children for sharing their wonderful rainbow crafts and bringing them into school.
A special congratualtions to:
Dollie-Lou in KS1
Lilly in KS2
The entries created by these children were judged 'Best Rainbow Craft' by Mrs Jane Morgan, our Chair of Governors. (We will be featuring pictures of other entries on the newsletters for the remainder of the term...so keep an eye out for yours!)
Keeping our WELLBEING in Good Shape - Mental Health Awareness Day
#MentalHealthAwareness day - Friday 9th October
It has been wonderful to see all of the children taking part in #MentalHealthAwareness day and coming into school dressed in yellow.
Thank you to all who purchased a charity pin this morning and all those who made kind donations in aid of this cause.
We have raised an amazing £78.40 in the space of just a few minutes!
Further COVID related guidance for parents and carers including information about school absence...
Reading at Crestwood Park
Teddy Bear Rap
I'm a big boy now
I can go to school
I can cross the road
'Cos I know the rile.
I can stay for lunch
Have packed sandwiches
I can squirt my milk
Make an awful mess.
I can do my sums
Add up three and three
I can write my name
And my ABC.
I'm a big boy now
Like I've just said
But I still take my teddy
When I go to bed.
By Margaret Ryan
Favourite books!
I would love to hear about your favourite books - you may want to write it down, draw or picture, take a photograph or even film yourself with your favourite book!  Tell me why this book is your favourite - so that we can share these with our whole school.
I look forward to hearing all about your favourite books - you can send me them at acadman@crestwood-p.dudley.sch.uk.
Happy Reading Bookworms! Mrs Cadman
Parents' Evenings
Please look out for an envelope that will be sent home on Monday 12th October. This will contain comments from the class teacher about how well your child has settled back to school. It will also indicate ways you can support your child at home.
There will also be an option for follow-up phone calls; details are contained within the letter. We need to know that all parents have recieved this envelope - so please return the enclosed slip as soon as possible. Thankyou
Foodbank Friday - 16th October
Our Foobank Friday donations will start from next week.
Some of the top 10 shortages are:
1litre cartons of UHT milk
Small Jars Coffee
Tinned food items
Jars of cooking sauce
Shampoo/Conditioner
Deodrant
Toothbrushes/Toothpaste
Please can all donations be handed to the class teacher - thankyou
Timetables Rock Stars!
Well done to our highest earner on Times Tables Rockstar's last month!
Keep up the good work! YOU ROCK!
Year 3 - Reece
Year 4 - William
Year 5- Elliot
Year 6- Salina
Looking after our Neighbours
We have received a discount to share with you from Response Electronics for a 50% limited offer on one of their simple home alarm systems.
The discount will reduce the ERA-VALIANT-R kit to £64.99 (including VAT) on the Response site (RRP £129.99).

The voucher code for offer is NHWVALIANT (expires 1st November 2020)
Please see the link below if you are interested.
Crime Prevention Stall - Saturday 10th October
The crime prevention stall will be open tomorrow (Saturday 10th October) from 11.00-13.00 at Brierley Hill Market Hall on the high street.

Come along for free crime prevention advice and resources for the colder months and darker nights.
Please remember masks are to be worn (unless exemptions apply) and social distancing rules are to be observed.
Sent from: Brierley Hill Neighbour Hood Team
Attendance this week
Reception - 97.88%
Year 1 - 97.48%
Year 2 - 98.72%
Year 3 - 98.48%
Year 4 - 96.21%
Year 5 - 97.97%
Year 6 - 96.27%
And finally,
The situation we are all living in at the moment seems to be going through yet another period of change. A huge thanks to you all for supporting the systems we have in place to keep our school family safe AND for supporting us in keeping the school running as normally as possible for our children.
We really do appreciate the thoughtful messages we receive- thankyou for these. Remember we are always looking for ways to improve, so if you do have any thoughts, questions or queries we are always very willing to listen (and we're never afraid of pinching a good idea from somewhere else!).
We hope you all have a good weekend- please do keep yourselves safe, look after each other and we look forward to seeing you all on Monday.
Safeguarding and promoting the welfare of children is the responsibility of everyone in our school and at all times we consider what is in our children's best interests. We work to ensure our children our safe and cared for and by doing this we are protecting their health and development and preventing them from harm. If we are worried, we will raise concerns, share information and take prompt action with the aim of ensuring families receive the right help at the right time.