Welcome to our 8th Remote Newsletter!
Well this week has been very different again at Crestwood Park as we have welcomed children from Reception, Year 1 and Year 6 back to school. We know that for many of you with children in these year groups, the decision whether to send your children in or not, has been an incredibly difficult one. The main thing to remember is that YOUR decision will be the right one. 
It has been fantastic to see the children who have returned- they have all grown (in height and often in hair!) and all our staff have been buzzing with excitement! Although we are trying to include plenty of learning during the day, we are focusing on creating a calm, supportive and positive atmosphere and of course a safe environment.  
Ideally, we would like to see all our children back in, but we need to follow Government guildelines. In the coming weeks we may hear news about other year groups returning. We will keep you up-to-date and let you know if there are any changes. 
Updates & Info
Here is an NHS Parent guide to COVID-19 and childhood illnesses/ injuries. It's quite a uselful poster and gives you examples of when you should call 999, visit A&E, call your GP or call 111.
We get regular updated guidance from the Government about what we should be doing in school. Here is a similar update written for parents and carers. We don't always add these to newsletters, but if you ever want us to give you a copy of the latest update, just call and we'll get it to you.
Keeping our WELLBEING in Good Shape!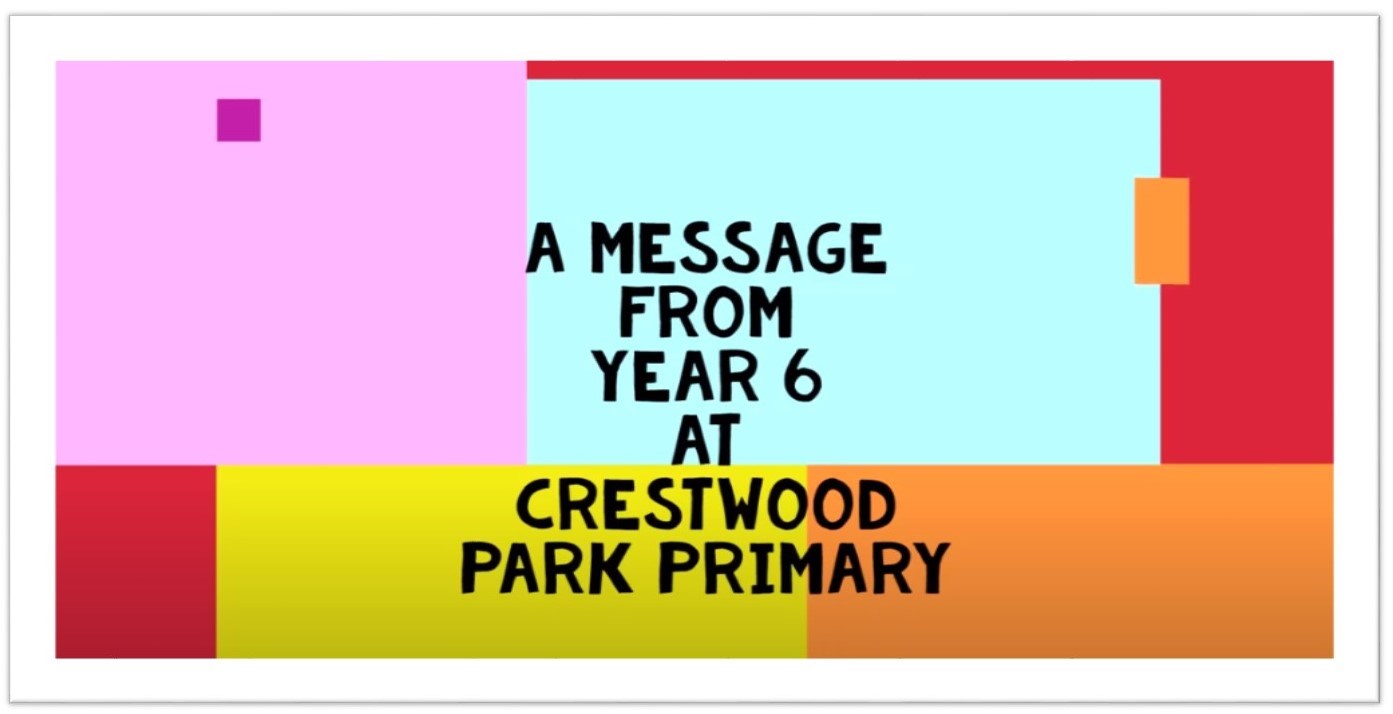 A huge thankyou to the Year 6 children who put together a fantastic video for the staff here at school. It was a super surprise and we all absolutely loved it. Thankyou Year 6!
We are missing all our children (and families of course!) and always enjoy seeing the pictures and videos you send in- they keep us smiling all day.
Class Pages & Home Learning
A reminder that there are new paper based learning packs for all year groups available to collect from the school office- just call in advance and we'll make sure there is one ready for you. If you can't collect, again just call and we can help. Teachers will continue to set daily Purple Mash activities for your children so for those who are still at home, this is a really easy way of ensuring that a bit of learning is done every day.
If you are having any problems with logging on or need anything additional printing off, just call and we can always help out.
This week's Book Review
Olivia in Year 6 recommends:
The Boy in the Striped Pyjamas
If you like history, then this book is for you. It's about a boy during the war, who develops a friendship; this has high and low points. It really is an emotional rollercoaster! I would recommend this book for upper Key Stage 2.
You can read more reviews in the Pupil Pages of our website. Don't forget to send in your reviews to Mrs Cadman when you've read your next book!
Here's a message from our Library Team about a Summer Challenge.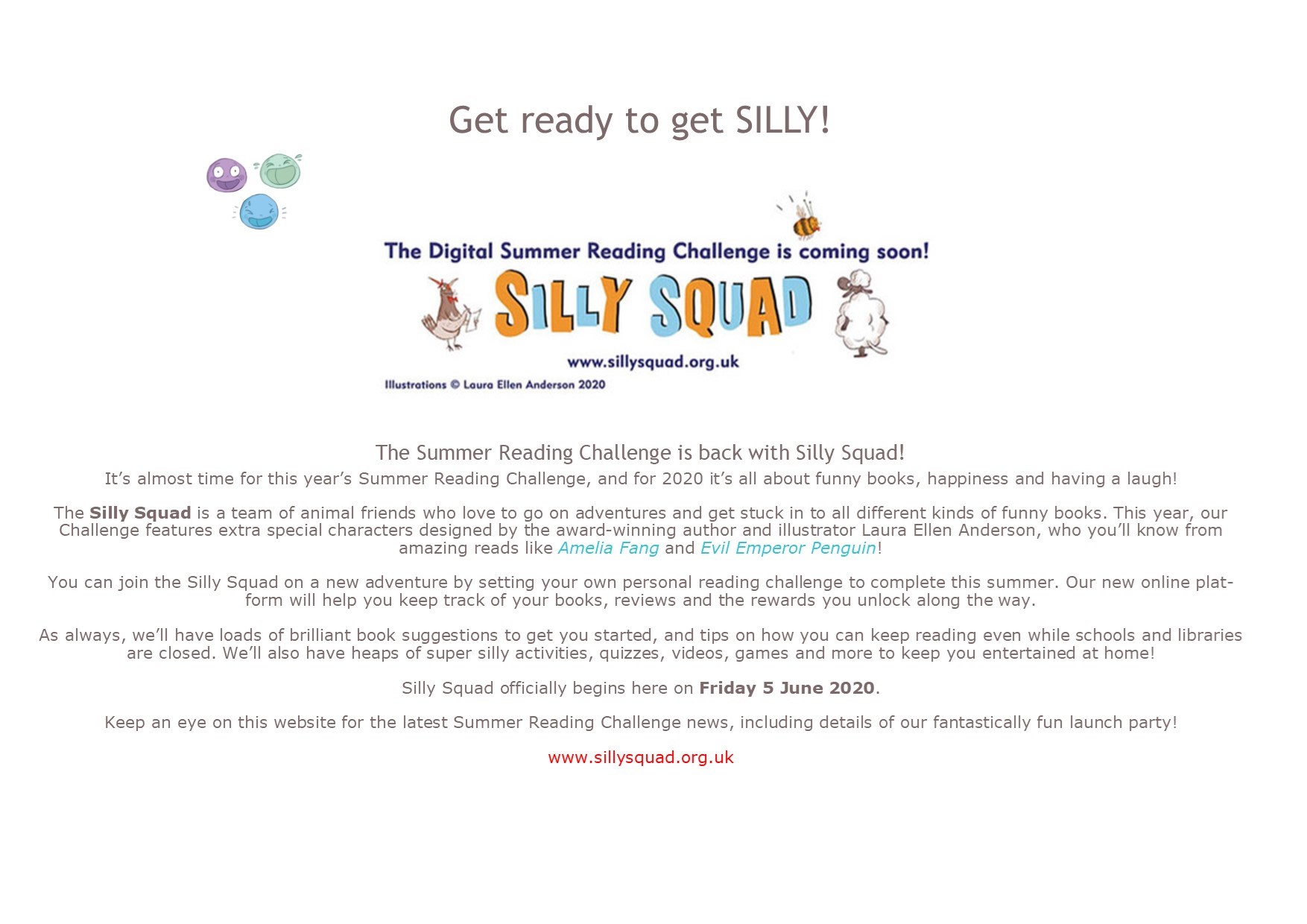 And this week's poem chosen by Mrs Cadman...
The Teacher's Day in Bed
Our teacher's having a day in bed –
She's sent her pets to school instead!
There's…
A parrot to read the register,
A crocodile to sharpen the pencils,
A canary to teach singing,
An adder to teach maths,
An octopus to make the ink,
An elephant to hoover the floor,
An electric eel to make the computer work,
A giraffe to look for trouble at the back,
A tiger to keep order at the front,
A reed bunting (can't you guess?
To help with reeding, of course!),
A secretary bird to run the office
A piranha fish to give swimming lessons
(Glad I'm off swimming today!)
A zebra to help with crossing the road,
Oh, and a dragon to cook the sausages.
I bet that none of you ever knew
Just how many things a teacher can do!
By David Orme
TT Rock Star Super Stars!
Keep up the super work with your times tables; well done to these children who are doing well on the leader board- certificates are on the way! We have noticed a few names creeping up the tables now and the top performers are getting quite close! Keep up the hard work! If you haven't been on TT Rock Stars for a while, get logged on and your name might be appearing on the newsletter next week.
Declan- Year 6
Georgia- Year 5
John- Year 4
Eva- Year 3
Happy Birthday!
The very best of birthday wishes are sent to all these children who have had their birthday this week or will be celebrating over the weekend. Happy Birthday to you all!
Rosie-Year 1
Adam - Year 4
Dylan - Year 4
Evie- Year 6
Keeping Active!
Remember we are still looking out for children who are trying hard to keep fit and healthy whilst they are at home. Here's someone you might recognise, having a go at Mr Barnett's challenge... can you work out who it is?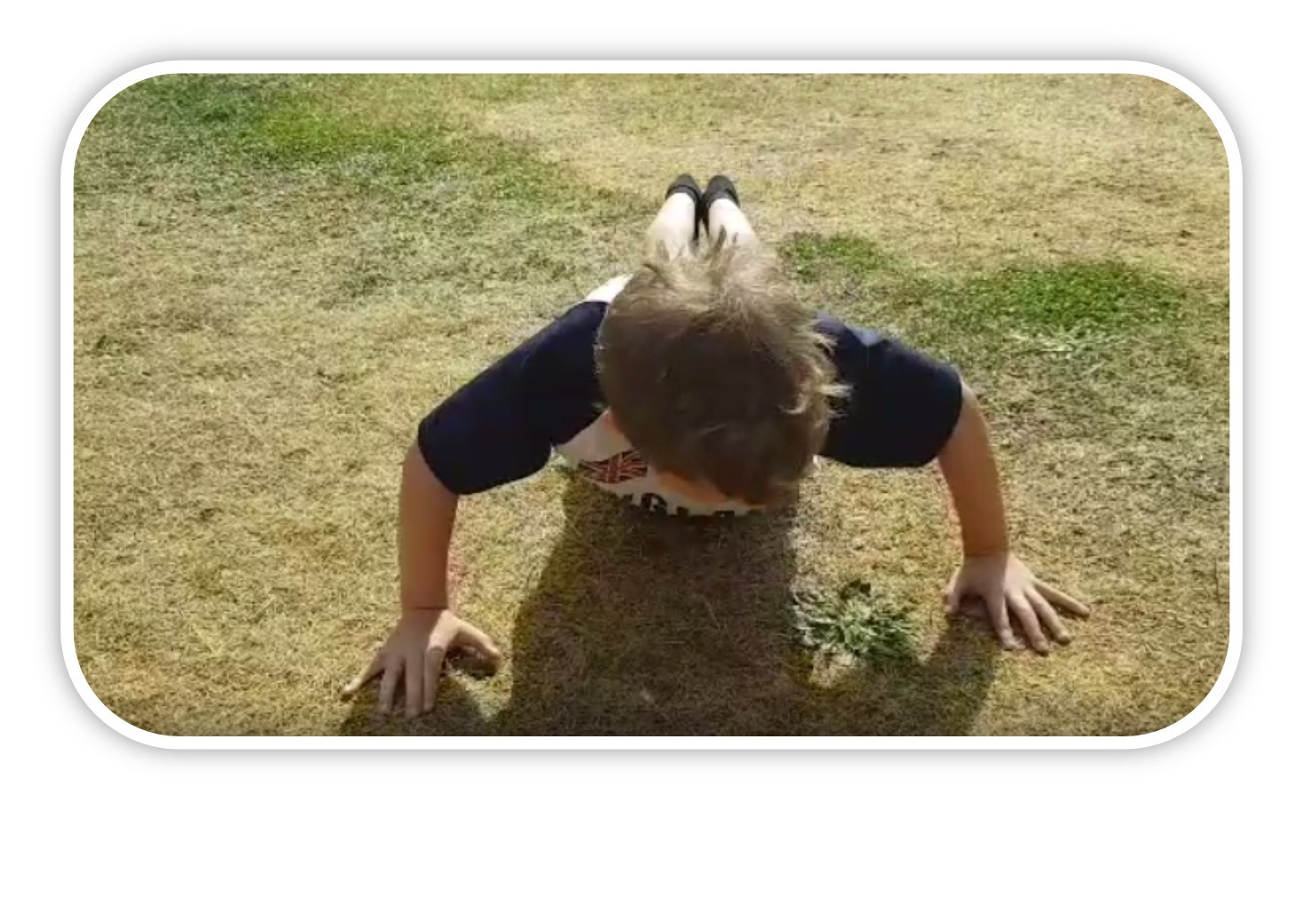 'SAFE' Sparks
Well done to Nelly in Year 1 for her super 'keeping safe' video that she sent in. Also, very well done to Elliot in Year 2 for his briliant 'Slip, Slop, Slap' poster.... all we need now is the sun!
Calling all singers... do you fancy being a rock 'n' roll star?
Here's a message from Chris at Dudley Performing Arts...
We have an exciting offer for your students who sing. We would like to extend this opportunity to anyone at your school, please forward to members of choirs, those who have singing lessons, take part in whole class singing activities, singing assemblies etc - in fact anyone. Below is some text that you can simply cut and paste into your communications with parents or post on social media.
Come and join in the fun of the Dudley Performing Arts Virtual Summer Festival by taking part in our vocal montage video. All you need to do is come along to an online rehearsal where our vocal staff will teach you how to sing Rocking All Over the World. You will be accompanied by a full orchestra and backing singers. There will be opportunities to sing solo or if you prefer just be part of the chorus with everyone else. After a few rehearsals we'd like you to film yourself singing your part, and this will be your chance to rock it out and shine. Once all the videos are sent in, the film crew will work their magic and produce a montage film of the song which will be released at our Virtual Festival on the DPA Youtube channel on July 5th.
If you fancy the rock'n roll challenge all you have to do is contact
dpa.cs@dudley.gov.uk
telling us that you would like to come to the online rehearsal on Wednesday 10
th
June at 18:00.
And finally,
Thankyou for continuing to be such a supportive group of parents and families. We really appreciate just how positive and encouraging you are.
Please keep in touch, whether your child is coming back in or not- it's important to keep the Crestwood Park family together, especially now we are all spread in different directions!
We are always very happy to talk to you and we endevour to reply to any questions as quickly as possible; the best ways to keep in touch are via info@crestwood-p.dudley.sch.uk or leave a message on the school phone (01384 818315).
Take care, stay safe and have a good weekend everyone- love and best wishes to you all.
Safeguarding and promoting the welfare of children is the responsibility of everyone in our school and at all times we consider what is in our children's best interests. We work to ensure our children our safe and cared for and by doing this we are protecting their health and development and preventing them from harm. If we are worried, we will raise concerns, share information and take prompt action with the aim of ensuring families receive the right help at the right time.