Welcome to our Newsletter for week ending 5th February 2021!
It's been another busy week in school; teachers are either leading their bubbles or preparing remote learning for the vast majority of children who are at home. We've also been thinking about Children's Mental Health all week and then today, we've been celebrating all things musical!
As we said last week, we have a plan for the first two weeks back after half term (which is very similar to what we have at the moment in terms of remote learning and Bubbles in school. On Monday 22nd February we are expecting the Government to announce plans for the gradual easing of current restrictions and fully expect the re-opening of schools to be high up on the agenda. Once we know what the plans involve, we can make suitable arrangments and prepare for our school to be full of children again (fingers crossed!).
In the meantime, please continue to get in touch if there is anything we can do to help in any way, whether it be about places in school, remote learning...or anything else!
Catching Up and Checking In!
It's been great to see and hear children's news through emails, comments on Purple Mash and Tapestry, use of the Interactive Homework Tab and through class and 1:1 Teams meetings.
If times had been 'normal' we would have been sending reports out and holding parents' evenings next week. For obvious reasons, this will not be possible right now- however we do want all parents to have the opportunity to talk to class teachers about their child's learning and progress since September.
In light of this and in response to our Parents' Survey last month (where the overwhelming response was that families wanted to use the telephone to speak to teachers more formally), we will be offering a Parents' Consultation Telephone Appointment during either WB 22nd Feb or WB 1st March. More details will follow next week.
Home Learning
We hope that recent 'tweaks' to our Home Learning provision are helping families. We are always aiming to provide a range of learning activities that suit the diverse needs of our families- if we're still missing something that you need, please let us know.
One of the things that we have wanted to improve is the way we assess how children are doing, especially if we aren't seeing them in school at all. To meet this requirement from the Government, we are introducing a 'Friday Quiz' for every class where children can show off their learning for the week.
Look out for messages from class teachers telling you where these can be found on the website.
Message from Mrs Cadman!
Thank you again to everyone who is completing the writing tasks at home. It's wonderful to see the descriptive language that you are using. Take a look at the Writing page on the website, to see the writing that has been completed so far.
Well done to all the children who are continuing to read at home. It's so important to enjoy a book together. So please keep it up and send me photos of you reading or even videos. Take a look on a Reading page to hear Eve from Reception reading and to see's Drew's (Year 6)
book review!
This week, I thought I would give you a fun reading challenge to do at home - this will definitely test your brains -
The Emoji Children's book challenge.
Here's a sneak peek of the challenge - go to our Reading page to find the rest!
Enjoy, stay safe and keep reading.
Mrs Cadman
TT Rock Star Super Stars!
This week's awards for outstanding effort -
Congratualtions... your certificates are on the way!
Also a huge well done to Drew who solved this week's maths puzzle (again!) Drew's answer is on the website! Don't forget to try next week's puzzle. It involves lego! Send the answers to Mrs Morgan.
Happy Birthday!
The very best of birthday wishes are sent to all these children who have had their birthday this week or will be celebrating this weekend. Happy Birthday to you all!
Alicia (5)
Chloe (R)
Brody (5)
Demi-Leigh (5)
Elsie (1)
Faye (2)
What have you been up to this week...
Thank you for your lovely pictures! Keep sending them to us, it is lovely to see what you have been up to!
If you would like to share your snaps with us, send them in via info@crestwood-p.dudley.sch.uk and we'll feature them in next week's newsletter.
Thank you to Isabelle for her wonderful butterfly picture that is featured as our newsletter banner this week - well done!
And below... A very impressive lego figure Max! Well done and thank you for sharing it with us.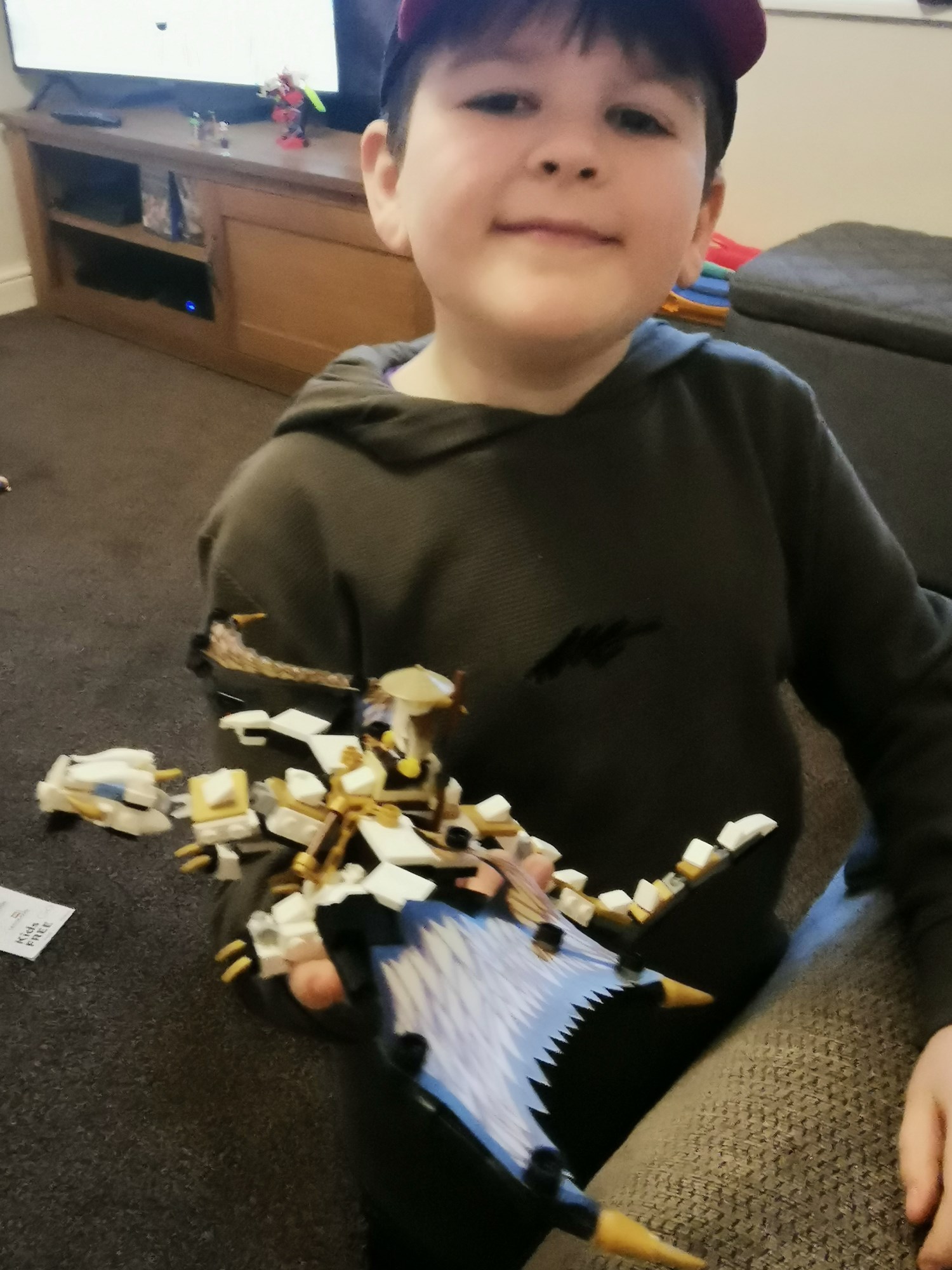 Keeping our Wellbeing in Good Shape
To mark the start of Children's Mental Health Week, The Duchess of Cambridge, Patron of Place2Be, sent a message of support encouraging children and parents to find ways to share their thoughts and feelings, particularly during such a challenging time.
Here's a short clip that might help us help our children...
And here's one with tips for us all.
And finally, here's the link for the February edition of the Rainbow Book.
Assemblies, A,B,Cs and SPARKS!
Today's A,B,C Assembly is available on our website in Pupil Pages or can be watched via the link here. Don't forget we are also still looking for children who demonstrate our SPARKS values. This half term we are focusing on AWARE. If you have any nominations from home, send them in and we'll add then to the contenders for this half term's awards.
Looking after our Neighbours...
---
Through the West Midlands Police Autism Neurodiversity group funding has been secured through Autism West Midlands for Alert Cards and these are for officers, staff and public.

You can purchase a physical card for £2.50 or you can download a free alert card to your phone or there is a printable version.

Additionally feel free to circulate should you believe somebody would benefit from these.

https://www.autismwestmidlands.org.uk/home/alert-cards/

Message Sent By
Mo Khan (Partnership Team,Engagement & Consultation Officer,Dudley)
And finally,
Thankyou to those who have contributed to Mrs Orme's collection. We will be finalising plans on Monday afternoon so there's still time to contribute if you'd like to.
Don't forget that Mrs Brierley's Photography Competition closes on Wednesday next week so if you are out in the fresh air over the weekend, take a phone or a camera and you might be able to capture a winning shot! More details about this competition, Mr Barnett's Challenges and The Talent Competition can be found here. (Thankyou for all the entries for this- if you're still hoping to send something in to Mrs Kennedy, try to get videos sent over the weekend before the finalists are selected on Monday!)
We hope you all have some moments of peace over the weekend - stay really safe and look after each other and we'll be back for our final newsletter of the half term next week.
Love to you all. x
Safeguarding and promoting the welfare of children is the responsibility of everyone in our school and at all times we consider what is in our children's best interests. We work to ensure our children our safe and cared for and by doing this we are protecting their health and development and preventing them from harm. If we are worried, we will raise concerns, share information and take prompt action with the aim of ensuring families receive the right help at the right time.