Welcome to the newsletter for week ending Friday 4th December.
First of all, thankyou everyone who donated so generously to The Poppy Appeal this year. We received our certificate in the post this week- see below for the grand total!
We've had another good week and (touch wood!) have had all bubbles present and correct for some time now...please let's keep that up and be extra careful in our final two weeks- we would hate to have to send anyone home at this point in the year!
Well done to our amazingly resilient children who have continued to work hard this term...some of these are recognised in today's ABC assembly (on the website or you can watch it here).
Nest week we will be awarding our Golden Certificates for the half term and also our POLITE SPARKS winners, before sharing our school 'Christmas Celebration' on the final Friday of term.
Breakfast with Santa!
Santa is coming to Crestwood Park for Breakfast next week! His elves are busy decoating the school hall as we speak! It will be a breakfast full of Christmas glee and wonder!
If you haven't booked yet, then call the school office and we will try our best to allocate your child a place.
If you have booked, look out for the sch.life message to tell you which entrance to use and don't forget to arrive at 8am!
Our Fundraising effort for - Poppy Appeal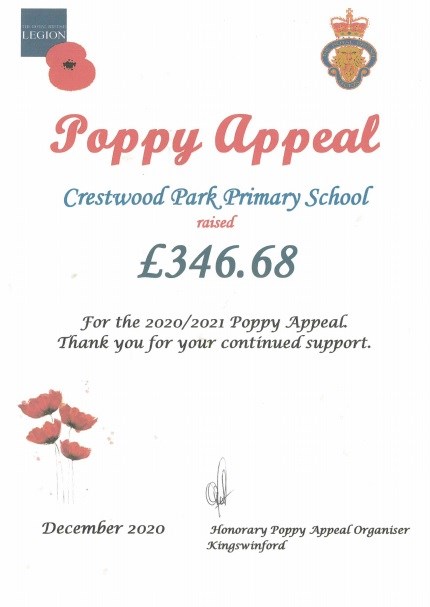 Christmas Jumper Day and Reindeer Run - 14th December
Please remember children can wear a Christmas Jumper (home-made or bought) or even just a bright top to wear with jogging bottoms and trainers on this day!
Our school calendar and Our Christmas Raffle!
The Crestwood Park school calendar has arrived! If you would like to purchase a school calendar look out for Mrs Cooper and Mrs Kennedy on the playgorund before and after school from Monday onwards!
Calendars will available for £6.00 each- please try and have the correct change (to be COVID friendly!)
For each calendar sold, school will make £3 which will help to boost our funds for the 'extra' activities and treats we like to give our children. This will help make up for the lack of other fundraising events such as the Autumn discos and film nights.
Raffle tickets will also be available at £1 a strip. We have 3 generous family hampers, a chocolate hamper and bottles of bubbly up for grabs. Again, Mrs Kennedy and Mrs Cooper will be selling tickets on the playground.
PLEASE REMEMBER TO SOCIALLY DISTANCE YOURSELVES IF WAITING TO BUY RAFFLE TICKETS OR A CALENDAR- THANKYOU!
In anticiaption of your support- thankyou!
Christmas is coming....!
Although we're experiencing tricky times, we want to make sure our children have a range of fun and exciting Christmas events to look forward to. We are also mindful that Christmas is another strain on finances so we have thought very carefully about what we are asking parents to contribute to. 
Here is a summary of what we have planned so far...(look out for more details about each event nearer the time).
WB 7th December- Breakfast with Santa Children will be able to come to school an hour early, to enjoy a festive breakfast and receive a gift from Santa himself!
WB 7th December - Christmas Crafts for Reception and Years 1 and 2
Friday 11th December- Christmas celebration filming day On this day, all classes will have their Christmas 'performances' recorded, ready to be shared with families via the website.
Monday 14th December- Christmas Jumper Day and a Reindeer Run for all children More details will come nearer the time (but there won't be any pressure for parents to buy new jumpers at all).
Wednesday 16th December- Christmas Dinner Day!
Thursday 17th December - Class Christmas Parties
Friday 18th December - Our 'Christmas Celebration' will be shared with families via the website.
Christmas Craft Competition
Thank you for sharing your wonderful christmas crafts with us today! Miss Obertelli was over-whelmed with the response and wanted to say a very big 'WELL DONE' to the School Council for organising the event. We had so many entries we decided to postpone judging until Monday (so we could get some more prizes!) Here are just a few of the fabulous creations...
No Baguettes until after Christmas...
Unfortunately, due to the extra sausages, bacon and eggs we have had to order for Santa's breakfast we do not have enough room in the fridge for all the baguettes and tasty fillings...we're very sorry! They'll be back in the New Year!
Reading at Crestwood Park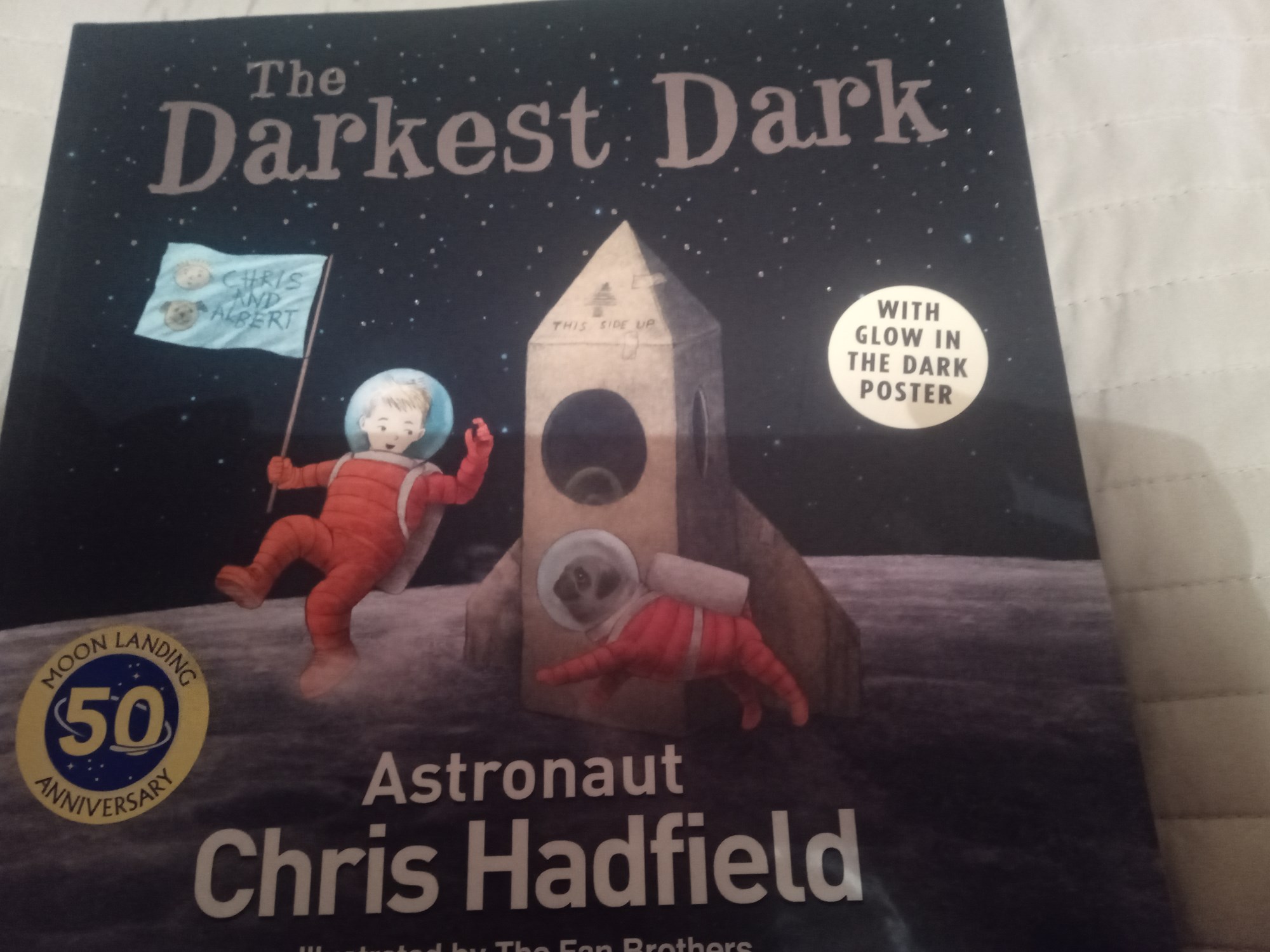 Nathaniel in Year 1 has chosen his favourite book this week:
The Darkest Dark by Astronaut Chris Hadfield.
"It's the story of a little boy who's scared of the dark but then watches the men land on the moon. The little boy grows up to be an astronaut. The book is exciting, and I like the pictures of his dreams about the moon and you can read about his job at the end of the book''
Thank you, Nathaniel, for sending me your favourite book - I think I shall have a look for that one myself as it sounds very exciting.
I would love to hear about your favourite books – you may want to write it down, draw or picture, take a photograph or even film yourself with your favourite book! Tell me why this book is your favourite – so that we can share these with our whole school.
I look forward to hearing all about your favourite books – you can send me them at acadman@crestwood-p.dudley.sch.uk.
Harry Potter inspired art from Nelly, Ian and Jess.
Jess (Year 6) loves reading the Harry Potter series by JK Rowling and is now on the 5th book!
Take a look at these wonderful drawings - Nelly has drawn Hermione, Ian has drawn Harry and Jess has drawn a very detailed portrait of Harry.
Wonderful - thank you for sending them to me!
Looking after our Community...
COVID-19 and crime survey

We are delighted to be working with University College London to understand how COVID-19 has impacted upon people's routine and online activities, crime and their perceptions of it.

To help with this work, we are encouraging our supporters to participate in a short survey (surveymonkey.co.uk/r/9LGPHDL) which closes on 23rd December.

As well as understanding how the pandemic has affected things to date, the aim of the survey is to understand how it might do so in the future. Your participation will be really valuable and help us understand things that other data cannot.

We estimate that it will take about 15-20 minutes to complete. Your responses will be stored securely and you will not be asked for any information that would identify you as an individual.

If you are willing to take part, please complete this survey: www.surveymonkey.co.uk/r/9LGPHDL

Please support this work - with your help I am sure we can gain real insight into the effects of COVID-19 on crime.

Yours faithfully,

Central Support Team, Neighbourhood Watch Network
Follow us..
Website: ourwatch.org.uk
Facebook: facebook.com/ourwatch
Twitter: twitter.com/N_watch
Instagram: neighbourhood.watch.insta
LinkedIn: linkedin.com/company/neighbourhood-watch/
Message Sent By
Deborah Waller (NWN, Senior Digital and Communications Manager, England and Wales)
Play your part, protect Dudley borough

Dudley borough has very high COVID-19 infection rates and has now been placed in the highest tier (Tier 3). Continue playing your part and follow the restrictions. Together we can reduce infection rates and ensure our borough moves into a lower tier as swiftly as possible.

New continuous cough? High temperature?
Loss of, or change to, your sense of taste or smell?

Isolate immediately and get a test. Local test sites are open in Dudley borough, by appointment only.

If your test is positive you must continue to self-isolate for 10 days from when your symptoms started. Anyone in your household must continue to self-isolate for a total of 14 days.

Self-isolation is when you do not leave your home because you have or might have coronavirus (COVID-19). This helps stop the virus spreading to other people.

Help and support during the COVID-19 pandemic

Staying safe and well -

Support and advice to help you keep safe and well during the coronavirus pandemic, including community safety, health and wellbeing, mental health and services available to support you.

Financial support

-

If you are worried about debt or your financial situation at this time, there are services in Dudley that will offer their support.

Dudley food and support service

- People who are in need of extra support can contact 0300 3302 152, Monday to Friday from 9.30am-12.30pm.

If you're travelling to work or for other essential reasons please be reminded of advice on safer travel.

If you are in the workplace remember, COVID-19 doesn't take a break. Please ensure you maintain social distancing, clean all touchpoints, wash your hands and don't share food, drink and utensils.

Remember HANDS.FACE.SPACE.
Our School Governors
Unfortunately our school Governors haven't been able to be in the building as much as they would normally be, however throughout the school closures and lockdowns (1&2!) they have been very busily working behind the scenes to make sure we are all safe and that our school continues to be the very best it can be.
Many of you will have met Mrs Jane Morgan who until this week was our Chair of Governors. She has always been a very visible member of the board and has thoroughly enjoyed sharing Christmas performances, parents' evenings, Bake Off Competitions and very many more events over the years. Mrs Morgan made the decision some time ago to step down from the position at our school so that she could branch off into a new adventure. We are sure you will want to join staff at Crestwood Park in saying a huge thankyou to Mrs Morgan, for all the hard work she has put in to our school and for making such a difference. We wish you all the best for the furture!
Although we are sad to see Mrs Morgan step down, we are delighted to be welcoming our new Chair of Governors- Mr Dean Hubbard. Mr Hubbard was a parent at Crestwood Park for 7 years before his son moved up to secondary school in September and has been a Governor here since 2013. Dean knows our school very well and will, we are sure, be a fabulous new Chair.
If you want to contact Mr Hubbard, you can do via info@crestwood-p.dudley.sch.uk or by calling school and leaving your contact details.
Be Internet Legends!
and finally...
We're always incredibly proud of our school community. This week has been no exception and we are always so grateful for the efforts you all go to to keep things ticking along in these very strange times! We also know that for many families, Christmas does not always bring the 'cheer' we hope for. Please remember that we are a family, and as a family we are here to help you- whatever the problem or worry.
Have a good weekend- wrap up and keep warm, dry and safe! Look after each other and we can't wait to see you all back again on Monday morning!
Safeguarding and promoting the welfare of children is the responsibility of everyone in our school and at all times we consider what is in our children's best interests. We work to ensure our children our safe and cared for and by doing this we are protecting their health and development and preventing them from harm. If we are worried, we will raise concerns, share information and take prompt action with the aim of ensuring families receive the right help at the right time.