It's been a jam-packed last week of the half term and thankfully the sun has been shining on us. At the beginning of the week we held interviews for two new members of the Crestwood Park family and are pleased to announce that Mr Matthew Powell and Miss Sophie Logan will be joining our teaching teams in the Autumn term. They will both be visiting school next half term and we are sure you would like to join us in extending a very warm welcome to them both.
This week we are saying goodbye to Mr Benbow who stepped in to teach Year 3 last term. We know he will be very sadly missed by children, staff and parents and we wish him all the best for his next adventures. Mrs Kennedy and Mrs Cooper will be teaching the class next half term and they are both looking forward to their new 'job share'!
Shortly after our return on the 7th June, we will be letting children and families know who their teachers and TAs will be in the new academic year.


Sports for Schools
The prizes for your outstanding fundraising efforts have been sent home today!
Again, thank you for all your continued support - we have such a generous community and we are incredibly proud of you all!
Looking after our WELL-BEING
Hello from the Pastoral Team, we hope you are all well.
Here is some information we would like to share, we hope you find it useful.
Wishing you all a happy and safe half term , it looks like the sun will be shinning for us!
Looking forward to seeing you all when we return.
As always, if you would liek to speak with us please call the office and ask for Mrs Priest or Mrs Redfern.
Denim for Dementia - Friday 21st May
Thank you to everyone who took part in last week's fundraising event!
Together we raised £377.87- again a marvellous amount of money for a very well-deserved cause.
National Numeracy Day
As part of National Numeracy Day last week, the children in school thought about how they could use numbers in a job when they were older. There were lots of great ideas. Here are a few more of the wonderful drawings from Daisy, Eva, Rosie, Eden.
Lapwood Lambs - We're back!
We are pleased to say that Lapwood Lambs will be opening its doors again on Monday 14th June 2.15-3.15pm ...and it's FREE!
Due to current covid restrictions things will be a little bit different but no less fun. We will need to limit numbers and will admit families on a first come, first served basis. Please arrive via the main front entrance early, as we don't want anyone to be disappointed.
Feel free to bring your own refreshments as we won't be providing these at the moment (could we ask that hot drinks have a lid for safety please).
Can't wait to see you all, we have missed you!
Sports Clubs
Tuesday
Calling all - Mums, Dads, Carers, Grandparents & Siblings...
We are looking to start a family rounders club after school on a Tuesday. The sessions will run from 3.15 - 4.15.
...keep your eyes peeled for more information after half term!
Wednesday
ACE Coaching sessions will begin for KS1 Athletics.
...keep an eye out for the letter after half term.
Thursday
Running club will continue for KS2.
...more information to follow.
Fitness Friday
Fitness club for adults begins on Friday 25th June. The sessions will run from 9 - 9.30am. No need to book...just turn up at the main entrance.
Rainbow Booklet - May Edition
Below is the latest edition of the Rainbow Booklet which includes brand new activities for children to take part in over half term.
Don't forget when you are taking part in any activities to use the #BlackCountryRainbowHourCampaign.
Brownies Update
We are hoping to get our 'Brownies' back up and running in September 2021. We are in the process of making arrangements for this and we will keep you posted with the details as we know them!
Happy Birthday!
We would like to say a very big HAPPY BIRTHDAY to Grace (4), Ben, Grace (R), Aleksandar, Adam, Anna, Rosie and Joshua who have celebrated their special day this week, or during half term! WE hope you all have a lovely day.
Entries for the Royal Mail stamp competition are in...
Your enteries are now on their way to the Royal Mail! Good luck to all who entered.
Thank you to everyone who entered - each and everyone of you have a design worthy of a stamp - well done to you all!
Here are a few designs below.
Don't forget...usual school uniform to be worn every day after half term!
After half term we would like to resume 'normal' school uniform throughout the week.
Therefore P.E kits should be brought into school in P.E bags and children will revert to getting changed at school. If children are taking part in after-school clubs, they should also wear their uniform during the day.
Could we also remind children that hooped earings should not be worn in school.
Thank you for your support.
Please see the message from the DfE regarding attendance.
Summer term attendance expectations for schools
School attendance continues to be mandatory for all pupils and the usual rules on school attendance apply. This includes parents' duty to ensure their child regularly attends school, and schools' and local authorities' ability to issue sanctions, including fixed penalty notices, for poor attendance.
We expect schools and local authorities to continue to communicate clear expectations around attendance to families, identify pupils at risk of disengagement and develop plans to re-engage them.
As restrictions begin to lift, we know some families may be looking to take holidays during term time. As usual, parents should plan their holidays around school breaks and avoid seeking permission to take their children out of school on holiday.
When to get a test...and which one!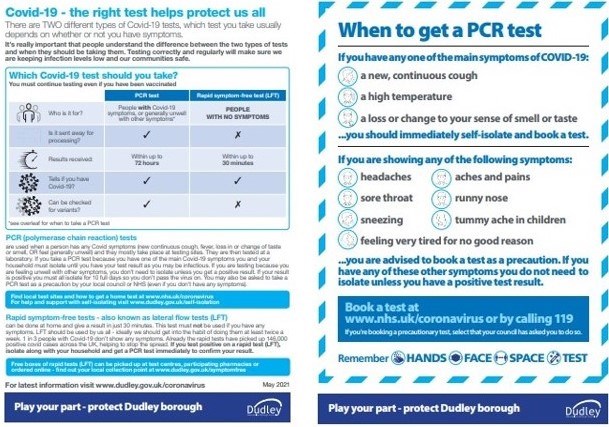 Roadmap to easing COVID restrictions
What if my child catches COVID during half term...
Where pupils, students or staff test positive for COVID-19 during half-term, having developed symptoms more than 2 days since being in school or college, no action is needed.
Staff, young people, parents and carers should follow contact tracing instructions provided by NHS Test and Trace.
However, where pupils, students or staff test positive having developed symptoms within 2 days of being in school or college, you are asked to assist in identifying close contacts and advising self-isolation, as the individual may have been infectious whilst in school or college. In this case please contact the school via info@crestwood-p.dudley.sch.uk.
Looking after our Neighbours
Don't forget we are still looking for ideas for our 'Acts of Community Kindness' ...if you have any thoughts, please let us know.
Also, if you know of anyone in our local community who is on their own or who you think might appreciate some contact from our children in the form of letters, postcards, messages etc, then get in touch.
Coming up next half term...!
For several years now (except last year!) we've run 'Summer Fun' activity events straight after school for our children. We have been running this as an alternative to a Summer Fayre type event as it means we can give children a special treat whilst also fundraising for our school.
The sessions are for an hour and a half and during that time children take part in a range of fun activities including crafts, a photo booth, a bouncy castle and a 'happy meal' type tea. Children also receive a photo of themselves enjoying the eveining.
The session costs £7 per child and in order to keep to COVID guidelines, children will keep to their year group 'bubbles'. In order for us to plan the 'fun' we would like to know how many children might want to come along. Please complete the 1 minute survey by clicking the link here!
And there's more...
We have successfully secured some funding for two 'Holiday Activity Fun Days' at the start of the six week holiday (Thursday 22nd and Friday 23rd July). The days will be run by Mr Barnett and other CPPS staff and will be free to all children. Although numbers will need to be limited (with priority given to children eligable for free school meals) we are hoping that we can invite everyone who wants to take part. The club is open for all children in school (not Nursery).
In order for us to plan for the days, please indicate any interest by completing the 1 minute survey here.
Interested in a part time post in school?
We are looking for someone to join our lunchtime supervisor team. You don't need any special qualifications but must be calm, patient, professional...and you must love spending time with children!
If you are interested, please get in touch via email - acooper1@crestwood-p.dudley.sch.uk and we can tell you more about this rewarding role.
Golden Certificates and SPARKS Awards!
Don't forget, all our assemblies are available to watch on the website. Today's Golden Certificate winners and KIND Sparks Awards can be enjoyed by clicking the link here!
And finally,
Enjoy half term if you are lucky enough to be having a break- please stay safe...we know that some of our neighbouring districts have been put on COVID 'watch lists' and we want to make sure we stay on track for the next 'roadmap' easing.
It looks like the weather will be kind so enjoy a bit of subnshine and we look forward to seeing you all on June 7th in smart school uniform and ready for a very busy six weeks!
Safeguarding and promoting the welfare of children is the responsibility of everyone in our school and at all times we consider what is in our children's best interests. We work to ensure our children our safe and cared for and by doing this we are protecting their health and development and preventing them from harm. If we are worried, we will raise concerns, share information and take prompt action with the aim of ensuring families receive the right help at the right time.