Diary Dates for week beginning 30th April 2018
| | | |
| --- | --- | --- |
| MONDAY | 2:15 - 3:15pm | Lapwood Lambs |
| | 3:15 - 4:00pm | Choir Club |
| TUESDAY | 3:15 - 4:15pm | KS1 Athletics Club |
| WEDNESDAY | 3:15 - 4:15pm | KS2 Athletics Club |
| THURSDAY | | School Closed - Election Day |
| FRIDAY | 2.45pm | Praise Assembly |
Forward Planning
| | | |
| --- | --- | --- |
| May | | |
| 3rd | All Day | Election Day - School Closed |
| 10th | 3:30pm | Fun Run in aid of Muscular Dystophy UK |
| 7th | All Day | May Day Bank Holiday |
| 25th | 3:15pm | Break up for Half Term |
| June | | |
| 4th | 8:55am | Children Return to School |
| 5th | 9:00am | Year 2 Open Morning |
| 6th | 9:00am | Reception Open Morning |
| 7th | 9:00am | Year 1 Open Morning |
| Week beginning 11th | TBC | Year 1 Phonic Check week |
| 13th | 7:00pm | Reception new intake evening for parents |
| 15th | 2:45pm | Reception Class Assembly |
YEAR 2 - SATs Club held on Thursdays.
Miss Johnson wanted to let you know that there will be NO SATs club on 3rd (school closed) and 10th May, due to other school commitments. The LAST session will take place on 17th May. Thank you all for your support.
Are your children SPARKS?
Congratulations to these children who have been recognised for demonstrating our school values...
SMART...
Jamie (R), Declan, Lacey, Maddie, Evie (4), Alina and Lewis
Polite...
Liam H, Lucas, Callum, Remarley, Eva, Kayden, Cooper, Tyler B, Evie D, Lilly, Finley H, Georgina, Elly L, Hayden, Liam M, Alyssia, Daniel, Mia, William M, Harry A, Josh P, Lola, Lexi E, Kian J (2), Nathan, Lexi-Boo, Daisy-Mai, Matilda D
We are currently looking for children who are AWARE! If you are not sure what the 'R', 'K' and 'S' stand for, ask your children!
Diana Award
Last Wednesday four of our Year 5 children spent the day at David Lloyd to take part in Anti-Bullying Training which is organised through the charity 'The Diana Award'. These children are now our school Anti-Bullying Ambassadors! In the very near future, the Ambassadors will be giving a presentation in assembly to tell the rest of the school what their role involves and how they can support pupils across the whole school.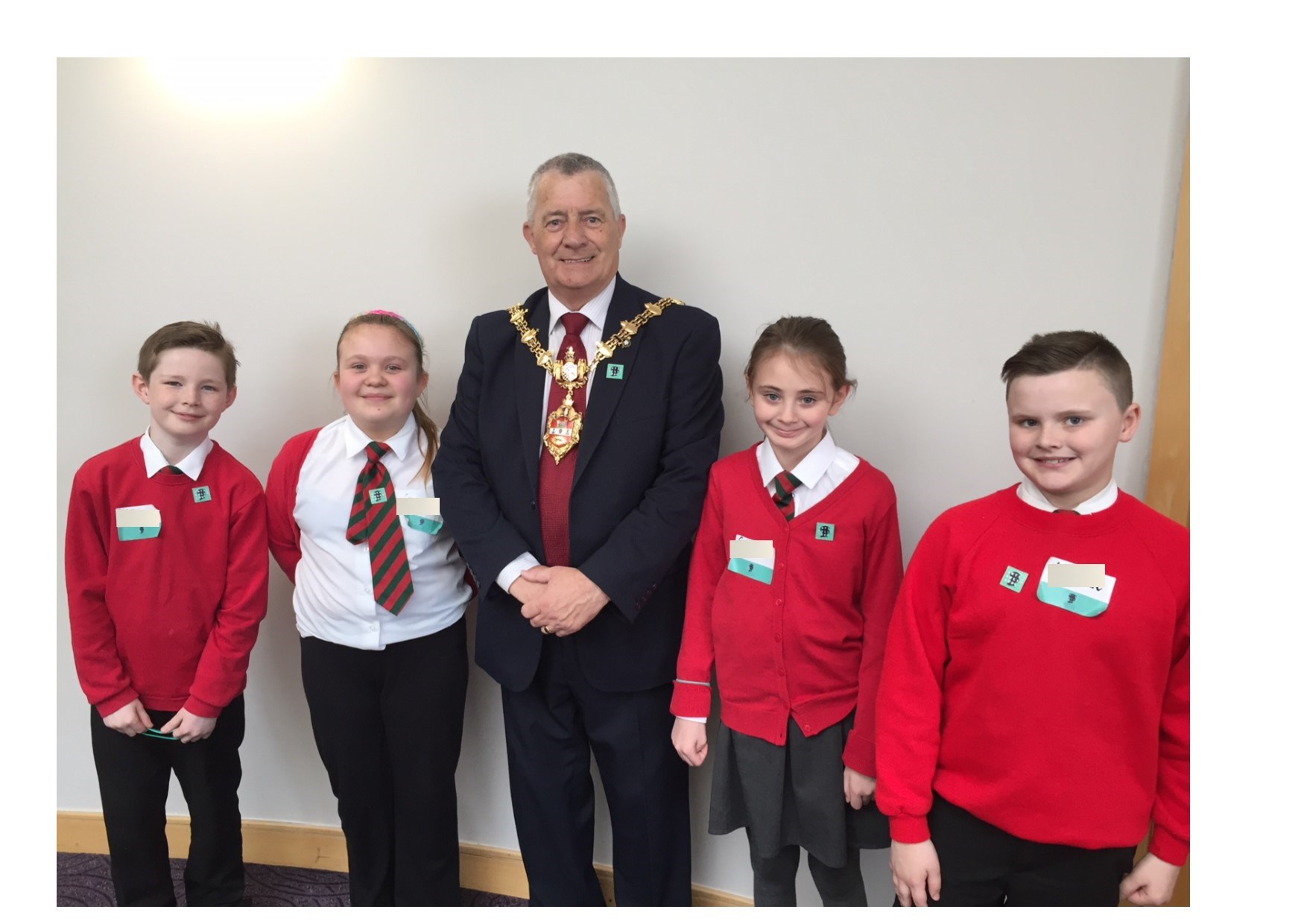 As well as working with over 100 children from other Dudley schools, our Ambassadors met the The Mayor. Mrs Cooper, who accompanied the pupils, said she was incredibly proud of our Crestwood Park Pupils. "They were perfect... a real credit to our wonderful school and I am sure they are going to make a positive difference as Anti-Bullying Ambassadors."
Cross Country Success
We would like to congratulate Luke Bailey, Rhys Lees and Cian Wood for representing Dudley Schools last Saturday at the Black Country Inter Area Cross Country Championships. All three boys ran very well. Not only did they perform well, but they were well-mannered and very supportive of each other and the opposing teams. An extra well done to Luke who finished 8th overall and 4th out of all runners from Dudley Schools!
Parents' Workshops
Letters will be coming home shortly giving the opportunity to attend a parental workshop. This is in response to the survey carried out at parents' evening in February. We will send out a summary to all; please check your children's bag as letters from each year group are coming home as you read this! We are aiming to hold at least one event per term- if there is something that you would like to find out and you are not sure whether we have planned for it, please let us know.
PLEASE SUPPORT THESE SESSIONS- in previous years many parents have asked for workshops but very few have come along! Parental involvement in children's learning is proven to be THE MOST EFFECTIVE WAY of increasing children's success at school.
Forward Planning for Fabulous Finishes
We would love you to come along so here are the dates for the Fab Finishes so that you can arrange time off if you wish to attend.
17th July at 9:15 until 10:15am for Year 1 and 2.
17th July at 2:15 until 3:15pm for Year 3 and 4.
Year 5 date and time has yet to be confirmed, so watch this space!
Please could we remind you of some of our expectations for parents and family members when they join us for events in school.
Mobile phones must be kept out of sight for the entire visit - as well as children's safeguarding being a priority, your children would love your complete attention. There are reminders around school and as you sign in.
Please avoid conversations with other parents,visitors or pupils that are unrelated to the activity in the classroom.
The purpose of events in school is for parents to celebrate your children's achievements and/or for you to support your children and learn along with them. Positivity is key and if you do have concerns please raise them with a member of staff at the end of the session.
Children's books are a record of their work and progress and we encourage children to be proud of them. If you are trying to support your child, encourage them to record their answers and don't be tempted to do it for them!
Footballers Wanted