Welcome to our Newsletter for week ending 26th February 2021!
The announcement on Monday was, we are sure, exactly what many parents were hoping for. After what seems an eternity, we are finally on the last leg of 'home learning' and and have 'full reopening' in our sights!
We are busy making sure all plans are in place for March 8th and beyond and part of those preparations is to make our children's first week back something to really look forward to (see below for more details!).
Whist many parents are eager for their children to return, we do know that for some children, a full school is a rather daunting prospect and that actually, they aren't feeling too good about the thought. Or for some children, being at home 24/7 with Mum or Dad has been their idea of heaven and with news that school is reopening, they may be starting to feel anxious about being separated. If this sounds like your child, then please, please let us know. We have an amazingly gifted and knowledgable Pastoral Team here at Crestwood Park and if we can plan in advance for these youngsters, we are sure we can support them in their transition back to school. Please get in touch with any member of staff if you are worried, and we can get straight on with supporting your child and your family.
We sent out a special 'newsletter' on Wednesday with all the details about arrangements for the full re-opening. Please do read it if you haven't had chance. Also, please pay special attention to the COVID Home School Agreement (attached to the letter). We need EVERY PARENT and family member to pay attention to our guidelines- please don't put us in the embarrassing position of having to remind you of the rules.
Finally, for those children in school next week, please remember that Friday is an INSET day for us. Thankyou
Home Learning
Only one more week of home schooling to go! Home learning packs will be sent home today for next week, and are ready to collect for those who do so.
Work will also be uploaded to the school class pages-if there are any problems please let us know.
Thank you to Rose, Millie, Ashley and Eve for your creative castles! Keep up the good work!
WB March 8th
For the first week back, we are planning some exciting theme days...
Monday- Super Science Day! Children need to be in their smart school uniform but will also need to bring with them a plain white or light coloured shirt (from big brothers, Dads, Grandads or Uncles) that can be written on please. 
Wednesday- Focusing on our Wellbeing! Children can wear their own clothes featuring a colour (or colours) that makes them feel happy. (These need to be suitable for outdoor and physical activities (we suggest trainers for footwear). 
Friday- Crestwood Park's Book Day! As we won't have all children back in school on Thursday 4th (the official World Book Day) we thought we would celebrate all things literary when we are back together. This means children can (but don't have to) come to school dressed up as a character from a book on the 12th. 
Message from Mrs Cadman - World Book Day - Friday 12th March
World Book Day 2021
We should be celebrating World Book Day 2021 on Thursday 4th March. However, we have decided to postpone it, so that we can all celebrate it when we are back together. Crestwood Park's Book Day will be held on Friday 12th March. We will be dedicating this day to a variety of activities associated with books and you are invited to dress up as something or someone associated with a book.
Each year, children receive a £1 World Book Day token. This year you will receive a digital book token; hese tokens can be printed at home or shown to a bookseller on a phone or a tablet. Please check whether your local bookseller is able to accept this option beforehand.
To view the voucher, please follow the link:
https://www.worldbookday.com/wp-content/uploads/2021/01/booktoken_PrimaryUK.pdf
Changing lives through a love of books and shared reading. Wor ay egister y eland. ffff e y £1 Book Token Primary Schools and Nurseries/Pre-Schools (UK)
www.worldbookday.com
Please only use the voucher once per child.
We look forward to celebrating World Book Day with you all on the 12th March!
TT Rock Star Super Stars!
This week's TT Rockstar awards for outstanding effort go to:
Well done! Certificates are in the post!
Also, well done to Drew, Alek and Nadia who solved this week's maths puzzle. Their answers are on the website.
Next week there is a maths game to play instead of a puzzle.
Happy Birthday!
The very best of birthday wishes are sent to all these children who have had their birthday during half term, this week or will be celebrating this weekend. Happy Birthday to you all!
Thomas (5)
Daniel (4)
Benjamin (Reception)
Kaidi (6)
Mason (Reception)
Ameliya (2)
Darcey (5)
Gordon (4)
Drew (6)
Matilda (6)
Sophia (4)
Last remaining school calendars
We have a few remaining school calendars for sale. The proceeds of the sales will be used to help the school buy additional resources for the children at our school.
Calendars are now available at only £3 each!
Ask your child's class teacher before or after school if you would like to buy one.
Our Uniform!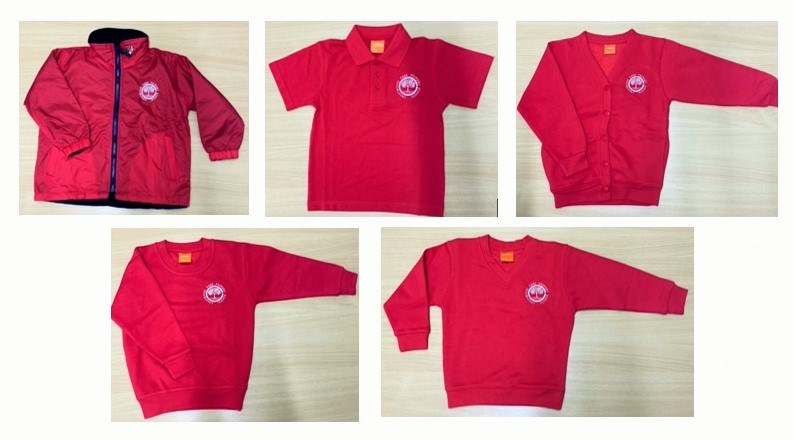 We are looking at using Totally Uniform as a supplier of our uniform. Please all have a look at their website, which our school can be added to if we decide to go ahead. Samples of the school uniform can be seen below.
Built in features include Paypal and Apple Pay secure payment methods, live stock levels and a range of delivery/collection methods.
Please e-mail Mrs Kennedy (ekennedy@crestwood-p.dudley.sch.uk) with your thoughts or comments as to whether you would be interested in using such a supplier. Alternatively, give your feedback via the Parent Voice Whats App Group.
Today's ABC Assembly!
Today's ABC Assembly is available to view on our website in the usual place or you can watch it via the link here..
Message from the school kitchen...
Due to delivery issues we will not be able to provide baguettes next week. They will be available to order again week beginning 8th March.
You can find an updated school lunch menu via Our School > Menu. This menu will start week commencing 8th March.
Send your name to Mars!
Would you like your name to appear in space- on Mars?
The link below will take you to the NASA website so that you can submit your name!
All submitted names are reviewed, approved and then etched onto a microchip. The microchip is placed aboard the Mars 2020 rover, which will land on Mars.
Family Learning online offer
We would like to share some resources we have receieved with you.
Please see below PDF's, Family Learning's on-line offer for courses.
All courses are available on-line and are free. Attached is a flyer for a creative course and a more detailed flyer on the other sessions we are offering.
Keeping our Wellbeing in Good Shape
Sad news for our Crestwood Park Family
Sadly we received the news earlier this week that Elaine ... - our swimming teacher at Crestwood - had passed away after suffering ill health and contracting COVID. Lots of our pupils benefited from her swimming tuition over the years and I am sure you will join us in sending our condolences to her family.
Our School Needs You!
Many of you will be aware that a very important aspect of school leadership is our Board of Governors. Our School Governors regularly meet with school staff to provide challenge, support and encouragement on aspects of school life such as pupil standards, staffing, finance and Health & Safety. We currently have vacancies on our board and we'd like to know if there are any parents who might be interested in finding out more about the role, or who might know someone in their community that could fit the bill.
You don't necessarily need any prior experience to be a school Governor. However what we would say is you need to be passionate about our school, dedicated to doing your best, willing to learn and happy (and available!) to meet other Governors and school staff around three times per term.
We usually hold meetings in the evenings and currently, they are all being held via 'Teams'.
If you are interested, or know someone who might be, then please get in touch with Mrs Cooper or Mrs Kennedy who will be able to tell you more about the role. Alternatively, if you'd like to speak to one of our current Governors, let us know and we'll put you in touch with someone from the Board who will happily tell you more about this incredibly important strand of school leadership.
Thank you
Crestwood Park Has Got Talent!
Thank you to all those who submitted videos for our virtual Talent Competition this week. It's been great seeing all the finalists showing off their talents. Thankyou too to all those who have voted- by the end of the day, we'd had over 100 nominations which was fantastic!
We are very please to announce that the overall winner was.... Lilly Mai! Well done Lilly! Your prize is at school ready for you to collect!
Close runners up (in no particular order) are Mabel, Cailen and Joseph.
Well done everyone who took part (Mrs Kennedy has prizes for you all!)- we're really proud of you and hopefully we'll see you again when we attempt (for the third time!) to host our 'live' Talent Show at some point next year!
And finally,
With the sunshine makng an appearance, we hope that you all manage to get some fresh air over the weekend and that the first signs of Spring give you the little boost we all need right now.
Do get in touch if you need anything, especially if you are worried about your child's return to school on the 8th.
Take care of each other, stay safe and we'll be back for our final remote newsletter next week!
Safeguarding and promoting the welfare of children is the responsibility of everyone in our school and at all times we consider what is in our children's best interests. We work to ensure our children our safe and cared for and by doing this we are protecting their health and development and preventing them from harm. If we are worried, we will raise concerns, share information and take prompt action with the aim of ensuring families receive the right help at the right time.