This week has been jam-packed. We have enjoyed watching the Reception Class Assembly (link further down the page) and preparing for Summer Fun evenings and our long-awaited Local Area Exhibition.
We were hoping to invite parents in for this event, but unfortunately, with COVID cases rising locally and nationally, we need to keep the number of visitors in to our building, to a minimum. Children will still be able to enjoy the exhibition in their bubbles and we will make a film of the event to share with parents and families. We're really sorry about the change of plan and we hope you understand the reasons for it.
To make it more of an event for the children, they can come dressed up for the day in 'Black Country' costume. This could be something based on the Black Country flag or something historical (think Peaky Blinders!). It's not compulsory and teachers will talk about other ideas with classes on Monday.
Thank you!
Thank you to everyone who has brought in their Crestwood Cups & donated towards our bottle tombola! We really do have some amazing goodies to be won on our tombola at the 'The Great Get Together Picnic thanks to all of your donations!
If you didn't manage to bring the cup or a bottle in - there's still a little bit of time to donate. Just bring it along on Monday and hand to your class teacher.
Summer Fun Days - NEXT WEEK
We are looking forward to running our Summer Fun sessions next week.
The sessions will run straight after school until 5pm; children will need to be collected from the main entrance at this time.
Children will take part in a range of craft and sporting activities for an hour and then have a 'happy meal' type tea provided by our fantastic catering team. Children will also have a photograph taken during the session, which will be sent home at a later date.
Children will need sun hats, sun cream and water bottles as most activities will be outside.
Monday - Reception
Tuesday- Year 1 & 2
Wednesday - Year 3 & 4
Thursday - Year 5 & 6
The Great Get Together Picnic - Friday 9th July
'The Great Get Together Picnic' 2.30pm - 5.00pm.
We are so exited for our picnic this year! We have so many things planned for you all!
Beat the goalie - Bottle tombola - Crestwood Cups - Ice Cream - Year 6 Enterprise
You scream, we scream, we all scream for ice cream!!
As an extra treat this year we have an ice cream tricycle at this event which is being run by Mary Stevens Hospice. All profits raised will be donated to help patients at MSH. No ice cream or lolly pop will be over £1 to purchase.
Summer Activity Day
We are exited to announce that Mr Barnett will be running Summer Activity Days at the beginning of the school holiday.
The clubs will run from 9.00am until 3.00pm giving your child the chance to participate in a number of activities and crafts.
Please check your child's bag for the letter with more information.
After School Sports Clubs
No clubs next week as it's Summer Fun!
Fitness Friday
Thank you for all of our fitness club participants today! I am glad you all had fun and enjoyed the session!
New equipment has arrived ready for next week. Think you'll agree it looks impressive! We are very grateful for the donations from parents and the fund raising which has enabled us to buy these items.
If you want to join in, come along on a Friday morning 9.00am - 9.30. Please don't feel you aren't fit enough or it will be too hard; it will be set at your level, come and have fun!
Everybody welcome and best of all...it's free!  So get ready for for another muscle pumping work out from Mr Barnett!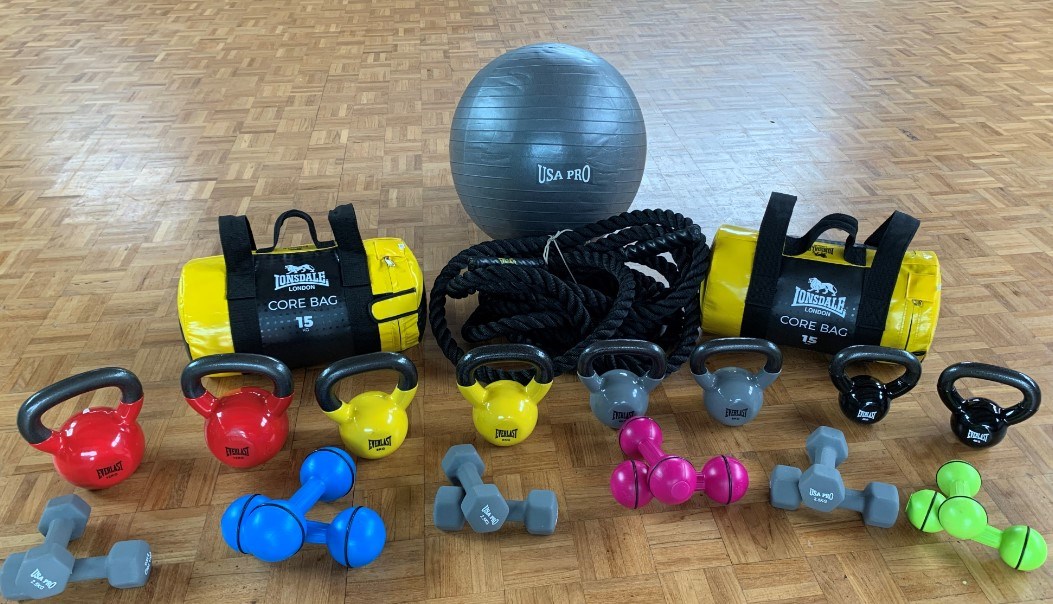 Happy Birthday!
We would like to say a very big HAPPY BIRTHDAY to...
Evelyn-Mae, Oliver, Kelsey and Daisy who have celebrated their special day this week or will be doing so over the weekend. We hope you all have a lovely day.
We need your empty crisp packets!
Eve from Reception and her mum Kelsey (one of our parent governors) need your help, to help others!
All we need is your empty crisp packets!
Your empty crisp packets will be used to make waterproof blankets for people who unfortunately find themselves homeless.
If you could take your empty crisp packets to your child's class so they can be collected, we can send them off to Eve who will work her wonders!
In anticipation of your support...thank you!
When to get a test...and which one!
Lateral Flow Tests are for non symptomatic testing. PCR testing is for testing with symptoms.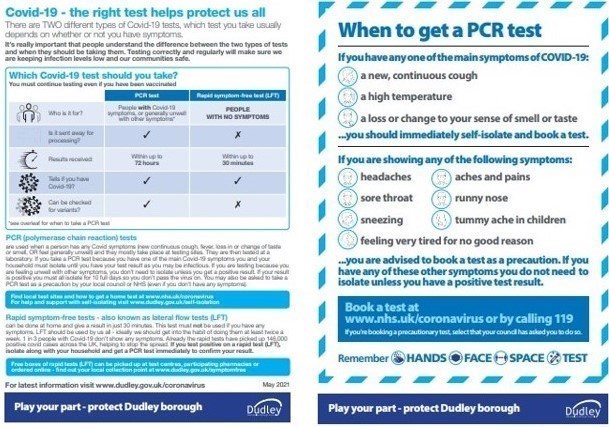 Looking After our Neighbours
Successful Speeding Operation
---
Good Evening All,

Following a number of concerns raised by members of the public, Brierley Hill Team 3 conducted a successful speeding operation this evening, resulting in a number of tickets being issued.

The operation was conducted on both Bromley Lane / Standhills Road between 1800 and 2000 hours.

The highest speed we recorded was 44mph, which was captured on Standhills Road.

We hope this sends out a clear message that driving at high speeds is not acceptable, and that there's a reason why we have speed limits put in place.

We have further operations planned for the near future, however if you have certain roads that you feel may benefit from a speeding op, please get in touch with the below email.

Brierelyhill@west-midlands.pnn.police.uk

Best Wishes

PCSO Webb
Kingswinford/Pensnett/Wall Heath Neighbourhood Team
Brierley Hill Police Station
West Midlands Police


Message Sent By
Louis Webb (Police, Police community support officert, Kingswinford, Wall Heath, Pensnett and Brockmoor)
We have been made aware of a

Covid Vaccine Passport scam email

going around that purports to be from the

NHS

and informs recipients that they can apply for their

"Digital Coronavirus Passports"

Clicking on the link within the email, takes you to a convincing but

fake

NHS website that asks for

personal

and

payment details.

(for an admin fee)

The website has since been taken down, but in case similar emails/websites appear can you please circulate the attached alert to your residents, members, groups and mailing lists.

And just to reiterate, your vaccination status is obtained FREE through the NHS App, website or by calling the NHS on 119.

More information can be found on the gov.uk website;
https://www.gov.uk/guidance/demonstrating-your-covid-19-vaccination-status-when-travelling-abroad

Please note that any Phishing scams can be reported to SERS (Suspicious Email Reporting Service): report@phishing.gov.uk

Best wishes

NEIGHBOURHOOD WATCH NETWORK, Central Support Team
Neighbourhoood Watch Network is a charity registered in England & Wales, CIO no: 1173349



Message Sent By
Cheryl Spruce (NWN, Head of Membership and Community Engagement , National)
Reception's Class Assembly
Well done to all the children for such a marvellous explanation of the jobs people do to help us. Sit back and enjoy the assembly by clicking the link here. Don't forget you need to be logged on to the app or website as it's password protected.
And finally,
Thankyou to all those families who are supporting us with our measures to keep our school family COVID free. We are all desperate to get 'back to normal' but we really can't afford to be complacent. Local primary schools are having to close bubbles again and we want to be able to get through these last few weeks without having to send any one home- it's a huge inconvenience, it means that children miss out on all the 'best bits' of the Summer term and most of all, it puts our health at risk.
We know the one-way system is a pain for some of you and masks are horrible to wear, but please help us to keep our school open so our children can enjoy an undisrupted end of the term- they deserve it!
Take care all and see you on Monday.
Safeguarding and promoting the welfare of children is the responsibility of everyone in our school and at all times we consider what is in our children's best interests. We work to ensure our children our safe and cared for and by doing this we are protecting their health and development and preventing them from harm. If we are worried, we will raise concerns, share information and take prompt action with the aim of ensuring families receive the right help at the right time.