Welcome to our weekly newsletter!
We've certainly ended the week on a high! Our Harvest Assembly was really uplifting and certainly gave us plenty to feel grateful for, and the Coffee Morning was superbly supported by families- thankyou SO much!
It's been such a long time since our school has felt properly 'open' and seeing the hall full of smiling children and parents was just perfect!
Next week is Sports Day (more details below) then School Council Elections and then in the last week of term we are holding our first Parents' Evening of the school year. Please note that appointments for children in Years 1-6 are on Wednesday 20th October (4:30-7:30pm) and appointments for Reception children are on Thursday 21st October (1:30-4:30pm)
Crestwood Park Does Bake Off!
We had an impressive 174 entries for Crestwood Park's Bake Off this year!
The amount of effort that had gone into your 'bakes' was really fantastic and it was great to see how proud children were of their cakes and biscuits.
An extra well done to our Bake Off winners:
Millie, William, Eve, Ashleigh, Zach, Savannah, Sienna, Troy, Elliot, Daisy & Demi-Leigh.
Perhaps we'll see some of you on 'Bake Off' one day!
To say 'thank you', every child who entered will have received a chocolatey treat!
We don't have the final total for money raised just yet, but we will share it with you as soon as we know.
Thank you so, so much for your generosity & helping us to have such a successful event - our parents and families ALWAYS support our charity events so well and today you amazed us once again. Our sincere thanks- we know that the money raised will make a difference to many people and their families.
After School Sports Clubs and Lunchtime Clubs
Tuesday
Archery/Target Club for KS2 - 3.15 - 4.15
You should have received a letter in regards to the next available Archery/Target club starting Tuesday 12th October. Please note that this is for the children who did not get chance to take part in the first round of the club, so that everyone has a chance to take part.
Wednesday
Multi-Sports Club for KS1 - 3.15pm - 4.15pm
Thursday
Running Club for KS2 - 3.15 - 4.00
Friday
Fitness Friday is back 9.00am - 9.30am.
This is a free club available for our children's families, please feel free to join us! We have lots of new fitness equipment for you to use.
Lunchtime Clubs...
Recorder Club on Tuesdays and Chess Club on Wednesdays.
We are very aware that our younger KS1 children do not have any 'free' after school clubs. We apologise for that and are on the case! Please bear with us whilst we resolve the issue.
A message from our Pastoral Team
This week we would like to share a fun activity that you can do with your child and is perfect for confidence building and supporting children to have a positive view of themselves. We may hear our children saying "I'm not as good as them" or " I can't do it," and at times lack the resilience and confidence when faced with new challenges and situations. Using positive affirmations can support their progress and help them feel more confident about themselves.
Mirror, Mirror!
· Use a photo or ask your child to draw a picture of themselves.
· Place this image in the centre of a piece of paper or photo frame.
· Encourage your child to think of all the things that make them the wonderful unique person they are, include times when the have felt proud, or attempted something new and add them to your picture/photo.
· Ask other members of the family to join in and add to the picture/photo, and even do one for each member of the family.
What a lovely way to remind our children of the unique and wonderful qualities they have to offer the world, a perfect start to a day or as a boost before bed.
Below are some examples that may inspire you, have fun and be creative love the Pastoral Team xxx
Sports day - Thursday 30th Septmeber
We will be using The Dell Stadium for our Sports day on Thursday.
For the events to start promptly, could we please ask that parents bring all children directly to the stadium for the normal registration time of 8.55am. Teachers will be there to greet children and register them into classes. At this point, parents who are able to watch the events can find a seat in the stand.(Please don't arrive before 8:40am.)
Children will need to arrive in their P.E kit with their matching house team colour T-shirt and a named water bottle. (Check with your class teacher if you are unsure what house team your child is in.)
We will provide children with fruit at break time but if you wish your child can bring their own (fruit or veg only please.)
Please be mindful of the weather/changing weather conditions and ensure your child is dressed appropriately. You child will remain in their sports clothes for the remainder of the school day.
After the event, children and staff will walk back to school, in time for lunch at 12.15pm. There will be normal lunchtime arrangements on this day - if your child is having a packed lunch from home on that day, they will need to take this to the Dell Stadium with them. Otherwise please ensure your child's meal has been booked.
Our children's safety is of the utmost importance and we would greatly appreciate any parents who are able to walk back to school with us. If you would like to walk back to school with us, that's fine but please DO NOT TAKE CHILDREN BACK IN CARS. Teachers need to know that their class are with them at all times and we don't want to suddenly find a child missing!
Usual 'home time' routines will apply and children will need to be collected from school at 3.15pm as normal.
Let's hope the sun continues to shine and we get to enjoy a super sporting morning!
Parent Voice Meeting - Friday 1st October
Our Parent Voice group is there for parents and carers to discuss, ask questions and support the running of the school.
The aim of the group is to do exactly what the name suggests- give parents a voice!
The first meeting will be held in school on Friday (1st October). It will start at 9.00am, with a taster fitness session from Mr Barnett, (no obligation to take part!) followed by refreshments with Mrs Kennedy and a chance to discuss the year ahead at 9.30am.
If you have any further questions regarding the meeting or would like to confirm your attendance, please let Mrs Kennedy know when you see her on the playground or send her an e-mail:
ekennedy@crestwood-p.dudley.sch.uk
A message from Mrs Cadman
What a week for poetry this week! If you came to the Harvest Assembly this morning, you will have heard some of the poems that the children have written during their lessons.
Here is one from Joshua in Year 5 - a fantastic piece of writing!
I walked through the barley field, a maze of strips of gold,
A never-ending tradition, several centuries old.
The golden glade of endless yellow,
On a pitch beige field, sounding like a cello.
A tranquil rare breeze, calmed my state of mind,
What a lovely field, people miss the chance to find. The pitch yellow barley swayed away,
On the totally tranquil summer day....
A fantastic poem - thank you Joshua.
Eve in Year 1 this week sent some fabulous photos in of the books that she has been reading.
Take a look at her pictures of 'Claude' below.
Please continue to send me your thoughts on reading or writing!
Eve's picture
Elliot's Request...
A message from Year 6 and a young man who is very passionate about keeping our planet safe and clean.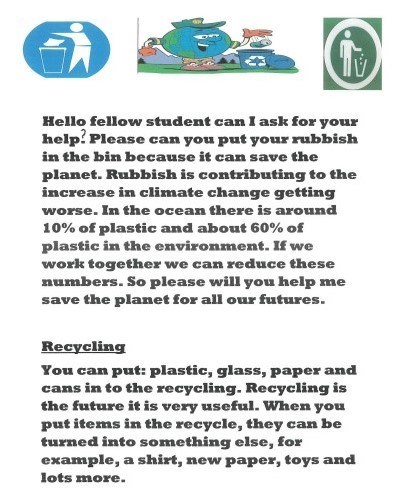 Harvest Assembly
It was so lovely to see so many of you in our Harvest Assembly today. We hope you enjoyed the children's poems, songs and interesting information about our most common crops.
We have had some comments from parents asking for assemblies to be recorded because they are not able to attend, and also asking if we can allow pre-school children in to watch.
We can't record our assemblies because we have children in our school whose identity needs protecting- they cannot appear in any photographs or film footage.
Allowing younger siblings in to assemblies is always a tricky issue. Our children spend time rehearsing their parts and just one unsettled baby or toddler can have a huge impact on the noise in the hall and concentration of the pupils. In our experience, their aren't many toddlers who want to sit still and in silence for half an hour either! Whilst we appreciate the frustration, we hope you understand this decision.
Our ABC assemblies happen most Friday afternoons and we hold a Golden Certificate assembly every half term; younger siblings are more than welcome to attend both of those.
Finally, we completely understand the disappointment of not being able to attend an assembly. We would never be able to pick a time that satisfies all preferences, so we pick a time that suits the most important people- our children!
We would hope that no parent has to miss out on the bigger performances e.g. The Christmas Nativity, so for those special events, we always hold two showings. Please see the calendar for more details.
Thank you for your support- we love having our families in school, but we hope you understand some of the policies we need to put in place.
Happy birthday to you!
We would like to say a very big HAPPY BIRTHDAY to...
Isacc, Nico, Jayden, Molly and Lola who have celebrated their special day this week, or will be celebrating over the weekend. We hope you all have a lovely day.
Secondary School Applications - Don't Forget!
All secondary school applications should be completed by 31st October 2021. 
You can make your application online following the link below.
Alternatively if your are having any problems or need some support with this you can contact Dudley Admissions directly.
Email: admissions.cs@dudley.gov.uk
Phone: 0300 555 2345
Dudley Council Plus Office hours for telephone queries: Mon - Fri 8:30am-5:00pm.  
Primary School Applications
Is your child was born between 1st September 2017 and 31st August 2018 they will be due to start primary school in September 2022?
You must apply for your child's place by 15th January 2022. Applications will be available from 1st October 2022.
To apply or your child's place please visit: www.dudley.gov.uk/admissions
When to get a test...and which one!
Lateral Flow Tests are for non symptomatic testing. PCR testing is for testing with symptoms.
Rainbow Club Booklet
A new edition of the Rainbow Club Booklet is now available.
Please see attached or alternatively access them via the below link.
School dinner booking system
Hot meal or packed lunch?
We are finding that some parents are booking their child's hot meal as well as sending them with a packed lunch to school. Please only do one or the other.
If your child has sandwiches from home the you do not need to book a meal of any type on the App. 
Absence from school
It is important that you contact the school before 9.30am if your child is absent from school. If you know that your child will be absent for more than 1 day please cancel your school meal via the app by selecting 'No selection' from the drop down box. Refunds (if meals are paid for) are taking between 5-7 days at the moment but this process can be avoided if you cancel your child's meal.
Looking after our community
The Search is on For The Uk's Best Neighbour
---


THE SEARCH IS ON FOR THE UK'S BEST NEIGHBOUR!

People across the UK are being invited to take part in our annual hunt for the UK's 'Neighbour of the Year' – a nationwide search undertaken in partnership by Co-op Insurance and Neighbourhood Watch.

Now in its fourth year, 2021 sees the introduction of a new category:

Community of the Year.

This award will celebrate the nation's most outstanding community (could be a street, a sports club, a faith collective, or anything in between, either in person or virtual, such as a WhatsApp, Facebook, or Slack group) and the lengths its members have gone to to support others and make a real difference.

To nominate your

Neighbour of the Year,

Young Neighbour of the Year

(for people aged 21 years and under) or

Community of the Year, and to find out more about these very special awards please visit

coop.co.uk/noty.

If you have any questions get in touch with us via

enquiries@ourwatch.org.uk.

We can't wait to see the nominations!

Best wishes

NEIGHBOURHOOD WATCH NETWORK, Central Support Team
Follow us.. ourwatch.org.uk

/

Facebook

/ Twitter

/ Instagram

/ LinkedIn
Neighbourhood Watch Network is a charity registered in England & Wales, CIO no: 1173349
Message Sent By
Central Support Team (NWN, Neighbourhood Watch Network, England and Wales)
A plea from our Reception class...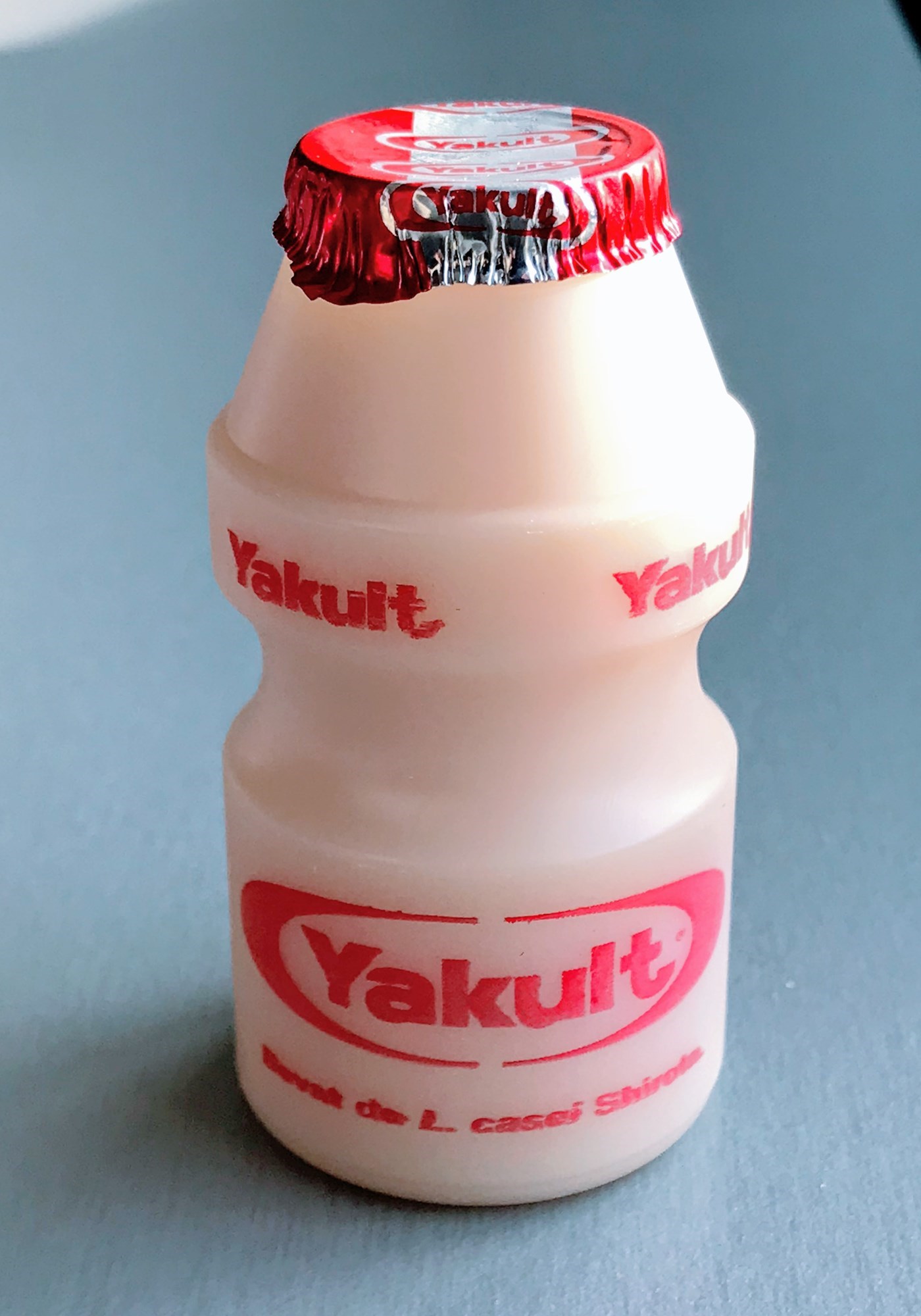 We are hoping to collect at least 30 empty 'Yakult' or similar type bottles. If you have these, please bring your empty (rinsed out) bottles to us! Either drop them off with the Reception class, or any other member of staff. Thankyou to those who have already brought bottles in!
And finally,
We hope you all have a good weekend and that the Autumn sunshine sticks around. Look after each other and stay safe please.
From your Crestwood Park family.
Safeguarding and promoting the welfare of children is the responsibility of everyone in our school and at all times we consider what is in our children's best interests. We work to ensure our children our safe and cared for and by doing this we are protecting their health and development and preventing them from harm. If we are worried, we will raise concerns, share information and take prompt action with the aim of ensuring families receive the right help at the right time.