Welcome to our 7th Remote Newsletter!
Well here we are at the end of the half term! Although it's been a very strange time for all, the staff at Crestwood Park have felt reasurred and uplifted by the many positive messages we have received from our families. Keeping in touch with you all is incredibly important to us and we hope that by continuing to share our newsletter and other ideas, we can keep the Crestwood Park family strong.
You will no doubt be keeping a close eye on the news and you will have heard many differing opinions about the wider re-opening of schools and potential risks posed to children, families and staff. As long as we get the final go-ahead from the Government, the local authority and our Governors, we will be inviting our Reception, Year 1 and Year 6 children back to school from Tuesday 2nd June.
We know that in any setting, the risk of infection cannot be completely eliminated- what we can do is bring down the risk of infection to the lowest it can possibly be within a school. Arrangements for grouping children and staff, the use of outdoor spaces, timings for breaks and lunchtimes, the use of toilets, drop-off and pick-up plans, the use of equipment, increased cleaning, supplies of PPE if needed and most imortantly, a huge emphasis on regular hand-washing means every aspect of the school day is planned with the highest level of detail. 
On Wednesday, subject to Governors' agreement, we will add the Risk Assessment and details around the organisation for children in school from June 2nd to our website. (We will send a message to you all, to remind you that it's available to read.)
The Parents' Survey suggests we will have 44 children in school from Tuesday 2nd. With this number of pupils we are able to offer 'full time' opening. Should these numbers increase by many more, we will need to re-think our plans and 'part time' options might need to be considered.
As we have said to all parents we have spoken to, the decision to send your children back to school must be yours and yours alone. What we want to do is give you as much detail as possible, so you can take all information on board before you decide.
We are of course continuing to offer places to children of Key Workers in Years 2,3,4 and 5 (where there is no other alternative at all, to keep children at home) and to those with EHCPs and social workers. (These children can return on Monday 1st June if you have already made arrangements with school.)
Keeping Your WELLBEING in Good Shape!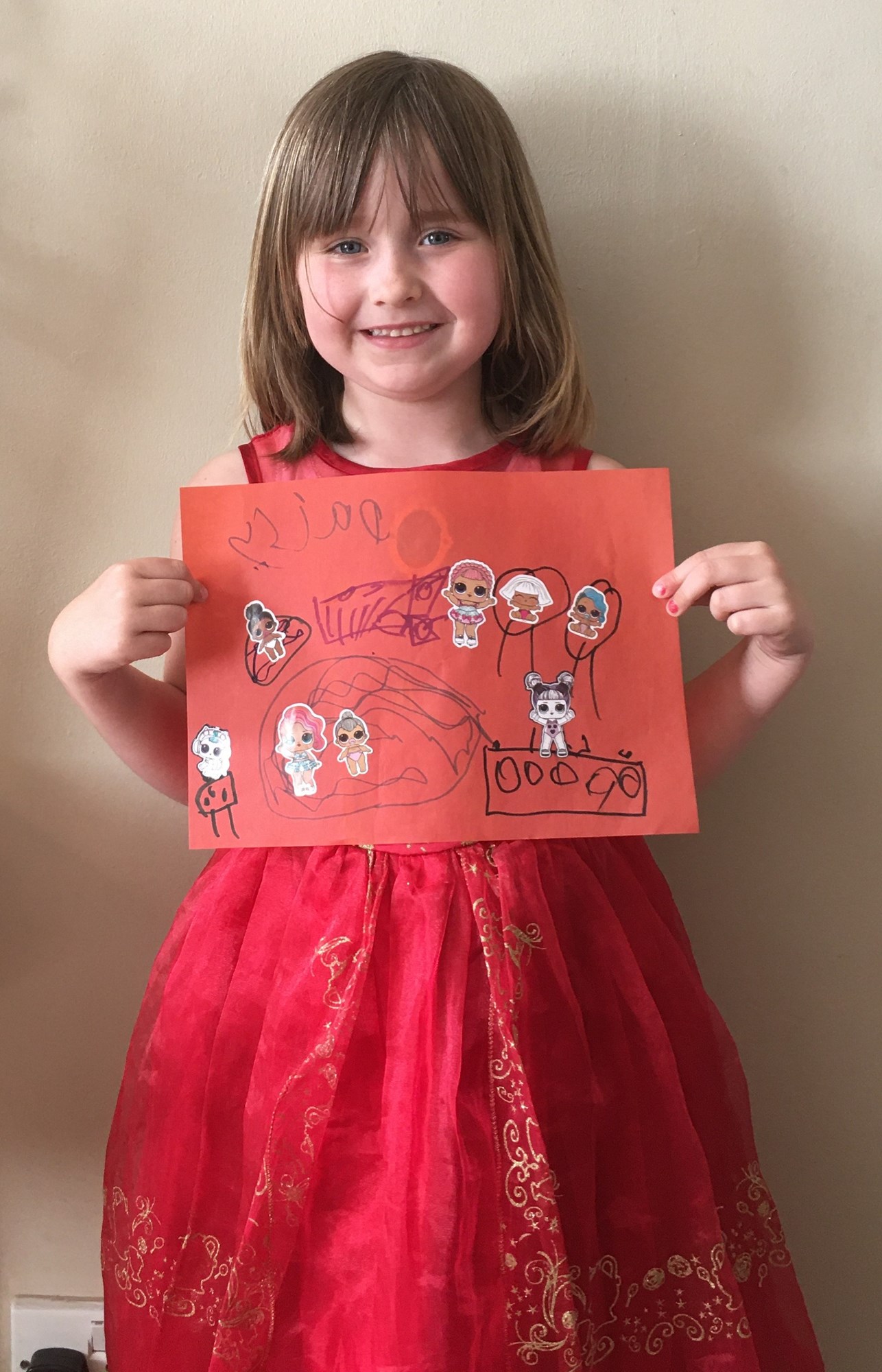 We know lots of you will be missing your friends whilst you're not at school- why not try doing what Daisy has done and send a 'message to your Crestwood Park family by sharing a picture. We know this photo will certainly put a smile on your face.
A Poetic Challenge!
Well done to those of you who have been busy writing poems about The Black Country. We've particularly enjoyed watching videos of you performing!
A special well done to Molly (Year 1) and Thomas (Year 4) who entertained us all with their creation- certificates are on their way!
Class Pages & Home Learning
Next week is half term so teachers won't be setting any new Purple Mash activities, however, if you still want something school based to do, then there's plenty on the website! From Monday 1st June there will be a new paper home-learning pack available (for each year group) to collect from school; just call in advance and we can make sure the right one is ready for you.
Purple Mash activities will continue to be set for children at home after half term- we are really pleased with the number of children who are doing these regularly; the teachers are thoroughly enjoying looking at your work and reading your comments.
This week's Book Review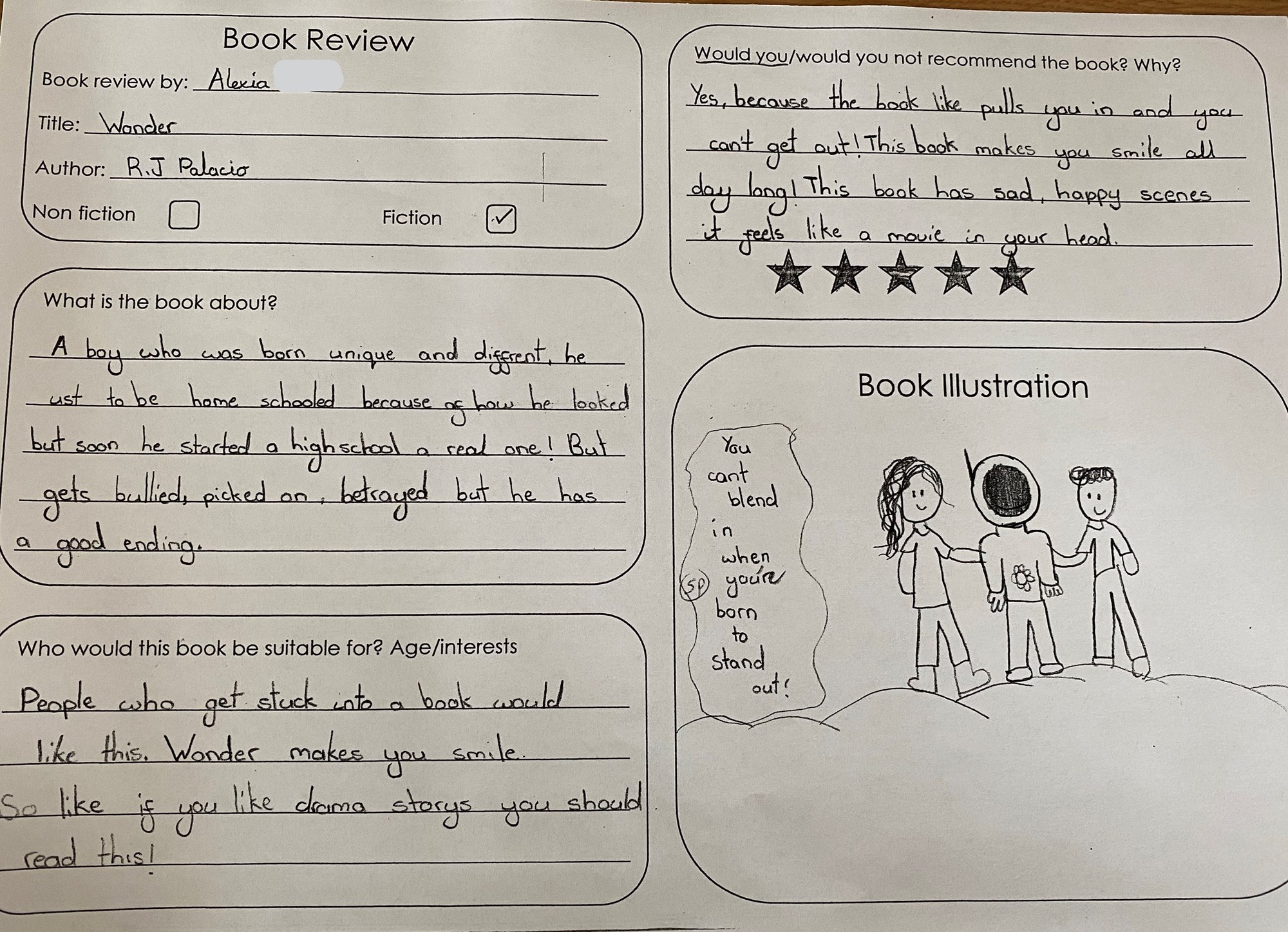 You can read more reviews in the Pupil Pages of our website. Don't forget to send in your reviews to Mrs Cadman when you've read your next book!
And this week's poem chosen by Mrs Cadman...
Five Little Senses All in a Row
You're so sweet! said Lickety Lips,
Keep in touch! said Fingertips
See you soon! said Eye with a wink
Said the nose, Don't cause a stink!
Hear me out! said the ears immense,
Together, we make a lot of SENSE!
By Andrew Fusek Peters
TT Rock Star Super Stars!
Keep up the super work with your times tables; well done to these children who are doing well on the leader board- certificates are on the way! If you haven't been on TT Rock Stars for a while, get logged on and have a go... you never know, it might be your name on this list after half term!
Danny- Year 6
Matilda P- Year 5
Blake B- Year 4
Harry- Year 3
Happy Birthday!
The very best of birthday wishes are sent to all these children who have had their birthday this week or will be celebrating over the weekend. Happy Birthday to you all!
Benjamin- Reception
George-Year 1
Dominic - Year 3
Dakotah-Year 3
Grace- Year 3
Danny- Year 6
Keeping Active!
Thank you to all those who have entered ideas for 'Keeping Active' this week. Remember to look out for Mr Barnett's weekly challenge on the 'Learning from Home' page too! (This week there are 3 different levels this week, demonstrated by some people you might recognise!)
Well done to these children who have been determined to keep active- medals will be on the way!
Xavier- Reception
Blake - Year 4
'Kind' Sparks
We have been thinking hard about children who have been particularly KIND over the last half term- even though we haven't been at school, we get to hear about lots of our children who have gone out of their way to be kind to others. As well as teachers, lots of you have nominated other children for this very special award.
Isla - Reception
Evelyn-Mae - Reception
Daisy- Year 1
Harvey- Year 1
Tiana- Year 2
Nate - Year 2
Ava - Year 2
Scarlett- Year 3
Noah - Year 3
Ellie-May - Year 4
Mara - Year 4
Georgia - Year 5
Scarlett- Year 5
Olivia - Year 6
Amelia - Year 6
Special KIND Sparks badges are in the post for these lucky children- make sure you keep the badges safe; we are looking forward to seeing you wearing them when we are all back at school.
Golden Certificates
As we have been 'closed' for all of this half term, we have decided to award Certificates of Achievement to children who have shown a real commitment towards learning at home. Not being in school can be tricky but these Crestwood Park-ers have really pleased their teachers with their efforts.
Faith- Reception
Nathaniel - Reception
Evie-May- Reception
Samuel - Year 1
Amelia- Year 1
Thomas - Year 1
Harry - Year 2
Joseph - Year 2
Dannii - Year 2
Daniel - Year 3
Daisy - Year 3
Eva - Year 3
Demi-Leigh - Year 4
John - Year 4
Brody - Year 4
Drew - Year 5
Shianna - Year 5
Matilda D - Year 5
Finley -Year 6
Lacey -Year 6
Alex - Year 6
Children can see their certificates being read out on the 'Pupils Pages' section of our website from tomorrow afternoon!
And finally,
Keep safe and well over the Bank Holiday weekend; we hope the suns shines for you all. We will be closed for a few days now but if you need anything at all, school-wise or other-wise, get in touch via the usual email adresses and we will very happily get back to you and help out where we can.
Love and best wishes to you all.
Safeguarding and promoting the welfare of children is the responsibility of everyone in our school and at all times we consider what is in our children's best interests. We work to ensure our children our safe and cared for and by doing this we are protecting their health and development and preventing them from harm. If we are worried, we will raise concerns, share information and take prompt action with the aim of ensuring families receive the right help at the right time.