It's been a rather wet and windy week but we've been working hard and having fun too. Wednesday's National Numeracy Day had us all thinking about jobs that need maths and today we've been thinking about families affected by Dementia.

We are still going out on the track to walk and run our 'mile a day' and we are using outdoor spaces as much as possible to help with distancing and fresh air. As such, we really need all children to have a waterproof coat, ideally with a hood. Even if your child prefers not to wear them on the way to school, we really don't want soggy children! Please pop a suitable coat in their bag if it's an issue and we can encourage children to wear them, should the need arise.

The latest information from the DfE can be read below- nothing is changing for us at Crestwood Park for the time being and we thank you for the support you give us in ensuring our school remains COVID free.

As always, please talk to us about any thoughts or queries you have regarding these essential measures.


Sports for Schools
Since last week we have continued to receive sponsorship money and our total raised is a massive £3300!
Thank you all for your wonderfully generous sponsorship; we are truly grateful for your amazing support with our fundraising efforts! The children had such a fantastic experience and we will most definitely be putting our share of the money raised to good use...we will keep you posted!
Looking after our WELL-BEING
Hello from the Pastoral Team, we hope you are all well.
This week we thought it would be nice to share some of the strategies we use with children in school to support their emotions.
We hope you find them useful! As always we are here if you need us.
Have a lovely weekend x
Denim for Dementia - Friday 21st May
It is lovely to see all of our children and staff today supporting Denim for Dementia.
We will give you an update of the amout raised in next weeks newlsetter!

A Message from Mrs Cadman ....
Fitness Friday is back!
Do you want to join a free fitness class that fits in with the school run?
Yes, we said FREE and yes ,it does fit around the school run!
Fitness friday will be starting after half term for adults from 8.50am - 9.20am.
If you're interested, please speak to Mr Barnett...or just turn up on the day. Everyone is welcome.
(If you have any unwanted gym equipment or know of anyone who would like to donate to the club, please let us know. Any donations would be greatly appreciated.)
Happy Birthday!
We would like to say a very big HAPPY BIRTHDAY to Dominic, Dakotah and George who have celebrated their special day this week, or will be over the weekend.
School uniform
After half term we would like to resume 'normal' school uniform throughout the week. Therefore P.E kits should be brought into school in P.E bags and children will revert to getting changed at school. if children are tkaing part in after-school clubs, they should also wear their uniform during the day.
Could we also remind children that hooped earings should not be worn in school.
Thank you for your support.

Be Active!
As our ways to wellbeing focus this term is: Be Active, we would like to encourage the children to walk to and from school more!
We have got a sheet that we would like every child to try to fill in for the week beginning 24th May.
The sheet will be kept in school, and teachers will keep a record of how often the children walk to and from school and when they walk on the mile track.
The children at the end of the week who have the most stampers will receive a prize!
Please see the message from the DfE regarding attendance.
Summer term attendance expectations for schools
School attendance continues to be mandatory for all pupils and the usual rules on school attendance apply. This includes parents' duty to ensure their child regularly attends school, and schools' and local authorities' ability to issue sanctions, including fixed penalty notices, for poor attendance.
We expect schools and local authorities to continue to communicate clear expectations around attendance to families, identify pupils at risk of disengagement and develop plans to re-engage them.
As restrictions begin to lift, we know some families may be looking to take holidays during term time. As usual, parents should plan their holidays around school breaks and avoid seeking permission to take their children out of school on holiday.
Ruach Karate - Crystal Leisure Centre
Ruach Karate return to Crystal Leisure Centre this Saturday 22.5.21 at 10:30am in the sports hall.
New students can enjoy two free weeks of training and then our special taster course is two months of training plus a free suit and mitts for £49.95.
National Numeracy Day on Wednesday!
On Wednesday of this week it was National Numeracy Day.
As part of the day children in school thought about how they could use numbers in a job when they were older. There were lots of great ideas.
Here are just a few! Isabella, Grace, Tilly, Alexia, Lola, and Jake.
Look out for more on the newsletter next week!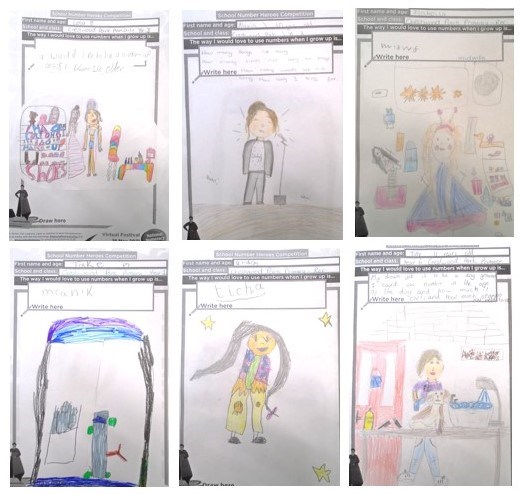 DONT MISS OUT - APPLY NOW - Holiday Activity Fun in Dudley
In the summer holidays, eligible children can access a variety of sessions at no cost. The sessions will include a healthy meal and a variety of exciting activities and sports. The focus of this programme will be on children eligible for benefits-related free school meals. The programme runs for four weeks in the summer and a week at Christmas in 2021.
Dudley Council and their partners have flexibility about how they organise activities to best serve the needs of children and families in this area. Therefore, it is essential to register your child/children in good time for us to plan the activities your child will love to attend.
Is my child eligible?
· Are you resident in Dudley Borough?
· Is your child/children age 5 - 16 years old?
· Do your child/children receive free school meals because you are on a low income, or your school have referred you? If you answer yes to all three questions, we cannot wait to receive your registration!
Register your Child - HAF (holidayactivitiesindudley.com)
Please see attachment below for more information!
Parent Information about COVID Restrictions- from the DfE
Parent Information
Face Coverings in Schools
Primary age children are not required to wear a face covering in school, but staff should
wear a face covering when leaving their bubble and moving around school.
Parents are also expected to wear a face covering when on the school site and when
distancing is not possible at pick up and drop off times.

Symptom Free (Lateral Flow testing (LFT) for children & staff
There is no national recommendation for primary-age pupils to have a LFT.

Staff in primary schools are still to do twice weekly LFT. This continues to be the national
and local expectation as an important tool in managing infection rates and reducing
opportunity for further spread. It regularly identifies people with no symptoms, therefore
reduces transmission and the number of children and young people that may need to
isolate.

Symptom free twice weekly testing for parents and carers

We would like to encourage parents and carers to carry out twice weekly symptom-free
(LFT) tests so we can identify positive cases at the earliest opportunity and help to stop
transmission

Residents can access symptom free tests in a number of ways:
• Collect kits from local pharmacies
• Collect kits from local sites
• Get a test done at a local testing site
• Via the post

You will need to register the result of your test on the government website.
For more information go to www.dudley.gov.uk/symptom-free-testing.
Vaccine for parents and carers
From Thursday 20th May all adults aged 34 and over in Dudley will be eligible to receive a
covid-19 vaccination, we encourage all eligible people to have the vaccine when offered.
You will be notified directly from the NHS or from your GP as to when you can book your
slot. For more information go to www.dudley.gov.uk/coronavirus

Other arrangements
Schools will be continuing with their system of controls to manage infection rates such as
staggered start and finish times, one-way systems and expectation that parents remain
socially distanced and wear face coverings on site. Schools will also be continuing to
arrange children and young people in groups / bubbles.

We may also at times ask for the introduction of extended measures for pupils or staff in
response to localised outbreaks, including variants of concern.
General Controls
Continue to do the things that you have been doing to keep our education settings safe.
These are:

• Not sending your child to their nursery, childminder, school or college if they are
showing coronavirus symptoms or someone within the household is showing
symptoms

• Arranging a test if you or your child develops symptoms*(see below) – no matter
how mild – and informing the nursery, childminder, school or college of the result

• Keeping your child at home where they have been identified as having contact with
a confirmed case either in school or elsewhere

• Ensuring that the whole household isolate where a household member is awaiting a
result, and continued isolation if test result is positive

• Reinforcing with your children the importance of washing/sanitising hands, make
space and minimise contact

• Supporting your schools by understanding and reinforcing the measures and
procedures expected by your school; hands, face, space, test

• Continuing to adhere to the national guidelines
Be aware of symptoms and arrange a test
The 3 classic covid-19 symptoms are;
• a new, continuous cough
• a high temperature
• a loss or change to your sense of smell or taste
Anyone with the above symptoms must isolate (and their household) and arrange a PCR
test.
Other symptoms which may be linked to covid-19;
• headaches
• sneezing
• aches and pains
• tummy ache in children
• sore throat
• feeling very tired for no good reason
• runny nose
Anyone feeling generally unwell or with these symptoms is asked to take a PCR test to
check if it is covid-19 or seasonal illness.
If you would like any more help and advice around COVID-19, please go to:
https://www.gov.uk/coronavirus.
Looking after our Neighbours
Dear supporters

Our May OUR NEWS newsletter is here, and it is a bumper edition definitely not to be missed!

We are delighted to launch the first Neighbourhood Watch Annual Insights Survey open to members and non-members alike. Don't miss out on the opportunity to have your say. (page 2)

Find out more about how to support our annual Neighbourhood Watch Week in June with a wide variety of online and face-to-face activities for you to LISTEN. TALK. DO! with your community. (page 3)

Learn about our upcoming campaign to help reduce dog theft launching on 17th May, and how you can help now to make dog theft a specific criminal offence. (page 2)

Find out about all this and more, such as insurance and discounts for members, in our newsletter.
Please see attachment below.

Kind regards,

NEIGHBOURHOOD WATCH NETWORK, Central Support Team
And finally,
Although the one-way system is problematic for some parents, Mrs Kennedy and Mrs Cooper really do enjoy seeing you all at drop-off and pick-up times. This is a really good time to let them know about any thoughts or worries or, if you wanted to discuss a matter further, a suitable time can be arranged easily if you let them know. We pride ourselves in being an 'open' school who work in partnership with families, so please don't hesitate if there is anything we can help with.
Take care all- we hope the weekend brings a little sunshine to everyone.
Safeguarding and promoting the welfare of children is the responsibility of everyone in our school and at all times we consider what is in our children's best interests. We work to ensure our children our safe and cared for and by doing this we are protecting their health and development and preventing them from harm. If we are worried, we will raise concerns, share information and take prompt action with the aim of ensuring families receive the right help at the right time.