Welcome to the newsletter for week ending Friday 20th November
Another week has whizzed by and we find ourselves busily preparing for Chistmas already! Scroll down to find a summary of what's coming up.
We know that lots of families are being affected by COVID either because of positive test results or because of self-isolating. Please be reasured that we will always support families who are affected and also those that are feeling anxious about their children returning to school. We know that home-school relationships are really important when things become stressful, so please let us know if things are getting tricky.
The government have asked us to ensure home learning packs and activities are available for all children who aren't able to come to school, however we like to think we can go over and above the standard requirements! So if there is anything we can do to help ease the pressure, or if you just need a chat to get things off your chest, get in touch and we will gladly listen.
Christmas is coming....!
Although we're experiencing tricky times, we want to make sure our children have a range of fun and exciting Christmas events to look forward to. We are also mindful that Christmas is another strain on finances so we have thought very carefully about what we are asking parents to contribute to. 
Here is a summary of what we have planned so far...(look out for more details about each event nearer the time).
WB 30th November- Christmas Crafts for Years 3,4,5 and 6 Children will spend each afternoon creating a Christmas craft to bring home and enjoy.
WB 7th December- Breakfast with Santa Children will be able to come to school an hour early, to enjoy a festive breakfast and receive a gift from Santa himself!
WB 30th November- Christmas Crafts for Reception and Years 1 and 2
Friday 11th December- Christmas celebration filming day On this day, all classes will have their Christmas 'performances' recorded, ready to be shared with families via the website.
Monday 14th December- Christmas Jumper Day and a Reindeer Run for all children More details will come nearer the time (but there won't be any pressure for parents to buy new jumpers at all).
Wednesday 16th December- Christmas Dinner Day!
Thursday 17th December - Class Christmas Parties
Friday 18th December - Our 'Christmas Celebration' will be shared with families via the website.
Reading at Crestwood Park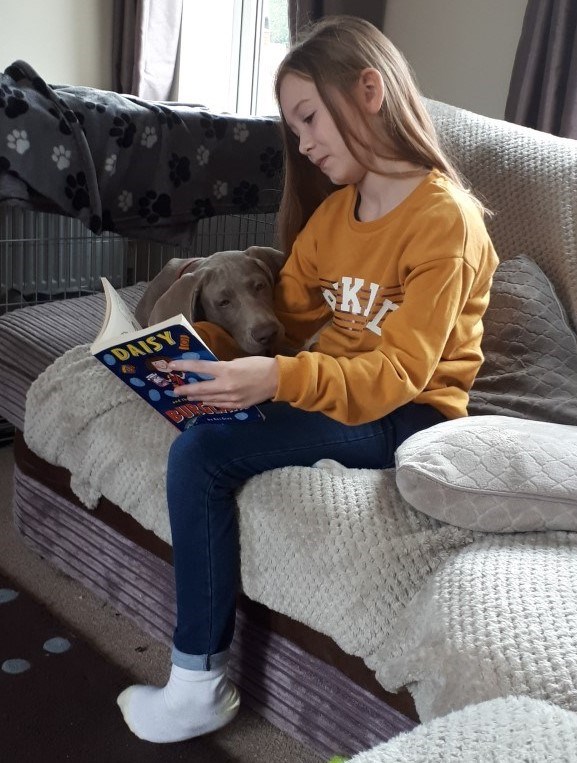 I would recommend the Daisy and the trouble with....books because they are exciting and make me laugh. I think I am like Daisy in the stories (Not just my name) because she is helpful and kind and I try to be too.
I would love to hear about your favourite books – you may want to write it down, draw or picture, take a photograph or even film yourself with your favourite book! Tell me why this book is your favourite – so that we can share these with our whole school.
I look forward to hearing all about your favourite books – you can send me them at acadman@crestwood-p.dudley.sch.uk.
Black Country Rainbow Hour
If you have been taking part in the Black Country Rainbow Hour, you can download the November 2020 edition below.
If you have been having a go, it would be great to hear about some of the activities you have enjoyed taking part in.
Email info@crestwood-p.dudley.sch.uk to let us know how you are getting on!
Primary Admissions 2021
If you have children who will be starting school in September 2021 can you please make sure that admissions forms have been completed and sent to Dudley Admissions Service by 15th Jaunary 2021.
Support for families during second lockdown
The link below provides support to families who are concerned about their child during the second lockdown as well as lots of other useful information and helpful ideas.
COVID-19 cases are continuing to soar in Dudley, and now the borough has the highest figures in the West Midlands.
Unless the number of cases starts to fall, local restrictions could remain in place post lockdown, and in the run up to Christmas.
Residents are being urged to follow the national lockdown rules.
See the latest figures on our data dashboard www.dudleyhealthandwellbeing.org.uk/localoutbreakcontrolplan
For advice and information on coronavirus visit including testing locally www.dudley.gov.uk/coronavirus
Looking after our Neighbours... updates from our local police.
As you may have seen on the news recently Dudley is currently in the top 4 across the country when it comes to covid infections. This is something that is understandably very worrying following us being one of the best only a few weeks ago.

There are currently no beds free in the intensive care units. Things must simply change.

I understand times at present can be difficult for a lot of people. However we do all have a part to play in beating this.

As a result of the increase in infections across the area, officers will be out and about to make sure rules are being followed. Furthermore if we come across people who do not want to follow the rules, we will be giving out tougher consequences. There will be an increase in penalties that are issued out. We obviously dont want to issue fines but things simply have to change.

If you need to go out for shopping etc, please wear a face mask. If you're exempt from wearing one it is down to yourself to prove this.

There is light at the end of the tunnel. Together we can get there. Thoughts also go out to anyone that has suffered or knows anyone that has suffered from the awful virus.

Stay safe all,

Pcso Webb
Message Sent By
Louis Webb (Police, Police community support officert, Kingswinford, Wall Heath, Pensnett and Brockmoor)
Parent Voice Updates...
Celebrating birthdays- Parent Voice have expressed a wish for children's birthdays to be marked in a more high-profile way this year. We have considered this and decided that the last Friday afternoon of every month, classes, as part of their circle times, can celebrate birthdays of the children in their class. School will provide special cakes for the 'birthday children'.
The first 'celebration' will be next Friday 27th November and include all children who have celebrated a birthday since September.
and finally...
Thank you for continuing to support our procedures for keeping us all safe; the one-way system seems to be working well. We have taken on board comments about the end of the day and we hope that the tweaks we've made are helping to ease conjestion as you leave the playgrounds.
Remember that we are always open to new ideas and if you spot something that you think we could be doing better, we will always listen!
We hope that you all have a safe and peaceful weekend- look after each other and we look forward to seeing you all on Monday.
Safeguarding and promoting the welfare of children is the responsibility of everyone in our school and at all times we consider what is in our children's best interests. We work to ensure our children our safe and cared for and by doing this we are protecting their health and development and preventing them from harm. If we are worried, we will raise concerns, share information and take prompt action with the aim of ensuring families receive the right help at the right time.