Welcome to the newsletter for week ending Friday 2nd October
Another exciting week has flown by! We were incredibly lucky with the weather for sports day yesterday but the rain and the wind have certainly taken over today! Thankyou to you all for your support with our routines and systems. Face masks and coverings are being worn more and more on the playground and seem set to become a fixture of our lives for the time being. We thankfully remain a 'COVID' free school- our appreciation goes to all staff, children and families for the 'extras' you are all having to do now.
One Way System
Thankyou for bearing with us while we trialled the one-way system - as we are sure you all appreciate, keeping our school community COVID free is a priority and we need to be doing everything we can to avoid infection. As adults are more likely to become infected and then spread the virus, we are calling on all adults who drop off and pick up to be extra vigilant when on the school site.
We did hear from a small number of parents who felt the system was inconvenient and others who made helpful suggestions. After evaluating the overall response, and in light of rising infection rates, we have decided to keep the one-way sytem in place until further notice. If you have any questions or thoughts about this, please share them with Mrs Cooper or Mrs Kennedy directly (by talking to us on the playground, by calling our school telephone number or by emailing acooper1@crestwood-p.dudley.sch.uk Please do not use social media to express negative views as we can't resolve any issues that way- thank you for your support with this.
With this system in place, we are aware that more parents who drive will be parking at the rear of the school and this is going to impact on our school neighbours. Please be considerate when parking and please don't block driveways. As a reminder, there is 20 minute window for dropping off and picking up so there is no need to arrive a long time before gates open. Could we finally poitely ask that once children are collected, you move cars as soon as possible to allow other parents to park.
Mrs Kenney, Mrs Brierley and our team of Junior PCSOs have been out (in the rain!) this morning, delivering notes through the letterboxes of our school neighbours, explaining our new system and asking for thier patience as we settle in to this new routine. We are sure it will be sucessful if we work together.
Crestwood Park Bake Off!
A big thank you to everyone who took park in the Bake-Off last week!
Together we have raised an outstanding £367.94 which is winging its way to Macmillan as we speak!
Well done to all of our bakers and their customers!
Keeping Active!
Well done to all of the children taking part in after-school clubs! We have had great feedback and are glad that you are enjoying keeping fit!
There are still spaces available for our multi-sports club on a Wednesday for years 1,2 and 3. If you would like a space for your child please contact the school office.
Mr Barnett's fitness clubs have had a fantastic response so far! If you would like your child to attend the fitness club on a Tuesday or the running club on a Thursday please contact the school office. Please note that this club is only available to children in KS2.
Sports Day
Sports day was a great success - and all of the children had fun and laughed throughout!
Even though we had to stay in our bubbles, with limited equiptment due to the circumstances, all of the children took part and tried their best in all of the sporting activities.
A special mention to year 5 & 6 who displayed fantastic behaviour and sportsmanship at the Dell Stadium.
The scores have been totalled and the winner will be announced to the children on Monday.
We took lots of photos and normally we would display these on the TV screen in our reception area. However, with parents not coming in to school, we have tried to find a way of sharing the pictures taken. We will notify you when these are available to view.
You may of noticed that your child brought home a water bottle with a school logo on - these are gift to your child to use in school.
Keeping our WELLBEING in Good Shape a reminder about Mental Health Awareness Day
#MentalHealthAwareness day is being held on Friday 9th October. We are inviting children to wear YELLOW that day (please ensure all clothing is appropriate for the school environment and weather). This is to show young people that they are not alone with their mental health.
We will be hosting a R A I N B O W craft competition on this day to celebrate the NHS. 'Rainbows' made at home need to be brought into school (to their classes) where they will be taken to the hall ready to be judged by Jane Morgan, our Chair of Governors.
There will be a winner for best KS1 and KS2 design!
Any questions, please ask Miss Obertelli or email her on gobertelli@crestwood-p.dudley.sch.uk
Further COVID related guidance for parents and carers including information about school absence...
Important Messages from the Local Authority and the Government
This is a public health message from NHS Test and Trace
As part of the government's coordinated response to Coronavirus, NHS Test and Trace has developed the new NHS COVID-19 app.
It is now available for download to all residents of England and Wales. We strongly recommend that everyone over the age of 16 downloads and uses it.
Download the 'NHS COVID-19' app from the App Store or Google Play. There is more information at https://covid19.nhs.uk
The app will help you to understand and manage your personal risk and reduce the spread of Coronavirus. The more people who use it, the more effective it will be.
The app requires operating system 13.5 or above if you have an Apple iPhone. It requires Android 6.0 or above if you have an Android phone. If your smartphone is not compatible, you can still access full support from the NHS Test and Trace service.
NHS Test and Trace
---
All individuals over the age of 16 who are registered with a GP in England and have provided an email address to the NHS are receiving this email. Some people will receive a text message instead, if an email address has not been provided.
Dudley Local Authority support our school with policies and procedures. There latest guidance on the wearing of face coverings can be read below.
Given the continued increase in cases of coronavirus, Dudley Council is strongly advising staff, parents/carers and visitors to wear face coverings in public areas of school. Some schools are doing this in our neighbouring boroughs.

This means:Parents/carers are asked to wear face coverings:
On the school site when dropping off and picking up children (where applicable)

If they need to access the main school reception area for any reason

If for any reason they need to access a classroom or corridors in school
Staff:
In the playground when parents/carers are dropping off or collecting children (where applicable)
Other visitors:
When accessing the main reception

If they are unable to keep a safe 2 metre distance from other people when working on site
The Government have asked schools to share an important letter with parents about testing- you can read it here.
We must stress again to our families that we advise the wearing of face coverings if you feel more comfortable doing so. Likewise, we are encouraging our staff to wear face coverings if it is right for them- we want everyone to feel safe and comfortable when visiting our school.
Dinner time!
BAGUETTES ARE BACK!
Our baguette bar will be back from Monday 5th October.
Children will be able to choose from:
Chicken and Mayo
Tuna and Mayo
Cheese
Ham
The baguettes will be pre-filled and then children will be able to choose from the many items available from the salad station served by Mandy.
The cost of a baguette is £2.40 which includes a desert and a drink.
Reading at Crestwood Park
National Poetry Day
It was National Poetry Day on Thursday 1st October. In Year 6, we tied it in with our Sports Day and we had a go at writing a catchy fun poem for our house teams.
Here are some of them:
Polar bears can be crazy
However we are NOT lazy.
Polar bears are very cool,
Other teams watch and drool.
What you see is what you get,
We've been amazing since we first met!
Tigers Tigers, hear them roar
Tigers Tigers, hear them call.
What you see is what you get.
Tigers really are the best.
Pandas work and Pandas play
Trying to achieve every day!
What you see, is what you get,
Pandas really are the best!
Rhinos charge very fast
We rarely ever do come last.
We'll stampede north, south, east and west
Because we are the very best!
Take a look at the National Poetry day website to find your favourite poem. https://nationalpoetryday.co.uk/ If you have any of your own catchy poems for your house team – send them to Mrs Cadman at acadman@crestwood-p.dudley.sch.uk
Happy Reading Bookworms! Mrs Cadman
Parents' Evenings and Workshops
Below are the results of the survey where we asked parents and carers what their thoughts were about parents' evenings and workshops.
We aim to support as many families as possible with the way we keep you in touch with your children's learning and following these results, we now have a plan for appontments.
In the coming weeks teachers will be sending out a note with key information about how your child has settled into the new term. Included on the slip will be a 'how you can help at home' suggestion and also the option to ask for a follow-up phone call. Look out for more details about the phone calls in next week's newsletter.
Also next week, we will be sharing our plans for helping parents to remain involved and informed about the ways children learn best- again we will base methods for this on your responses.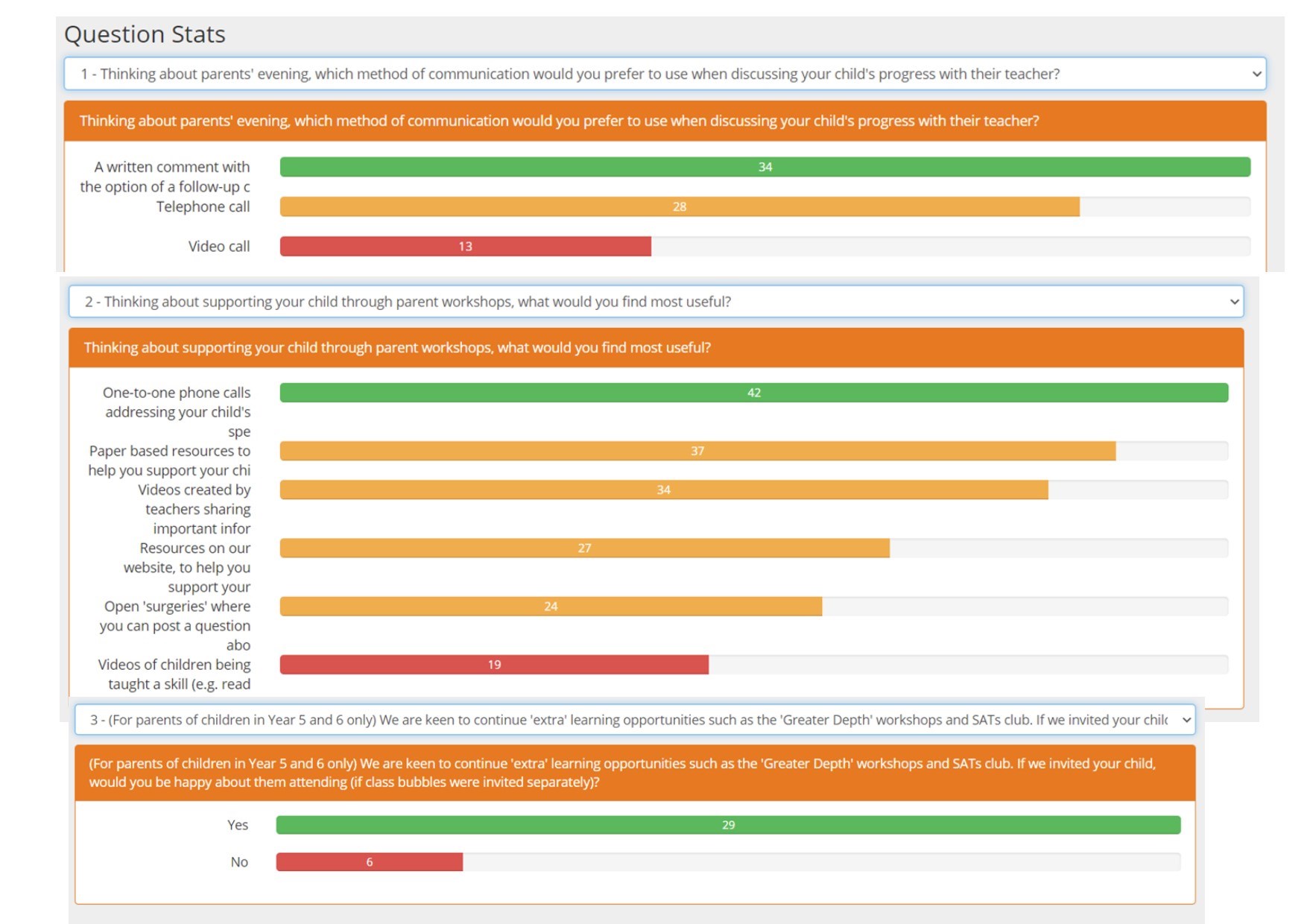 Looking after our Neighbours
Attendance this week
Reception - 95.05%
Year 1 - 97.93%
Year 2 - 98.37%
Year 3 - 98.06%
Year 4 - 96.52%
Year 5 - 96.23%
Year 6 - 96.90%
And finally,
As we mentioned in our A,B,C assembly today, we are finishing the week feeling extremely proud of all our children. Despite challenging circumstances, they have put their hearts and souls into school activities so far this term. We are living in world of constant worry and disruption, however we are so pleased that the many barriers and challenges we face in school have been overcome yet again, to allow our children to experience school life as they expect and fully deserve. Thankyou for supporting us in this mission.
Have a good weekend everyone- take care and look after each other.
Safeguarding and promoting the welfare of children is the responsibility of everyone in our school and at all times we consider what is in our children's best interests. We work to ensure our children our safe and cared for and by doing this we are protecting their health and development and preventing them from harm. If we are worried, we will raise concerns, share information and take prompt action with the aim of ensuring families receive the right help at the right time.