Welcome to Remote Newsletter Number 9!
School has been a little busier this week - which is great to see! We now have around 50 children coming in to school every day and this is increasing a little more next week.
As you may be aware, we have altered our arrangements slightly for the last four weeks of term so we can accomodate more children. In order to create extra 'Bubbles' we are closed for all children on Monday (22nd) and then every Wednesday after that. All staff will still be in school on those days, so please do call or email if you need us for anything.
We are working hard to offer places for all children where there has been a request from parents and as yet we have not had to turn any child away. It is therefore really important that once you make the decision to send your child back in, you commit to that place and let us know if anything changes. We still have one place in the Year 6 Bubble and a few places in the Key Worker Bubbles- if you want your child to return to school, please get in touch as soon as possible.
As you can imagine, completing the register every day at the moment is incredibly tricky as we still need to ensure the safety of all our children- whether they are in school or not, so keeping us informed of any last minute changes is incredibly important. Thankyou for your suport with this.
Although we are keen to have our school as full as possible,please DO NOT send your children in to school if they have any symptoms related to Coronavirus or if anyone in the household is symptomatic. To keep our building virus-free it's realy important that you adhere to these guidelines. We have regularly included posters and guidelines in our newsletters, to support parents and families who are worried about poorly children. The information below is another way you can check you are folowing the correct procedures.
Local Updates
Our Local MP Mike Wood, has launched a poster competition. He is asking all children to create posters thanking the NHS workers that have helped us get through this very difficult time.
If you are interested, you can either call school to find out more or go to Dudley News Poster Competition  The best posters will be printed in the newspapers for the public to vote for their favourite!
Keeping our WELLBEING in Good Shape!
We are pleased to say that despite the recent heavy rain, our Mile Track is being used daily, by all children (and adults!) in school. We can't wait to have a 'Grand Opening' when we are all back together.
Class Pages & Home Learning
Remember teachers are still working hard on their class pages. We will send messages when pages are updated with activities and ideas- if you need anything printed off, just call and we can help out.
Daily Purple Mash activities will continue to be set - well done to all the children who are workng hard to complete these tasks.
Year Six Transition Packs
As we move towards the end of term and start to think more about Year 7, our Year 6's in school are working on transition packs. Some of the secondary schools have now created links for online packs and virtual tours so Mr Timmington will add these to the Year 6 class page as they are created.
If your Year 6 child isn't in school and you would like to collect a paper version of a transition pack, please call us and we can make sure a copy is ready for you. If you can't pop in to school, again call us and we can post a pack to you.
(Please note that at the moment, we only have packs for Crestwood and Kingswinford.)
This week's Book Review
...is written by Hope in Year 6. "
The Odd Sisters by Serena Valentino i
s a book which includes the Disney Princesses who lose their powers and have to battle against the villains to reclaim them and escape. I would recommend this book to Year 6 and older.

"
You can read more reviews in the Pupil Pages of our website. Don't forget to send in your reviews to Mrs Cadman when you've read your next book!
This week's Poem suggested by Mrs Cadman
Pencil Me In
I know a pencil
Full of lead,
It knows the thoughts
Within my head,
It knows my secrets
And my fears,
It draws a line
Right through my tears.
I know a pencil
Old and grey,
Willing to work
Both night and day,
Fat and lovely
Light and fine,
It moves with me
Through space and time.
Don't forget the Library Summer Reading Challenge!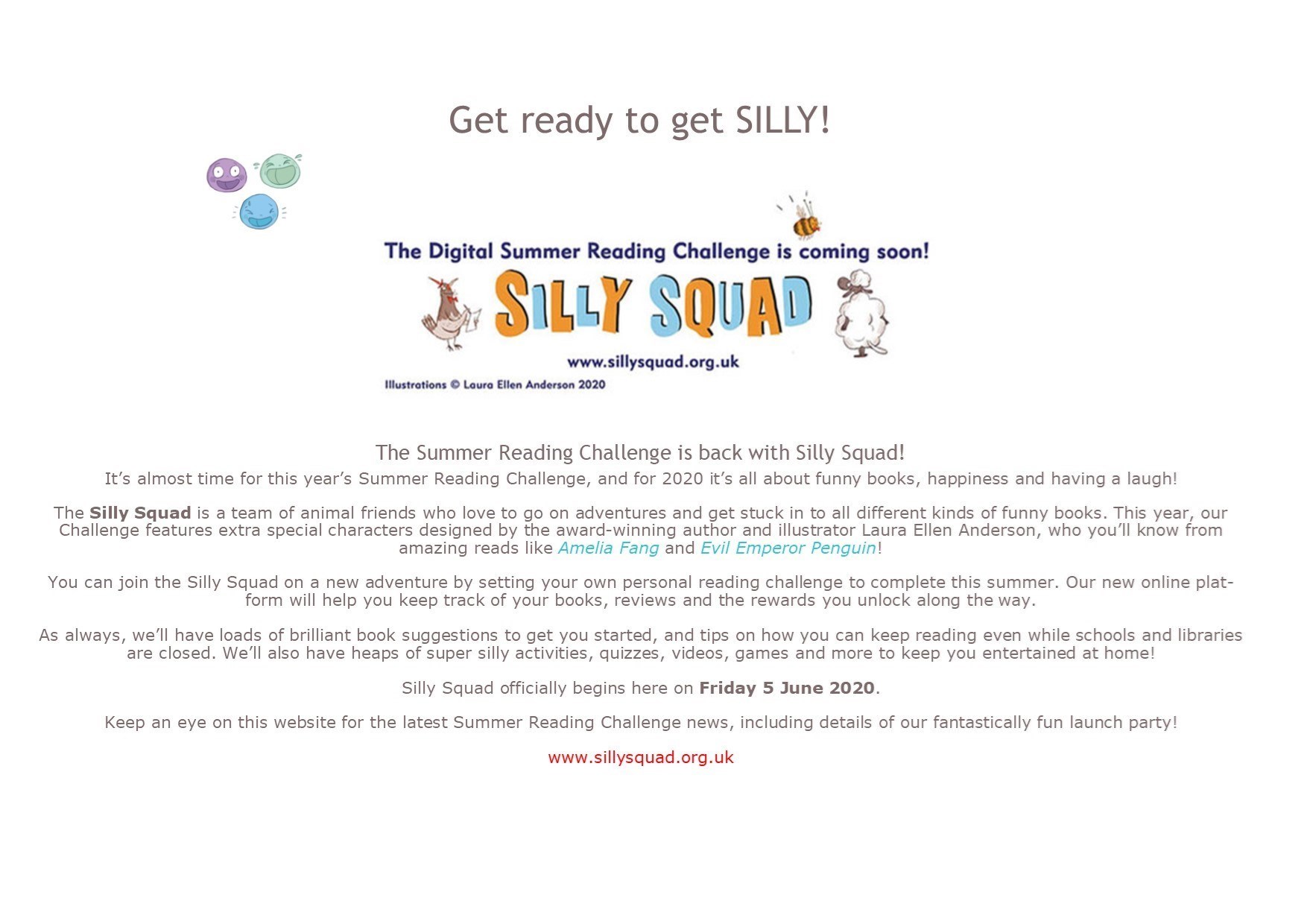 TT Rock Star Super Stars!
Keep up the super work with your times tables; well done to these children who are doing well on the leader board- certificates are on the way! We have noticed some new names on the leaderboard as well as children working hard to reach the top spot! Keep up the hard work! If you haven't been on TT Rock Stars for a while, get logged on and your name might be appearing on the newsletter next week.
Finley- Year 6
Hayden- Year 5
Matthew Year 4
Joshua- Year 3
Happy Birthday!
The very best of birthday wishes are sent to all these children who have had their birthday this week or will be celebrating over the weekend. Happy Birthday to you all!
Tiana- year 2
Ellie-May - Year 4
Ethan- Year 6
Keeping Active!
Remember we are still looking out for children who are trying hard to keep fit and healthy whilst they are at home. Keep sending in your photos and videos as we love receiving them and sharing them in our newsletters!
Do you love dogs?
There's a bit more time for you to enter this competition....
Birmingham Dogs' Home have asked us to help them by designing new mascots! See the poster below and the website for more details.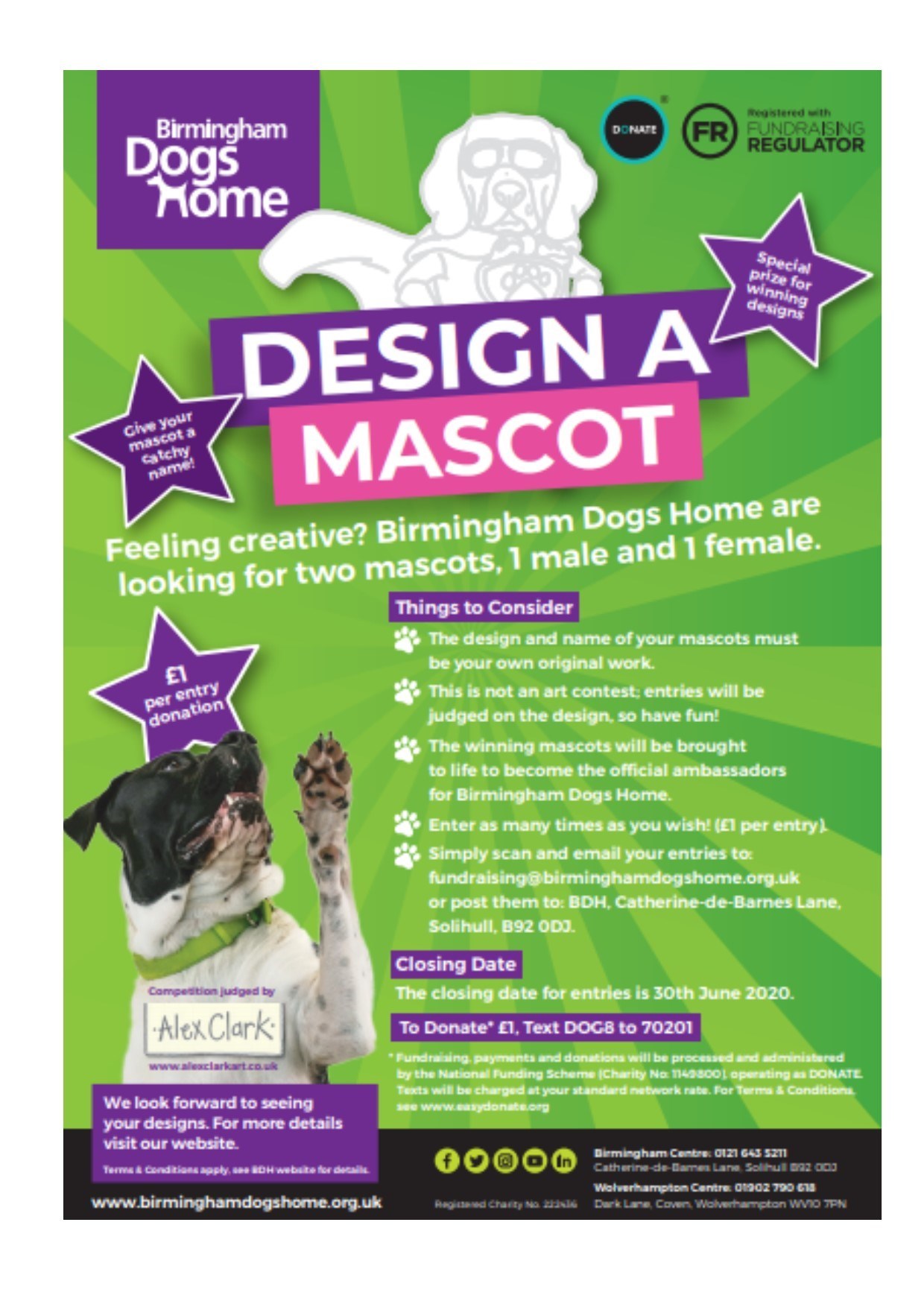 Welcome to the Crestwood Park Family!
Along with the new members of staff we welcomed to our school in last week's newsletter, we would like you to join us in welcoming Miss Cotter to our admin team. She will be helping Mrs Hughes in the office as our new Admin Assistant and we are sure she will fit in with our Crestwood Park family perfectly.
New Teachers and New Term!
If you are keen to find out who will be teaching your children in September, please head over to the 'About Us' section of our website, then go to 'Who's Who' and look for the 'Teaching Teams' page.
We know there are many parents who will be keen to speak to new teachers and teaching assistants and who may be worried about their child's transition to their next class. Please be assured that we have thought a lot about this and we are well aware that families and children are likely to need extra support after being away from school for so long. We also know that even if your child has been in school, going back to classes as normal will be a shock to the system!
We will be giving information about the new term and how we will support your children, over the next couple of weeks.
And finally,
It looks like thngs are starting to get a little bit more 'back to normal' for some, but we know that for many people who are still shielding or who have families members that they still can't visit, life is still difficult. We are also very aware that for many of our families, the impact of the lockdown will have long lasting effects both emotionally and financially.
Please remember that we are here for all our children and families and if you have any worries at all about your children, yourselves or your families we are always very happy to listen and help.
Sending love from everyone here - take care and have a good weekend.
Safeguarding and promoting the welfare of children is the responsibility of everyone in our school and at all times we consider what is in our children's best interests. We work to ensure our children our safe and cared for and by doing this we are protecting their health and development and preventing them from harm. If we are worried, we will raise concerns, share information and take prompt action with the aim of ensuring families receive the right help at the right time.