Welcome to the newsletter for week ending Friday 18th December.
We can't quite believe that the end of term is here! Although it's felt pretty tricky at times, your wonderful children have really kept us going! We know that COVID has affected all families in different ways, but you all need to be incredibly proud of your children for being so resilient, optimistic and thoughtful. Our children are of course at the heart of everything we do but this term especially, our boys and girls have been the absolute life and spirit of Crestwood Park!
We also need to extend a huge thankyou to parents and families for their incredible donations...as you will see further down the newsletter, your generosity has amounted to an incredible total this term. Thankyou!
Christmas Celebrations this week!
The Reindeer run was a great success on Monday and children and staff had a great time racing around the mile track dressed as reindeers, trying to catch up with Santa! We were so impressed with all the children who managed to run a mile. It was lovely to see all of our children in such festive spirits with their Chrismas jumpers on too!
Children enjoyed their christmas dinner with all of the trimmings on Wednesday. Lots of fun was had with the pulling of christmas crackers and wearing of party hats! Thankyou to Mandy, Mandy and Pat in the kitchen for all of their hard work in providing such a super dinner!
On Thursday, children arrived in style wearing their party clothes ready for the class Christmas parties- thankyou for supplying the party food too!
Also on Thursday we surpised our children with an online live performance of 'Cinderella'! It was fantastic to hear lots of laughter throughout the school during the pantomine and we hope the classes enjoyed getting in to the festive spirit with their friends.
The Key Stage Christmas celebration videos ar now available to view! To access it go to Our School > Pupil Pages > Assemblies or watch via the link here. (You must be logged into the school life app or website to view.
A huge THANKYOU to Miss Guest for her excellent filming and editing skills!
Charities we have supported this term...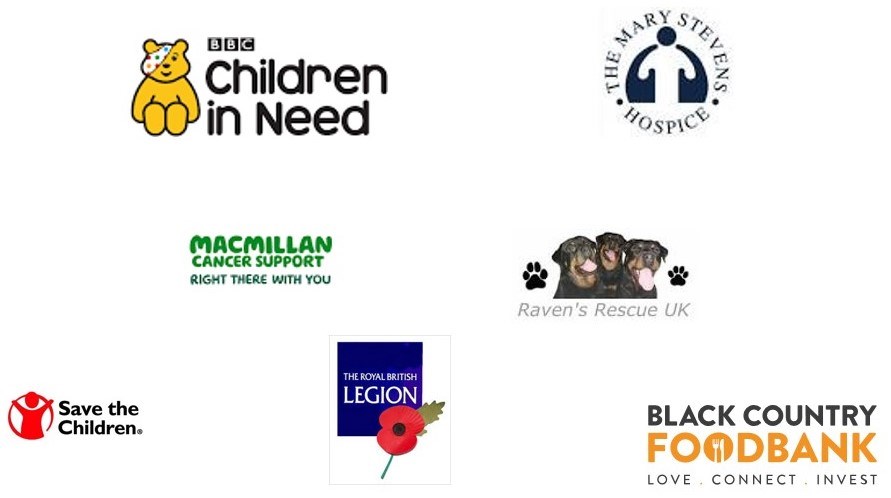 Thanks to everyone for the amazing support shown when we have asked for donations for these very worthwhile charities. Even in these dificult times, we have been ovewhelmed by the generosity of our Crestwood Park families and staff.
| | |
| --- | --- |
| Charity Event: | Amount we raised: |
| · Macmillan 'Bake off' Cake sale. | £379.21 |
| · Children in Need PJ Day! | £378.50 |
| · Poppy Appeal. | £346.68 |
| · Mary Stevens Hospice Reindeer Run. | £149.47 |
| · Save the Children Christmas Jumper Day. | £171.10 |
| | GRAND TOTAL: £1424.96 |
Well done to Mrs Brierley for organising donations to Ravens Rescue UK this year instead of sending christmas cards.
A big thank you to the staff and pupils that donated to this cause; we are sure lots of furbabies will be very exited to open their gifts this Christmas!
Children return to school on Tuesday 5th January.
Don't forget that all children return to school on Tuesday 5th January.
Baguette's will be back and will be available to order from the Tuesday.
This term's House Prize
Very well done 'Pandas' who won the House Prize for the Autumn term. Children have received a sweet treat today and their 'proper' reward will be organised for a wam and sunny summer's day in 2021!
Our SPARKS Winners...
We're really proud of our children who behave well all the time- by adhering to our SPARKS values, school can be a safe and happy place for us all. We're especially proud of children who were awarded the SMART and POLITE Sparks this term. Next half term we're looking for children who are especially AWARE.
COVID Update
Letting us know about positive test results is still important at the start of the Christmas holidays as other children and staff may need to self-isolate due to being contacts.
The following guidance has been produced to help you identify when you need to contact the school over the holidays and when the school will contact you:
Positive test results
Please tell the school about a positive test result for your child where their symptoms started on or before Sunday 20th December, or
Please tell the school about a positive test result for your child where the test date was on or before Sunday 20th December and your child didn't have any symptoms.
When telling the school about positive test results please provide the following information:
The date symptoms started (or if there were no symptoms)
The date the test was taken (not the date you received the result)
The date your child's self-isolation ends
Please contact the school as soon as possible when you receive the positive test result by emailing info@crestwood-p.dudley.sch.uk where symptoms start on or before 20th December.
For example:
Your child develops symptoms on Sunday 20th December, takes a test on Monday 21st December and receives a positive result on Wednesday 23rd December. Please tell the school as soon as possible.
Contacts of positive cases
The school will identify any pupils who are contacts of a positive case.
The school will notify you that your child is a contact and your child must self-isolate (stay at home) for 14 days from the day they last had contact with the positive case. The school will confirm the date isolation ends with you.
Other household members don't need to self-isolate, unless your child goes on to develop symptoms of COVID-19.
We know that self-isolating can be difficult and may feel especially difficult for children and families during the holidays. However, this is a really important part of helping to stop the spread of COVID-19 and protecting your loved ones.
Help is available to those who are self-isolating, may be feeling lonely or isolated, are unable to leave their home, or struggling financially due to the pandemic. People can call 0300 3302 152 from Monday to Friday between 9.30am and 12.30pm.
Goodbye and Good Luck!
Today marks the end of Miss Guest's teaching time at Crestwood Park. Next term she begins a new adventure in a new school and we wish her the very best of luck with this new chapter. Miss Guest began her teaching career with us as a student three years ago, then as an NQT and finally as a fully fledged teacher! As well as teaching years 5,4, and 3 Miss Guest has used her photography and filming and editing skills to full effect over her years here and this has helped us capture some very special moments in our school.
We are sure you would like to join us in sending our very best wishes and we hope that circumstances in the future allow Miss Guest to pop back to her CPPS home in the very near future.
and finally...
Thank you one and all for a tremendous term. In spite of some very challenging circumstances we have kept Crestwood Park (almost!) fully functioning for our amazing children and we couldn't have done it without the support of our parents and families.
We hope that you all stay safe and well over the Christmas break and that 2021 is a happy and healthy year for our very special Crestwood Park family.
Safeguarding and promoting the welfare of children is the responsibility of everyone in our school and at all times we consider what is in our children's best interests. We work to ensure our children our safe and cared for and by doing this we are protecting their health and development and preventing them from harm. If we are worried, we will raise concerns, share information and take prompt action with the aim of ensuring families receive the right help at the right time.