We've had a great week in school- there's been plenty of activity inside classrooms and outside on our playgrounds and track. We finished the day with the International Day of Families where children have been celebrating their families and thinking about what 'family' means to them. By considering families both close to us and around the world, children have been learning about the diversity of families and how each one, no matter what, is incredibly important.
Well-Being Day
We have been absolutely amazed by the amount you have raised so far...
....drum roll please...
...together we have raised over £2600!!!
Thank you all for your wonderfully generous sponsorship; we are truly grateful for your amazing support with our fundraising efforts! The children had such a fantastic experience and we will most definitely be putting our share of the money raised to good use...we will keep you posted!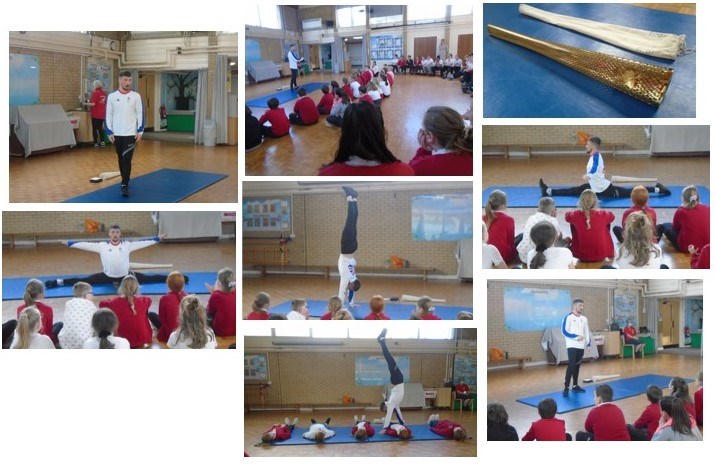 Denim for Dementia - Friday 21st May
On Friday 21st May we are supporting the

'Denim for Dementia'

campaign.  It's simple to get involved; all we are asking is for pupils to wear their jeans on this day and bring in a donation to Alzheimer's Society. (Alzheimer's Society are recommending £2 but any contribution would be greatly received.)
During the day, children will be learning a little bit more about this topic; we know lots of families are touched by Dementia and at Crestwood Park we know how important it is for children to have a good understanding of the older generation and some of the difficulties that may affect them.
Looking after our WELL-BEING
Hello from the Pastoral Team....
Oops apologies, you only received half of our message last week- here's the bit you were missing!
Hope you are all well and that you have a have a lovely weekend. Look after each other!
xxx

Daisy's mom has sent this photo to show support for mental health and wellbeing - they are training their pony to offer therapeutical sessions to others.
Who wouldn't want a cuddle from a pony!
A Message from Mrs Cadman ....
Fitness Friday is back!
Do you want to join a free fitness class that fits in with the school run?
Yes, we said FREE and yes ,it does fit around the school run!
Fitness friday will be starting after half term for adults from 8.50am - 9.20am.
If you're interested, please speak to Mr Barnett...or just turn up on the day. Everyone is welcome.
(If you have any unwanted gym equipment or know of anyone who would like to donate to the club, please let us know. Any donations would be greatly appreciated.)
Happy Birthday!
We would like to say a very big HAPPY BIRTHDAY to Harvey, Ethan, Georgina and Blake G who have celebrated their special day this week, or will be over the weekend.
School uniform
After half term we would like to resume 'normal' school uniform throughout the week. Therefore P.E kits should be brought into school in P.E bags and children will revert to getting changed at school. if children are tkaing part in after-school clubs, they should also wear their uniform during the day.
Could we also remind children that hooped earings should not be worn in school.
Thank you for your support.
Please see the message from the DfE regarding attendance.
Summer term attendance expectations for schools
School attendance continues to be mandatory for all pupils and the usual rules on school attendance apply. This includes parents' duty to ensure their child regularly attends school, and schools' and local authorities' ability to issue sanctions, including fixed penalty notices, for poor attendance.
We expect schools and local authorities to continue to communicate clear expectations around attendance to families, identify pupils at risk of disengagement and develop plans to re-engage them.
As restrictions begin to lift, we know some families may be looking to take holidays during term time. As usual, parents should plan their holidays around school breaks and avoid seeking permission to take their children out of school on holiday.
ACE Coaching - Whitsun Week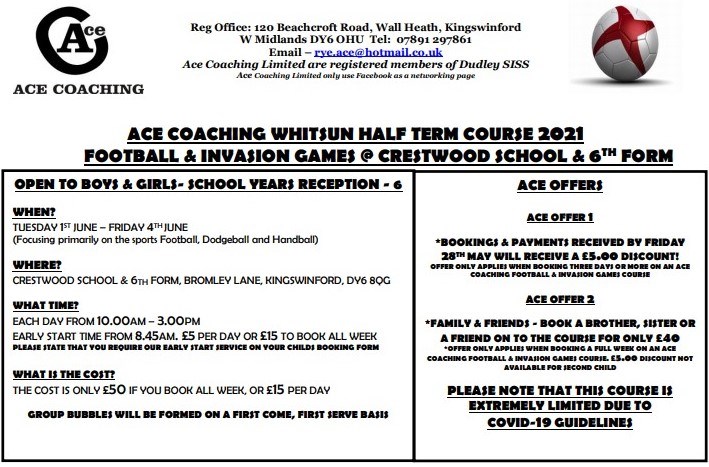 For more information please see the attachment below.
National Numeracy Day on Wednesday!
Next Wednesday is National Numeracy Day. Children in school will be finding out about how jobs involve maths and will have the opportunity to enter the National Numeracy Day 'School Number Heroes Competition' which involves creating a picture of their dream job which involves using numbers.
National Numeracy Day however is not just for children. The day has a range of Facebook events for adults that you can join. The events cover money confidence, careers and how to help children love numbers. There is also a National Numeracy challenge quiz for adults to do to help boost number confidence. The link is below.
DONT MISS OUT - APPLY NOW - Holiday Activity Fun in Dudley
In the summer holidays, eligible children can access a variety of sessions at no cost. The sessions will include a healthy meal and a variety of exciting activities and sports. The focus of this programme will be on children eligible for benefits-related free school meals. The programme runs for four weeks in the summer and a week at Christmas in 2021.
Dudley Council and their partners have flexibility about how they organise activities to best serve the needs of children and families in this area. Therefore, it is essential to register your child/children in good time for us to plan the activities your child will love to attend.
Is my child eligible?
· Are you resident in Dudley Borough?
· Is your child/children age 5 - 16 years old?
· Do your child/children receive free school meals because you are on a low income, or your school have referred you? If you answer yes to all three questions, we cannot wait to receive your registration!
Register your Child - HAF (holidayactivitiesindudley.com)
Please see attachment below for more information!
Traffic Survey - Update
A reminder that a traffic survey will be undertaken on Tuesday 18th May between the hours of 0730-0930 and 1430-1800.
The traffic survery will be taken at the junctions of Bromley Lane / Lapwood Avenue and Bromley Lane / Standhill Road. The survey will be undertaken using cameras. It is purely to record vehicle turning movements at the junction.
Looking after our Neighbours
Dear supporters

Our May OUR NEWS newsletter is here, and it is a bumper edition definitely not to be missed!

We are delighted to launch the first Neighbourhood Watch Annual Insights Survey open to members and non-members alike. Don't miss out on the opportunity to have your say. (page 2)

Find out more about how to support our annual Neighbourhood Watch Week in June with a wide variety of online and face-to-face activities for you to LISTEN. TALK. DO! with your community. (page 3)

Learn about our upcoming campaign to help reduce dog theft launching on 17th May, and how you can help now to make dog theft a specific criminal offence. (page 2)

Find out about all this and more, such as insurance and discounts for members, in our newsletter.
Please see attachment below.

Kind regards,

NEIGHBOURHOOD WATCH NETWORK, Central Support Team
And finally,
Thank you so, so much for your incredible support with our well-being event; we can't wait to start looking for equipment that will support and engage children during their time in school. We know we can always count on you to support us…but you continue to amaze us; we really don't take your support for granted!
We hope you all have an enjoyable weekend. Take it easy and please continue to stay safe…let's all do our bit to get through the final stages of the pandemic, so we can look forward to better times to come.
Love from us all.
Safeguarding and promoting the welfare of children is the responsibility of everyone in our school and at all times we consider what is in our children's best interests. We work to ensure our children our safe and cared for and by doing this we are protecting their health and development and preventing them from harm. If we are worried, we will raise concerns, share information and take prompt action with the aim of ensuring families receive the right help at the right time.