It's been another busy week in school and we are certainly making the most of our incredible outside spaces with Blasts on the Track, PE lessons, playtimes and picnics outside. Well done to all children who came in this week fully prepared for the sunshine with water bottles, sun cream and hats- Mrs Cooper was very impressed!
We know that many of you will be wanting to know who your child's teacher will be next year- we will let you know as soon as possible, however please get in touch if you have any concerns. Similarly, we will soon be letting you know about the way we are going to report children's progress this year. Look out for more information in the next week or so.
Looking after our WELL-BEING...welcome back Miss Johnson!
This week we have welcomed back Miss Johnson who has returned from maternity leave. Miss Johnson is returning to her role as SENCo and is also supporting learning in Key Stage One. If you have any SEN related questions or concerns, the best way to get in touch is via email ajohnson@crestwood-p.dudley.sch.uk or by calling school and leaving a message.
For many parents, your child's additional needs can cause worry and being able to get in touch with someone quickly is important. As always, please do not hesitate to contact us if you have any worries or questions.
Welcome back Year 6.....
I think we are safe to say Year 6 have had an amazing fun-packed time on their residential trip to the Pioneer Centre. They have returned exhausted after taking part in so many activities.... including a fire alarm at 4am this morning! Luckily there was nothing to worry about!
Thankyou to Mrs Kennedy, Mrs Cadman and Mrs Brierley for doing an amazing job of organising the trip, keeping the children safe and getting them all back in one piece! We know they were incredibly proud of their class and were full of praise for them all, when they got back to school this afternoon.
Lapwood Lambs - Starting on Monday 2:15pm

Lapwood Lambs will be opening its doors again on Monday 14th June 2.15-3.15pm ...and it's FREE! Let all your friends of pre school age children know.
Due to current covid restrictions things will be a little bit different but no less fun. We will need to limit numbers and will admit families on a first come, first served basis. Please arrive via the main front entrance early, as we don't want anyone to be disappointed. Feel free to bring your own refreshments as we won't be providing these at the moment (could we ask that hot drinks have a lid for safety please).
On arrival Mrs Hughes will enter your details in the Lambs book as before and give you a slip to complete in the hall. This is to ensure we are Covid compliant and have full details of who has been here.
Can't wait to see you all, we have missed you!
PS Thankyou to everyone who expressed an interest in supoprting the group- we've been overwhelmed with responses and now have plenty of help. THANK YOU!
After School Sports Clubs
Tuesday
Stay & Play family rounders club after school on a Tuesday. The sessions will run from 3.15 - 4.15.
Open to everyone! Mums, Dads, Carers, Grandparents & Siblings...
No payment required and we are not sending any letters out - just turn up and enjoy! Children in Reception and Year 1 will need to be accompanied by an adult, all other children can take part on their own if they wish.
Wednesday
ACE Coaching sessions will begin for KS1 Athletics. Year 1 and 2 only
Letters have been sent and many of you have returned them with your payment. If you haven't please be quick.
The sessions start on Wednesday 16th straight after school, and children will need collecting from the front entrance at 4:15pm - please be prompt!
Thursday
Running club will continue for KS2.
If your child took part last term they are welcome to continue - no other letters are being sent out. If your child has decided not to continue please let your class teacher know.
Fitness Friday
Fitness club for adults begins on Friday 25th June. Mr Barnett caters for all abilities so please don't think it's not for you, come along and try it! Bring a friend. The sessions will run from 9 - 9.30am. No payment required. No need to book...just turn up at the main entrance. We have some new equipment on order - hopefully it will be ready to use.
Happy Birthday!
We would like to say a very big HAPPY BIRTHDAY to
Heidi, Amber, Miley, Josh (Yr5), Dylan B (Yr5) and Mara who have celebrated their special day this week or will be doing so over the weekend. We hope you all have a lovely day.
Don't forget...usual school uniform to be worn every day (even on PE days!)
A little reminder that we have gone back to 'normal' school uniform throughout the week.
Therefore P.E kits should be brought into school in a named P.E bags and children will revert to getting changed at school. If children are taking part in after-school clubs, they should also wear their uniform during the day. PE kits will be left at school as they used to.
Could we also remind children that hooped earings should not be worn in school.
Thank you for your support.
Please see the message from the DfE regarding attendance.
Summer term attendance expectations for schools
School attendance continues to be mandatory for all pupils and the usual rules on school attendance apply. This includes parents' duty to ensure their child regularly attends school, and schools' and local authorities' ability to issue sanctions, including fixed penalty notices, for poor attendance.
We expect schools and local authorities to continue to communicate clear expectations around attendance to families, identify pupils at risk of disengagement and develop plans to re-engage them.
As restrictions begin to lift, we know some families may be looking to take holidays during term time. As usual, parents should plan their holidays around school breaks and avoid seeking permission to take their children out of school on holiday.
Children's Absence from School
Following on from the DfE's guidance above we would like to remind parents of our expectations regarding short term absences from school.
On the first day of a child's absence we ask you to call school as early as possible (we have an answerphone, so please leave a message, if it is before any staff have arrived). We will need to know the reason for absence and if poorly, the symptoms. You may be asked to get a PCR test if the symptoms suggest one is required.
If you don't call, then the office staff have a duty of care to ring the numbers listed on the contacts as provided by parents. We must know why the child isn't present in school. As per our attendance policy, if we don't hear from you one of the next steps is to notify the police and ask them to carry out a 'safe and well' check.
If you are planning on taking a holiday in term time, then we kindly ask you to complete a Leave of Absence form (obtained from the office) to advise us of your intentions. We strongly suggest you avoid taking children out as this is detrimental to their education. We may refer the absence to the Education Investigation Services who may issue a fine. You will recieve letters to that effect if it is to happen. By avoiding telling us you are going on holiday it doesn't mean you won't be fined.
Summer Fun Days
You will have received your letter for your child's specified day to take part in these fun days. If you haven't returned the slip and payment then please do so as soon as possible.
In case you didn't read last week's Newsletter here's what's involved: The sessions are for an hour and a half and during that time children take part in a range of fun activities including crafts, a photo booth, a bouncy castle and a 'happy meal' type tea. Children also receive a photo of themselves enjoying the evening.
The session costs £7 per child and in order to keep to COVID guidelines, children will keep to their year group 'bubbles'.
Summer Holiday Activity Days
We have successfully secured some funding for two 'Holiday Activity Fun Days' at the start of the six week holiday (Thursday 22nd and Friday 23rd July). The days will be run by Mr Barnett and other CPPS staff and will be free to all children. Although numbers will need to be limited (with priority given to children eligable for free school meals) we are hoping that we can invite everyone who wants to take part. The club is open for all children in school.
Look out for the letter with further information and consent slip.
A B C Awards!
Don't forget, all our assemblies are available to watch on the website. Today's ABC Awards can be enjoyed by clicking the link here.
Water Bottles and Sun Hats!
As the weather is very warm it is even more important to send your child in with a named water bottle. We recently gave one out to every child and have some spare. We sell these for £1 - please ask your class teacher if you require one.
Mrs Cooper has been reminding all children to bring a sun hat into school too- well done to those children who did so this week. As with every bit of removable clothing...please write names inside!
Non Uniform Day - FRIDAY 18th June
Next Friday (18th) we are asking children to come to school in their own clothes in exchange for a donated bottle for the 'Bottle Tombola'. This can be any type of bottle such as squash, water, wine, beer etc. Please hand any glass items directly to the classroom staff. The Bottle Tombola, Summer Raffle and Crestwood Cups Stall will form part of our Great Get Together Picnic on July 9th.
Details of the Summer Raffle and Crestwood Cups stall to follow shortly...
Mrs Morgan's Maths Challenge....
Today is the start of euro 2020. (although it's a year late!) Therefore, this week I thought I would challenge you with some football puzzles. Send your answers to
gmorgan@crestwood-p.dudley.sch.uk
1. What's the score?
In the 2018 World Cup one match ended: Belgium 3:2 Japan. Record all the possible scores at half time.
2. A trip to the FIFA World Cup!
The English football players, coaches and family members are travelling to a Euro match. We need to determine how many buses are needed. There are 32 footballers, 12 coaches, 51 family members, 2 children, 1 referee and 1 VAR assistant. If each bus holds 30 people, how many buses will the team need?
When to get a test...and which one!
Lateral Flow Tests are for non symptomatic testing. PCR testing is for testing with symptoms.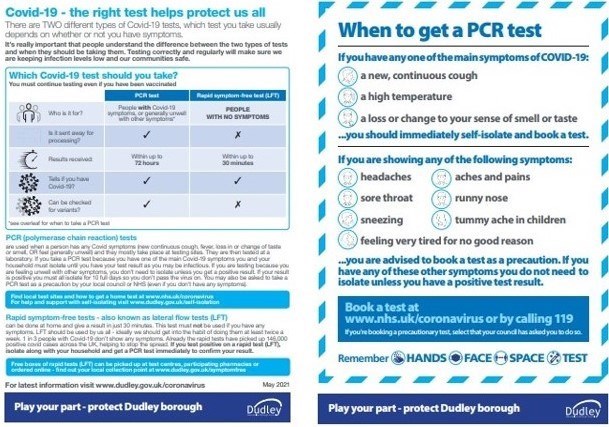 Looking after our Neighbours
Don't forget we are still looking for ideas for our 'Acts of Community Kindness' ...if you have any thoughts, please let us know.
Also, if you know of anyone in our local community who is on their own or who you think might appreciate some contact from our children in the form of letters, postcards, messages etc, then get in touch.
Lunchtime Supervisor Vacancy
We are looking for someone to join our lunchtime supervisor team. You don't need any special qualifications but must be calm, patient, professional...and you must love spending time with children!
Thank you to all parents who have expressed an interest. If you would like to know more, and haven't already been in touch, please email - acooper1@crestwood-p.dudley.sch.uk and we can tell you more about this rewarding role.
Karate Club details (out of school club)
We have been asked to pass on these details of a club (not run by school) that might be of interest to your children. For all ages & abilities. Free 1st Lesson phone the number below to book your free place.
Paul Campbell's Karate Academy Limited
PC Karate Academy
14 Canal Street
Brierley Hill
DY5 1JJ
Mob: 07774 641 570
Gym: 01384 262 811
paulcampbell12@hotmail.com
Neighbourhood Watch Update
Neighbourhood Watch Week (5th - 11th June) is almost upon us and with so many online and face-to-face ways to LISTEN. TALK. DO! with your community - how will you be joining in? Will you have having a Covid-19 safe Big Lunch? Will you be booking onto a crime prevention webinar? Find out more in the newsletter and drop a quick email to enquiries@ourwatch.org.uk to let us know what you have planned!

Thank you to everyone who shared our PROTECT YOUR POOCH campaign - to watch the very informative recorded webinar follow the link in the  newsletter.

For anyone who has a spare few minutes please take a moment to complete our Insights Survey (details below) and share the below with all you contacts - whether they are Neighbourhood Watch supporters or not. All the feedback we receive is so valuable to us.

NEIGHBOURHOOD WATCH ANNUAL INSIGHTS SURVEY - CLOSING SOON
A key part of our strategy is to promote the perception of Neighbourhood Watch as "neighbours watching out for each other, building safer and more inclusive communities". To do this effectively, we need to better understand the current public perception of Neighbourhood Watch by members and non-members alike.

Please take a moment to complete our survey and share this link https://www.surveymonkey.co.uk/r/FPPJ22X with your friends and colleagues - even those who are not Neighbourhood Watch members so we can obtain as broad a range of views from as diverse a range of people as possible.
And finally,
It's great to finish the week knowing the Crestwood Park family are reunited again- we've missed year six this week and school has been very quiet without them!
We're keeping our fingers crossed that the proposed relaxation of COVID restrictions goes ahead in the next couple of weeks, so that we properly plan our Local Area Exhibition, Get Together Picnic and more...hopefully by working together, we can get through this latest stage without any hiccups!
Next week we will be sharing our Father Figure Tributes to celebrate 'Fathers' Day'- keep a look out for the next newsletter for more details.
We hope you all have a good weekend and that you get to put your feet up and enjoy some sunshine, even if only for a moment! Take care all.
Safeguarding and promoting the welfare of children is the responsibility of everyone in our school and at all times we consider what is in our children's best interests. We work to ensure our children our safe and cared for and by doing this we are protecting their health and development and preventing them from harm. If we are worried, we will raise concerns, share information and take prompt action with the aim of ensuring families receive the right help at the right time.