Seeing all the children and staff in the hall for our assembly on Monday morning was an amazing way to begin the new term and ending the week with a super A,B,C Assembly with parents joining in, was really lovely.
It's been a busy but calm week and most of our children have settled in really well after the long summer break. There are bound to be a few teething problems for some of our children, but we are confident that we can support little ones through their 'wobbles' quickly and sensitively.
Today our newest members of the CPPS family stayed for their first whole day! Our new Reception class have settled really well and joined us on the field for our Mile Walk after lunch today - this was the first time we have been able to use the track for the whole school since it was installed!
The children are looking incredibly smart (thankyou for your support with this)- teachers are going to have a tricky job in selecting two children per class to be awarded SMART Sparks badges at the end of the half term!
This week we welcomed two new members of staff: Miss Sophie Logan joins the Year One class as a Teaching Assistant and Miss Kirsty Rowe has joined our team of lunchtime supervisors.
We are also pleased to announce that Ms Amy Bullas is now our Reception and Key Stage One Coordinator, as well as Year Two Teacher. We are sure you would like to join us is welcoming them all to the school and their new roles!
We have lots of exciting events planned- the majority of these are on the school calendar. You can find this on the app or website by going to the 'news and events' tab, then 'calendar'. We keep this as current as possible so you know what's coming up. Next week is whole school photograph day- there will be a sch.life message on Monday giving you more details.
After School Sports Clubs
Our school clubs resume next week! Here's an overview of what we have planned.
Tuesday - Archery Club for KS2 (please check bags- letters have been sent home today)
Thursday - Running Club for KS2
Wednesday - Multi-Sports after school club for KS1 3.15pm - 4.15pm (please check bags- letters have been sent home today)
Friday - Fitness Friday is back 9.00am - 9.30am. This is a free club available for our children's families, please feel free to join us!
If you have missed any letters, please pop into the school office and we can give you another.
In next week's newsletter, look out for details of non-sporting groups including Chess Club and Recorder Club!
Teachers 2 Parents App
Don't forget to sign up to our new 'Teachers 2 Parents' App.
There are still a few parents who are not booking school meals - if you are having any problems please pop into the school office and we can help you.
We have noticed a common problem where parents are booking the meals, adding them to the basket but then not checking them out.
If you go onto the App there is a basket in top right corner, if there is a blue circle with a number in, you have not checked out your school meals.
If you are eligible for FSM either benefit based or Universal Free School Meals (for Rec, Yr1 and Yr2 children) you still need to select 'Pay'. The system will not deduct any money but to book your child school dinner you need to go through the process as if you were making a purchase.
Please come in to the school office if you have any questions - we are here to help! :D
Parent Voice - Meeting
Our Parent Voice group is there for parents and carers to discuss, ask questions and support the running of the school.
The aim of the group is to do exactly what the name suggests- give parents a voice!
The first meeting will be held in school on Friday 1st October. It will start at 9.00am, with a taster fitness session from Mr Barnett, (no obligation to take part!) followed by refreshments with Mrs Kennedy and a chance to discuss the year ahead at 9.30am.
If you have any further questions regarding the meeting or would like to confirm your attendance, please let Mrs Kennedy know when you see her on the playground or send her an e-mail:
ekennedy@crestwood-p.dudley.sch.uk
A message from Mrs Cadman
Hello everyone
It has been lovely to see everyone back in school – it has also been great to catch up with what the children have been reading over the holidays.
Children in Key Stage 2 were very keen to share their current books with me on Thursday during assembly – Roald Dahl cropped up a few times, which is very apt as on Monday it is Roald Dahl Day.
There are some excellent resources for you to use at home – take a look here: https://www.roalddahl.com/roald-dahl-story-day/partypack2021
If you want to send me anything regarding English – your child reading at home, favourite stories or book suggestions, please email me at acadman@crestwood-p.dudley.ach.uk

Lapwood Lambs
Lapwood Lambs playgroup will be starting again from Monday 13th September 2.15pm - 3.15pm.
There will now be a £1 charge per child as we are able to provide you all with tea/coffee, squash and biscuits!
We can't wait to see you all again soon!
Happy Birthday!
We would like to say a very big HAPPY BIRTHDAY to...
Lily, Kayden, Kyle and Elliott who have celebrated their special day last week, this week, or will be celebrating over the weekend. We hope you all have a lovely day.
Reminders...
Fidget toys
Please do not bring your own fidget toys into school. If you feel that your child will benefit from using a fidget toy into school please speak with the class teacher who can organise this with our pastoral team and SENDCo.
Water bottles
Please be reminded that children's water bottles should contain water only. We are encouraging/promoting healthy eating within school and water is widely proven to be the best drink for children to have during lesson time. Squash or flavoured water can be brought in for children to have with their lunch if children prefer this.
Uniform
Our school uniform is available to buy from Totally Uniform in Kingswinford, if you give them a call our have a look on their website you should be able to find everything you need on there.
Secondary School Open Evenings
Please see attachment below to find out the planned Secondary School Open Evenings for this year.
School Inspections - A Guide for Parents
We have attached a guide below for information for parents about school Ofsted Inspections.
When to get a test...and which one!
Lateral Flow Tests are for non symptomatic testing. PCR testing is for testing with symptoms.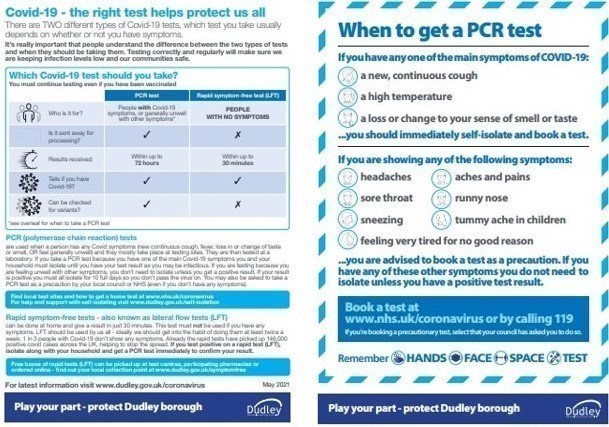 Looking after our community...parking!
We were saddened to have received 2 complaints from residents near our school about inconsiderate parking at drop off and pick up times.
Please do not block or park across people's drives - we have recorded the car registrations of those who have parked across/blocked neighbouring driveways, to forward to our community police if there is another incident. However, can we please appeal to parents who drive, NOT to block driveways. As a school we work really hard to build positive relationships with our school neighbours; this kind of behaviour undoes all that hard work and gives our wonderful school a bad name.
Sept Our News - The Neighbourhood Watch National Newsletter
---
SEPTEMBER 'OUR NEWS' OUT NOW




We are delighted to bring you the

September OUR NEWS edition

– a monthly newsletter for all Neighbourhood Watch supporters across England and Wales.

This edition introduces you to our Neighbour of the Year Awards 2021 - open for nominations from 14th September, the no-excuse approach to gas safety, fraud trends, rural crime reporting, discount offers from ERA and Patlock for our readers, and much more.

We hope that you will enjoy reading our newsletter and share it with your community. Why not share this newsletter link

https://bit.ly/OurNewsSept21

with your street WhatsApp groups, community Facebook groups or neighbourhood email groups to keep your neighbours safer and more connected.

Best wishes

NEIGHBOURHOOD WATCH NETWORK, Central Support Team
Follow us.. ourwatch.org.uk

/

Facebook

/ Twitter

/ Instagram

/ LinkedIn
Neighbourhood Watch Network is a charity registered in England & Wales, CIO no: 1173349
Message Sent By
Central Support Team (NWN, Neighbourhood Watch Network, England and Wales)
And finally,
We hope you all have a lovely weekend and that you all get a moment to rest and enjoy some fresh air. Look after each other and we very much look forward to seeing you all on Monday morning!
Safeguarding and promoting the welfare of children is the responsibility of everyone in our school and at all times we consider what is in our children's best interests. We work to ensure our children our safe and cared for and by doing this we are protecting their health and development and preventing them from harm. If we are worried, we will raise concerns, share information and take prompt action with the aim of ensuring families receive the right help at the right time.