Another busy week and lots going on in and out of school! It seems our 'good luck' with avoiding COVID in school has run out a little; we are looking forward to seeing Year 3 back in their classroom on Wednesday 14th July and as this newsletter is being written, we are awaiting the results of a PCR test in the Reception Bubble. As soon as we know the result, we will communicate with parents via sch.life message- we appreciate your patience.
We know that sending children home is worrying, upsetting and often really inconvenient, however we really need to stick to the guidelines and keep the risk of further closure to a minimum. We are desperate to keep our school open for the last week so that our children can enjoy the events we have promised them.
Thank you for your support during these unsettling times. Please be reassured that we always keep you fully informed of the situation and are honest and open with our communication. We always aim to relay all information via the sch.life app, so if you know people who don't look at their notifications, or who don't read the newsletter, please urge them to do so!
Our plans for next week...
Even though things have not gone as planned we will not let all of your hard work and generous donations go to waste.
Crestwood Cups - The Crestwood Cup Raffle will go ahead on Thursday after school on the playground! They look amazing and are bursting with lots of sweet treats for you to win!
Bottle Tombola - this will be open to you on Friday after school on the playground. There are so many prizes to be won! From bubble baths to little tipples!
Year 6 Enterprise - this will go ahead during the school day on Friday. Help us to support our year 6's with their business ideas by sending your child in with some money to have a go at the games which range from 50p to £1.00 a turn.
Summer Hamper - Raffle tickets will be available to purchase at the start of the school day from Wednesday onwards and the winning ticket will be drawn on the last day of term.
Good luck everyone!
Summer Activity Day
Mr Barnett's Summer Activities Days are now full.
We have lots of fun activities planned and have purchased some new and exiting equipment for you to try!
After School Sports Clubs
School clubs will be running as normal next week!
Tuesday - Stay & Play Rounders - 3.15pm - 4.15pm
Wednesday - ACE Coaching for KS1 (Years 1 & 2)
Thursday - Running Club - KS2 only - 3.15pm - 4pm
Friday - Fitness Friday for parents - 9.00am - 9.30am
If you need more information about any of the clubs, please call the school office.
We would like to welcome our new Reception Teacher!
We would like to welcome Miss Samantha Taylor as the newest member of our teaching team.
She will be joining us in September to teach our Reception Class. We are sure you would like to join us in welcoming her to the Crestwood Park family.
A message from our Pastoral Team
Hello everyone, we hope you are all well.
We wanted to share with you that our lovely children created some fantastic wellbeing kindness stickers. Our Pastoral buddies voted for the best ones but they were so amazing we decided to use them all.
Each design has been made into a sticker and a selection have been distributed throughout the school and given to our Pastoral buddies to give out during lunchtime.
Thankyou so much to all the children who took part, you are all amazing.
Have a lovely weekend, lets hope the sun shines for us.
HAF Summer Activities - Registration closes on 17th July!
Information: In the summer holidays eligible children can access a variety of sessions at no cost to you. The sessions will include a healthy meal and a variety of exciting activities and sports. The focus of this programme will be on children eligible for benefits-related free school meals. The programme runs for four weeks in the summer and a week at Christmas in 2021. Dudley Council and their partners have flexibility about how they organise activities to best serve the needs of children and families in this area. Therefore, it is essential to register your child/children in good time for us to plan the activities your child will love to attend. Is my child eligible?
· Are you resident in Dudley Borough?
· Is your child/children age 5 – 16 years old?
· Do your child/children receive free school meals because you are on a low income, or your school have referred you? If you answer yes to all three questions, we cannot wait to receive your registration!
Register your Child – HAF (holidayactivitiesindudley.com)
Registering your child/children as soon as possible is essential. Registration opens on the 1st May and closes on the 31st of May 2021.
If your child is not registered, they won't be able to take part, and we really don't want them to miss out, so the sooner it's done the better. If you are having trouble registering then either contact your school who may be able to help or get in touch with the team via the contact us section of the website.
Dudley Performing Arts - Music Lessons in School
September is an ideal time to start learning a musical instrument with Dudley Performing Arts who we are working in partnership with, to offer lessons on a variety of instruments.
Lessons can be small group or individual and are led by an experienced musician in school, during the school day. Lesson costs are £6.50 for a group lesson or £10 for a 20 minute individual lesson. Instruments can be provided. Lessons we can offer in September are for the Cornet, Trombone, Euphonium or Tenor Horn.
For more details and to get signed up click on this link. https://www.dudley.gov.uk/things-to-do/dudley-performing-arts/information-for-parents-and-young-people/music-lessons-in-schools/
Once you've signed up, the music teachers themselves will contact you and give you more details about the lessons.
Learning an instrument is a great thing to do and we are really looking forward to hearing our students making music, playing in assemblies, joining bands and taking part in concerts once again.
A message from Mrs Cadman
I Am Brave!
by Laura Mucha
Fear of monsters
Fear of dogs
Fear of hurricanes or bogs
Fear of anger
Fear of fear
Fear of losing someone dear
Fear of spiders
Fear of feet
Fear of strangers in the street
Fear of falling
Fear of drowning
Fear of wrinkles caused by frowning
Fear of dragons
Fear of night
Fear of all the things that might
Or might not pass
Fear of being last in class
But fear's ok
Yes, fear's alright
For now I have it in my sight
And when I'm overwhelmed by fright
I recognise its painful bite
(And that is more than half the fight)
So yes I'm fearful, yet I'm brave
And when my fear will not behave
I gently pat fear on the head
And send fear off to go to bed
Happy Reading Book Worms!
Lapwood Lambs
Next week will be out last Lapwood Lambs until September. 
We will be holding a teddy bears picnic and graduation for the children.
If your child would like to bring their own teddy, a picnic blanket and some snacks. Hopefully the sun will be shining and we can go onto the field.
If we are unable to go outside we will have our picnic and graduation in the school hall so please don't forget face masks.
We look forward to seeing you! 
Charlotte x
Happy Birthday!
We would like to say a very big HAPPY BIRTHDAY to...
Dollie-Lou, Katya, Alfie, Isla and Troy who have celebrated their special day this week, or will be celebrating over the weekend. We hope you all have a lovely day.
The Dog, Cat and Duck Trust
How will we do this? – face to face
The Dog, Duck and Cat Trust, Action for Children and the Black Country Combat Association have
come together to offer an exciting summer programme. We want to provide parents/carers and
their child(ren) with some tasty food to prepare and eat, and some fun activities to do, over the
summer holidays.
We will be working with 100 families over the six week summer holidays, on Mondays,
on 26th July and 2nd, 9th, 16th and 23rd August.
We will work with 20 families each week; this will be between 10am – 4pm. When they book,
we will ask for their preferred arrival time, 10am – 2pm, and we will need them and their
child(ren) for two hours approx.
It will be at Burnt Tree Children's Centre, Tividale Street, DY4 7SD and a day bus pass can be
provided for any family that cannot get there any other way. Ideally, we would have one parent/
carer and no more than two of their children visiting for their slot due to space at the centre.
For all the details of what you can expect on the day you will need to register, please go to:
http://www.sandwell.gov.uk/homepage/298/holiday_activitities_and_food
We are really looking forward to meeting the families and doing some grand work together.
How will we do this? – online
There will be a brand-new section on www.dogduckandcat.co.uk
• It will be called 'The Movement, Food and Fun Project'.
• It will contain a brand-new story, The very grand event, for you to read to your child(ren)
and enjoy together.
• It will also contain two brand-new resources libraries – 'Tasty food to make together' and
'Moving around and having fun together'.
• These libraries will have some ideas to start parents/carers and children off, but we
want more!
• We want parents/carers and their children to share their ideas with us.
• It might be a recipe they like making, or a fun activity, or way of moving around that they
enjoy doing.
• We want them filmed on people's phones and sent to us; doesn't have to be flash, as
long as we can see and hear the people speaking, that's brilliant.
• We also want people to submit their videos in whatever language they chose to speak
and share in, the more the merrier.
• The main thing is that the recipes, activities, and movement ideas are fun and can be
done together.
• Adults and children having fun is the main aim of our project, so please ask people to
get involved.
When to get a test...and which one!
Lateral Flow Tests are for non symptomatic testing. PCR testing is for testing with symptoms.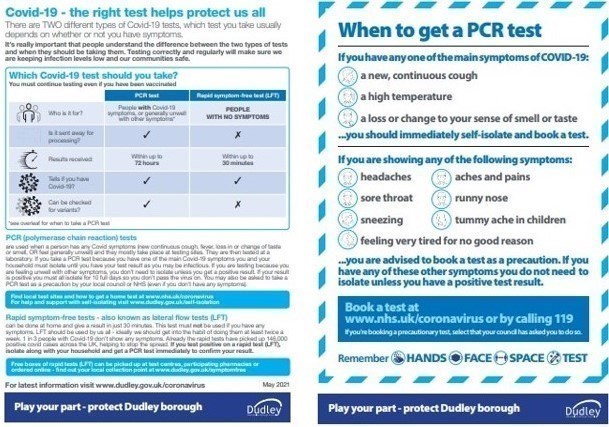 Looking after our community
July Our News Newsletter For Neighbourhood Watch Supporters Across England and Wales
---
Dear Amy

July OUR NEWS – The newsletter for all Neighbourhood Watch supporters

We are pleased to share with you our July newsletter –

click here to view it.

In a world where we have become more dependent on using technology and being digitally connected, we are increasingly aware that the downside to using is the increase of scams, amounting to a staggering 41% of crime is now either on the phone or online. To help tackle this issue, we have launched a SLING YOUR HOOK scams awareness campaign to run on our social channels during July. Our newsletter contains more information on this campaign and a link to our website's dedicated scams section, which includes clear guidance on protecting yourself and others from becoming a victim.

On a brighter note, we have some great new partnership opportunities to share with you, including our new partnership with Deliveroo to train riders in community safety, discounts from Patlock for our members and supporters, and the chance to win a fun-filled Croods 2 inspired family vacation.

With all this and more, we hope you enjoy this month's edition.

Keep safe,

NEIGHBOURHOOD WATCH NETWORK, Central Support Team
Follow us...

ourwatch.org.uk

/

Facebook

/

Twitter

/

Instagram

/

LinkedIn
Neighbourhood Watch Network is a charity registered in England & Wales, CIO no: 1173349


Message Sent By
Central Support Team (NWN, Neighbourhood Watch Network, England and Wales)
---
Its that time of year when we enjoy garden bbq's, the days are longer and we keep our windows open for that fresh air! Lets make sure we stay mindful that potential thieves are still active and ensure that only air gets through your window this summer!

Some tips:
Ensure you do not leave windows, doors or pet flaps open when leaving the home
Ensure garden gates are locked and sheds/outdoor storage is securely locked when not in use
Do not leave valuables in open view by windows
Keep valuables including keys away and out of reach from open windows/letterboxes
Avoid leaving windows open at night if possible
Consider increasing your home security such as cctv, alarms and locks
Do not leave windows/doors open on unattended vehicles
Keep valuables in vehicles out of view
Remain alert and stay vigilant if you notice strange people or vehicles in your area acting unusually/suspiciously make a note of their description
If going away consider timed lighting in the home/a trusted person to check in daily
Please do not reply to this message as this is a notification platform.

To report crime use our live webchat on our website, dial 101 or in an emergency dial 999
Message Sent By
Mo Khan (Partnership Team,Engagement & Consultation Officer,Dudley)
Acts of Community Kindness
Eve from Reception has been busy taking part in a sponsored litterpick/sponsored silence for an hour last night at Rainbows raising money for Dudley zoo and Rainbows.
In total she raised a fantastic £150!
Well done Eve!
Local Area Study Exhibition...watch it here!
Last week our children enjoyed celebrating all the work classes have been working on with their Local Area Curricular Study Unit. We took a few photos and videos during the exhibition- view it on this week's assembly page or by clicking the link here- Our Local Area Study Exhibition in Action
Don't forget that videos featuring children are always password protected if they go on our website, so you'll have to log on to the sch.life app or website to view this.
And finally,
We know there are some schools in our local area who are allowing children to have a later start on Monday morning, following the England v Italy Final on Sunday night. We appreciate that many children will be watching the game (and hopefully celebrating with their families!), however, we really want our children in school for as much of the day as possible.
Therefore we will allow children to arrive any time from the normal 8:40am start until 9:30am. We hope that this way, families who still need to drop their children off at the normal time can do, and families who would appreciate a later start can still bring their children in to school, without worrying that they will be classed as 'late'. We really don't want lots of children out of school on Monday so we hope that this will keep everyone happy!
Keep safe over the weekend everyone and let's keep everything crossed that it really is 'coming home!'
Safeguarding and promoting the welfare of children is the responsibility of everyone in our school and at all times we consider what is in our children's best interests. We work to ensure our children our safe and cared for and by doing this we are protecting their health and development and preventing them from harm. If we are worried, we will raise concerns, share information and take prompt action with the aim of ensuring families receive the right help at the right time.