Welcome to our Weekly Newsletter!
Happy New Year and welcome back! It's been great to see the children this week. It's obviously been a tricky time for lots of families as the new COVID variant seems to be spreading quickly- we really appreciate the communication from parents and families- please keep speaking to us if you have any questions or worries. As you will probably already know, the guidance around PCR tests changes on the 11th (Tuesday)- when this comes into force officially we will send out a reminder of the new process and timings for testing and isolation.
We've had a busy first few days back and finished with a super ABC assembly- as a polite reminder, these are only open to parents whose children are receiving certificates (you will get a sch.life message from class teachers if this is the case).
Well done to the Panda House team who achieved the most house points last term- they were rewarded with a extra special cupcake at lunchtime!
Amazing Attendance!
Congratulations to the pupils below who have achieved 100% attendance this week!
Reception Zachary, Emma, Eva, Archie, Billie, Arthur, Melissa, Conor, Riley, Thomas, Oliver, Lainey, Cody, Darcie, William, Nico, Kara, Harmonee, Sienna, Violet-Rose
Year 1 Betsy, Lotty, Grace, Skye, Zach, Ava, Mason, Isabelle, Fearne, Nathan, Paris, Heidi, Mihail, Delilah, Nahla, Ashley, Joshua, Rose, Hassan, Cailen, Evan, Chloe, Benjamin, Millie, Frankie
Year 2 Isaac, Lucas, Jayden, Xavier, Oceanna, Angel-Leigh, Jenson, Elsie, Harper-Rose, Declan, Jake, Benjamin, Faith, Alesia, Isla, Rosie, Evie-May, Katya, Haider-Ali, Ashleigh, Leila-Rae, Lilly-Mai, Evelyn-Mae, Caelan, Nathaniel, Amber, Renesmai
Year 3 Lily, Molly, Rhys, Daisy, Harry, Lillie, Ty, Frankie, George, Annalise, Harvey, Daniel, Kyle, Nicholas, Rosie, Danielle, Faye, Teddy, Jack-James, Logan, Amelia, Isabella, Thomas, Eden, Samuel, Darius, Leah
Year 4 Harry, Savannah, Sienna, Joseph, Nate, Tiana, Rosie, Oliver, Max, Dannii, Brogan, Jakob, Mabel, Ian, Reece, Alina, Sara, Jamie, Alana, Elliot, Shannon, Jacob-Lee, Lola, Callum, Ethan, Dylan
Year 5 Georgina, Daisy-Mae, Sophia, Daniel, Harper, Autumn, Joshua, Eva, Noah, Kyron, Asa, Molly, William, Georgia, Lily, Cooper, Amelia-Rose, Darntai, Miley, Gordon, Grace, Daisy, Dominic
Year 6 Olivia, Anna, Dylan, Thomas, Blake, Darcey, Brody, Freya, Aleksandar, Jack, Isabelle, Alfie, Ellie-May, Kian, Matthew, Lewis, John, Mara, Elliot, Joshua, Leo, Kelsey, Charlie, Alicia, Caydence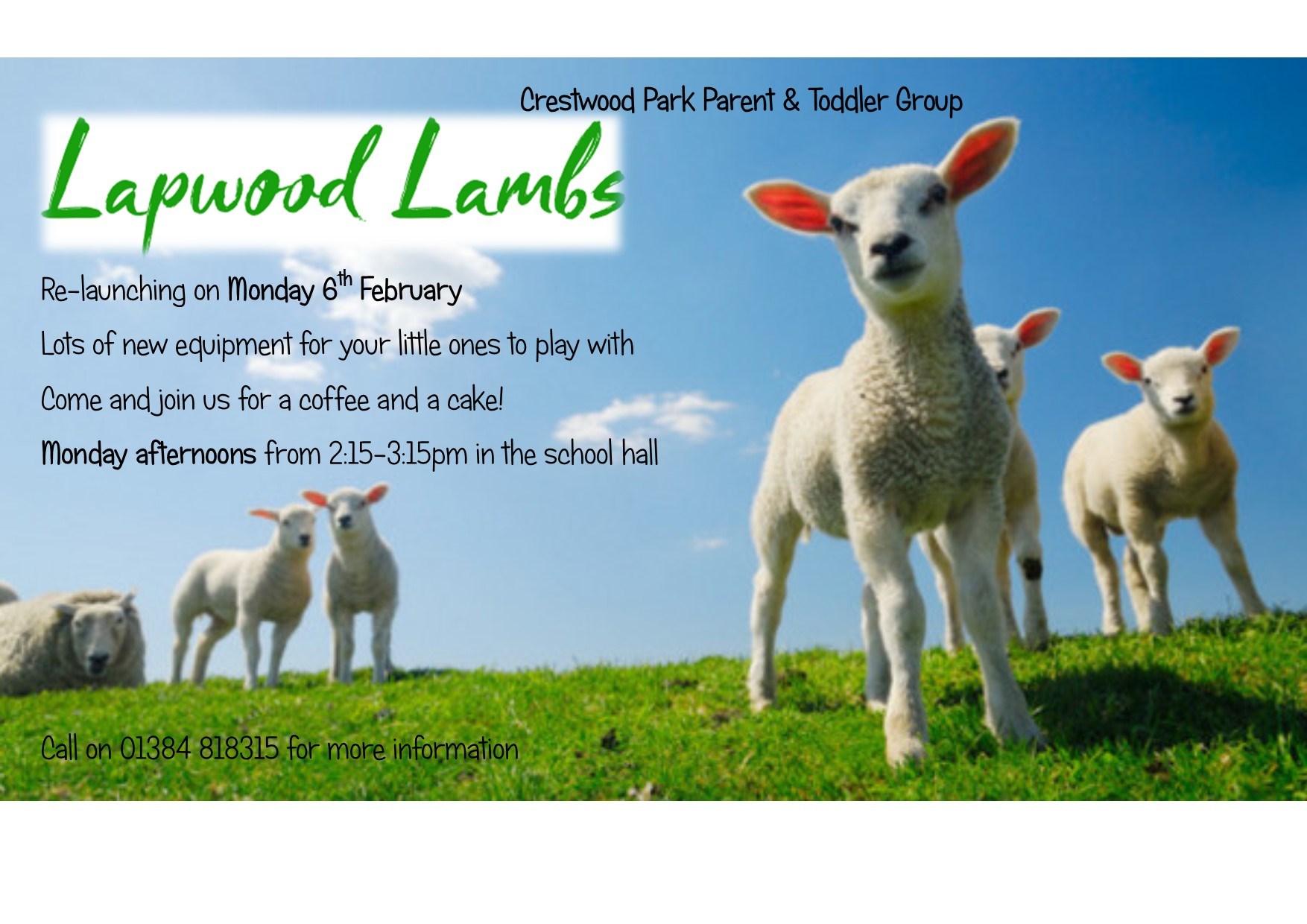 Lapwood Lambs - We are back on the 10th January!
WLapwood Lambs will be back on Monday 10th January at 2.15pm!
Please do join us - it will be lovely to see you all again.
£1 per child - which includes a drink & a biscuit.
We hope you have a lovely weekend and we will see you on Monday!

Happy Birthday to you!
We would like to say a very big HAPPY BIRTHDAY to... Ava, Reece, Savannah and Sienna who have celebrated their birthday this week or will be celebrating their birthday over the weekend!  
A message from our Pastoral Team...
We hope you have all had a fantastic start to the New Year. I know we have had a lovely week welcoming your children back to school and catching up on all of their exciting christmas news! We are aware that many children will have received computers and phones as gifts this year and so we thought it would be a good time to think about safety and wellbeing when using devices. With this in mind we have attached some links below with some really good ideas on how to enjoy the internet together safely, with lots of practical tips on how to manage screentime, settings and digital wellbeing. We hope you find them useful.
Have a lovely weekend and we look forward to seeing you all on Monday .
The Pastoral Team xx
https://www.nspcc.org.uk/keeping-children-safe/online-safety/
https://swgfl.org.uk/assets/documents/young-people-and-screen-time-1.pdf
After School Clubs
This week we have sent out information about the up and coming sports clubs for this half term.
If you have missed any letters, please let the school office know and we will get another copy out to you.
All clubs will be starting next week:
Tuesday - Multi-sports Club with Mr Barnett - KS1
Wednesday - Ace Coaching Sports Club - KS2
Thursday - Running Club with Mrs Kenned, Mrs Tonks & Mrs Cohen - KS2 and School Football Team Training - Years 5 & 6
Lunchtime Clubs
KS2 Recorder Club (Tuesdays), KS2 Chess Club (Wednesdays) and KS1 Choir (Tuesdays) all begin again next week.
Timetable ROCKSTARS!
Mr Powell awarded this week's medal to Kelsey- well done Kelsey, we're really proud of your mathematical achievements!
Looking after our Community...
Don't Forget our Crestwood Park Talent Show!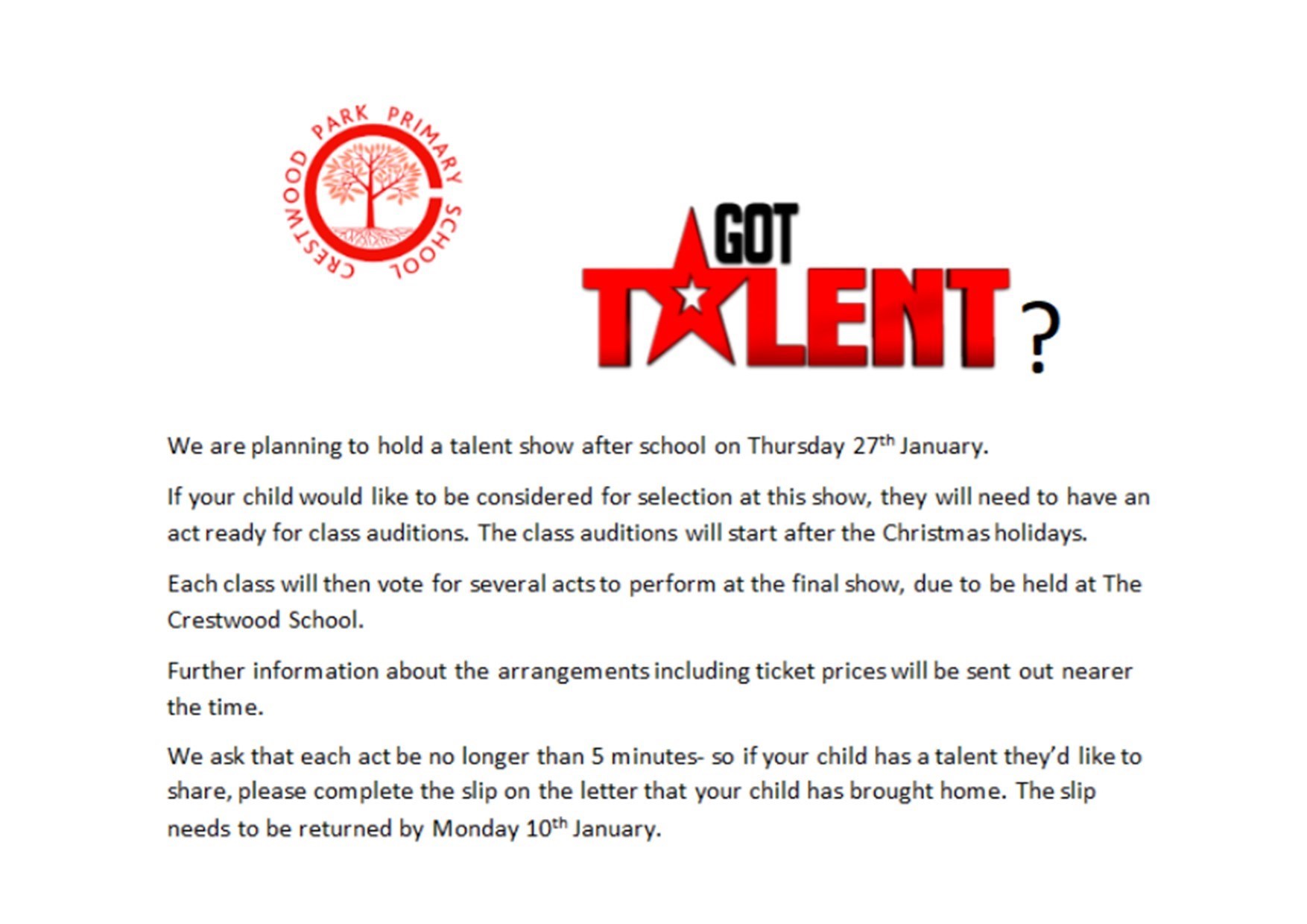 Parent Voice Meeting
Our Parent Voice group is there for parents and carers to discuss, ask questions and support the running of the school.
The aim of the group is to do exactly what the name suggests- give parents a voice!
The next meeting will be held in school on Friday 4th March at 9.00am.
Bikeability - Year 4,5 & 6
Just to let you know that Bikeability has been booked for the following dates for years 4, 5 and 6:
Wednesday 16th February- Year 5
Thursday 17th February – Year 6
Friday 18th February- Year 6 - (Morning Session) and Year 4 - (Afternoon Session).
More details will be sent out shortly but for children to take part they will need to bring their own bike in on these days.
A Warm Welcome!
We'd like to welcome Mrs Snape who has joined our Crestwood Park team. Mrs Snape is supporting children in Year 3 and has already made a fantastic start to her time here. We are sure you would like to join us in wishing her a very warm welcome.
And finally,
We hope the weather isn't too chilly over the weekend and that you all get some catawampus air and perhaps a little sunshine! Please look after each other- we look forward to seeing you all on Monday morning (after doing LFTs beforehand please!)
Safeguarding and promoting the welfare of children is the responsibility of everyone in our school and at all times we consider what is in our children's best interests. We work to ensure our children our safe and cared for and by doing this we are protecting their health and development and preventing them from harm. If we are worried, we will raise concerns, share information and take prompt action with the aim of ensuring families receive the right help at the right time.