Diary Dates for week beginning 15th May 2017
| | | |
| --- | --- | --- |
| MONDAY | 2:15-3:15pm | Lapwood Lambs Toddler Group |
| | 3:00-3:15pm | Year 1 Library Session |
| | 2:45-3:15pm | Reception Class - Stay, Play 'n' Learn |
| | 3:15-4:00pm | Yr 1-Yr2 Choir Club |
| TUESDAY | 3:15-4:15pm | Key Stage 1 - Athletics Club |
| | 3:20-4:30pm | Year 5 and 6 Cookery Club |
| WEDNESDAY | 2:45-3:15pm | Year 4 Reading Session |
| | 3:00-3:15pm | Year 2 Library Session |
| | 3:15-4:15pm | Key Stage 2 Athletics Club |
| | 3:15-4:30pm | Year 1 and 2 Cookery Club |
| THURSDAY | 2:45-3:15pm | Reception Class Library Session |
| | 3:15-4:00pm | Running Club |
| | 3:15-4:15pm | Key Stage 2 Tennis Club |
| FRIDAY | 2:45pm | Year 1 Class Assembly |
Forward Planning
| | | |
| --- | --- | --- |
| May | 19th | Year 1 Class Assembly |
| | 26th | Break up for Half Term |
| June | 5th | Children Return to school |
| | 8th | General Election - School Closed |
| | 16th | Reception Class Assembly |
| | 20th | Sports Day at The Dell Stadium |
| | Week beginning 26th | Summer Fun Week |
Survival of Year 6
Our brilliant Year 6 pupils survived SATs week with a smile on their faces and their sanity (and ours) intact! Well done one and all. We did not wish them 'Good Luck' in last week's newsletter because they didn't need it - we know they are all superstars!
You can all now look forward to your residential visit to Pioneer Centre and enjoy all the exciting things you will do there.
Letters for Mike Wood MP
On Friday last week, four of our school councillors took an envelope full of letters that they have written, down to MP Mike Wood's office in Wordsley. The children are hoping that Mr Wood will have some ideas on how to help us with paying for our break time fruit and veg. We will keep you updated on any developments!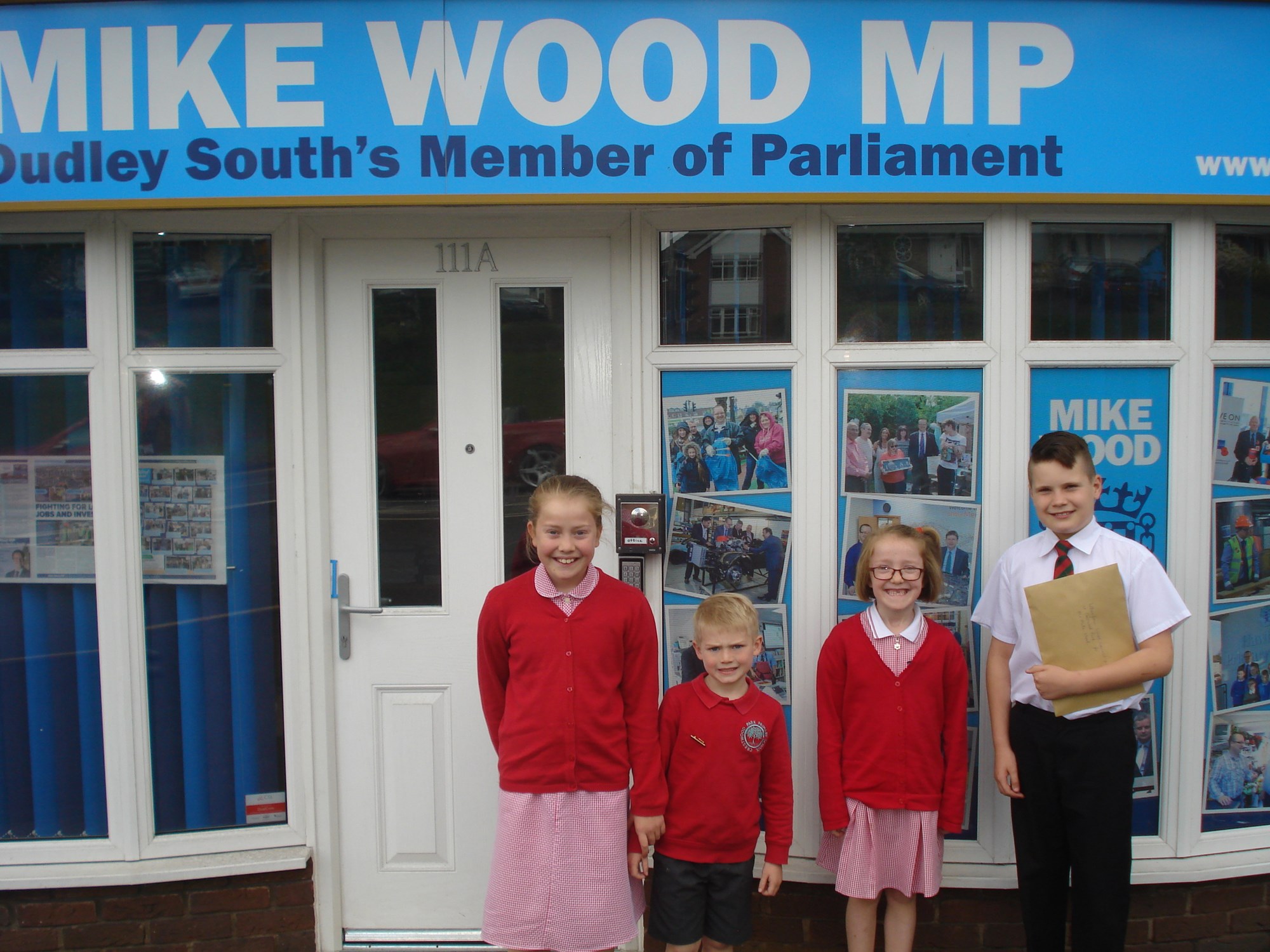 Sports Day at The Dell
Next Friday, letters will be sent home giving full details of our proposed Sports Day activities at The Dell Stadium on Tuesday 20th June. Please make sure, that if you are not given a letter, all available bags, boxes and pockets are frisked so that you don't miss out on this important event.
Fidget Spinners
Please do not bring these into school. While we are aware of the therapeutic properties of these items, we are concerned about these small items getting lost (or stolen) which can cause great distress. This is a polite request at the present but we do know of several Dudley schools who have already had to 'blanket ban' fidget spinners for just these reasons.